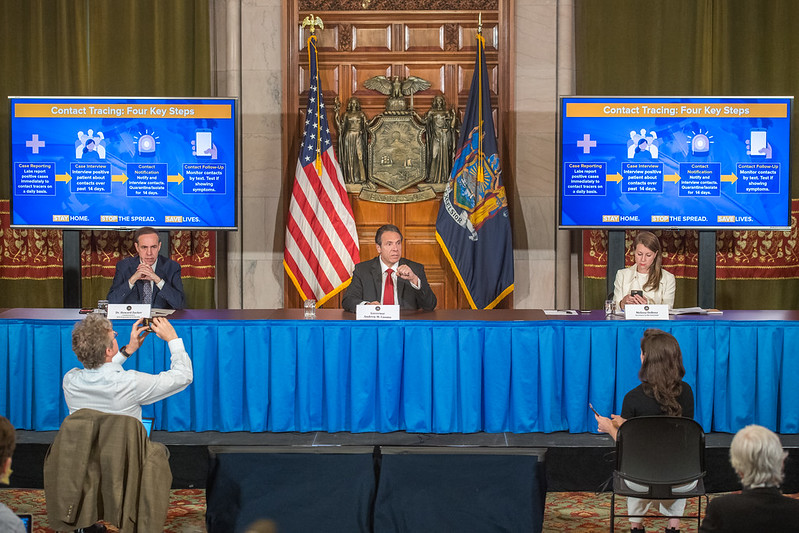 Gov. Cuomo talks contact tracing (photo: Darren McGee/Governor's Office)
---
With the presidential election behind us, I had started to gain hope that the robotexts of recent weeks would soon end. But on Friday night came a curious new entry to this genre of smartphone spam. It began, "Hi! This is the NYS Department of Health. Download the COVID Alert NY App!" With that message, I knew we had entered a new phase in the fight over contact tracing apps.
Contact tracing is nothing new. For decades, public health officials have tried to stymie the spread of contagious diseases by methodically mapping out anyone that patients might have infected. For human disease detectives, this means detailed and empathetic conversations with those who just were diagnosed with the potentially fatal COVID-19 virus, reconstructing any person they might have inadvertently infected, but also providing information on support services that range from food deliveries to city-funded dog walking.
Contact tracing is one of the most powerful tools we have, but contact tracing apps, the smartphone-enabled, Silicon Valley substitute, is a dangerous imitation. This is why it's so upsetting to see New York spending so much time and money promoting a lackluster smartphone app rather than reinforcing the tools we know will work: social distancing, handwashing, masks, manual contact tracing, and (of course) high-speed, high-quality testing.
In recent days, COVID Alert NY has become inescapable on the web and social media, as a barrage of new ads try to get New Yorkers to download the app. And the result of this statewide push has been an abysmal failure.
New York officials are quick to brag that hundreds of thousands of users have downloaded the invasive new app. That's just a tiny fraction of what is needed to make this app effective.
Researchers from Oxford University found we need 60%-80% of all New Yorkers to install this software for it to stop the pandemic. That's 10-20 times the number of New Yorkers who have installed the application already. And the numbers may be worse. While New York reports the number of users who have tried out the app, they have been tighter-lipped about how many users actually use the software. A contact tracing app you don't turn on does about as much good as wearing a mask but putting it on your forehead. A Google-funded study later found that 15% usage might reduce the spread of COVID-19. Unfortunately, the study has not yet been peer reviewed, and no state has enough public buy-in to test if these projections are accurate.
And it's unclear if we could reach that magic 60%-80% cutoff even if we wanted. The majority of the world's smartphones aren't new or fast enough to run the contact tracing app. But, of course, Americans don't trust the tech giants to take over public health tracking. According to the Pew Research Center, a majority of Americans don't want to install this kind of app.
We're at a crucial moment, when the second wave is spiking and we see our state on the verge of shutting down once again. This isn't a time for magical thinking. This is the moment when we have to face the hard facts and make even harder decisions.
That means scrapping the dream that these apps will do the impossible, focusing instead on support for the basics, including manual contact tracing. It also means building trust with all New Yorkers, making sure that each and every COVID-19 patient feels safe providing their most intimate details to contact tracers.
These details aren't just potentially embarrassing, for some New Yorkers this means putting their friends and family at risk of arrest or deportation. That's in part because, months after it was passed by the state Legislature, Governor Cuomo has still yet to sign a bill (S. 8450-C/A. 10500-B) that would ban police and federal immigration enforcement (ICE) from accessing contact tracing data.
We don't need a high-tech app to protect our city or state. We need to invest in evidence-based tools and fight for every single New Yorker to know that their contact tracing data is safe. This approach may not be as slick as a new app, but it has one thing going for it: it actually works.
***
Albert Fox Cahn (@FoxCahn) is the founder and executive director of the Surveillance Technology Oversight Project (S.T.O.P.) at the Urban Justice Center and a fellow at the Engelberg Center for Innovation Law & Policy at N.Y.U. School of Law. He writes the monthly "Surveillance and the City" column at Gotham Gazette. Caroline Magee is a rising third-year student at Emory University School of Law and a civil rights intern at the Surveillance Technology Oversight Project.
Note: this column has been updated to alter the presentation of the Oxford University study and add mention of the Google-funded study.
***
Have an op-ed idea or submission for Gotham Gazette? Email This email address is being protected from spambots. You need JavaScript enabled to view it.