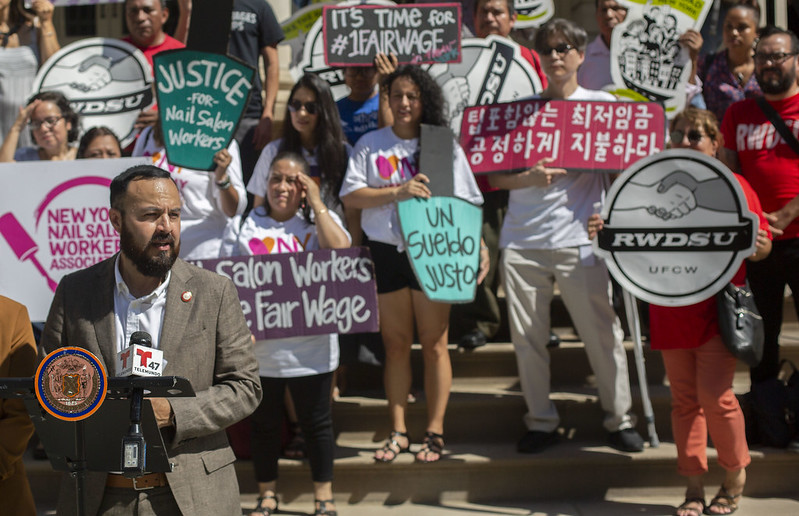 City Council Member Francisco Moya, the author (photo: John McCarten/City Council)
---
How many more elections until incumbents and newcomers in races across the country realize that we are not all the same?
"Speaking" the language or being designated Latino/Hispanic does not translate to our larger population sharing the same story or weighing issues with the same values.
According to Pew Research, a record 32 million Hispanics were projected to be eligible to vote in the United States in 2020, making up 13% of all eligible voters in the country. This is a growing population from all walks of life, of different races and ethnicities, with different religious beliefs, multigenerational, monolingual, bilingual, trilingual—and the list goes on.
And while Latinos voted for Biden by a +43-point margin according to the American Election Eve 2020 Survey, campaigns need to stop taking our votes for granted or assume that we are a bloc.
I urge candidates in electoral races across the country to not generalize the Latino population and not assume they will automatically have our vote.
First, to truly discern the communities that exist within our larger population, meet us where we are by diversifying your campaign teams, partnering with groups that are on the ground, and understanding the issues that are a priority. Do this across each pocket of our country.
One clear lesson from this year's election is the Herculean effort by Latino-led organizations and community activists around the country—from Make the Road NY to LUCHA in Arizona and Mi Familia Vota across battleground states like Nevada—to educate and mobilize voters in the Latino electorate. This was evident in the results we saw in swing states from the top to the bottom of the ballot.
Take for instance here in New York. Many of us that grew up or live in New York City, specifically in Queens, are afforded the opportunity to interact with the different communities that represent us, appreciate the intricacies of our cultures, and experience the inequities. Much of what you're reading about who makes up "the Latino vote" around the country—the Ecuadorian, Puerto Rican, or Dominican voter in New York; the Cuban, Puerto Rican, or Colombian voter in Miami; the Mexican or Salvadorian voter in Los Angeles or Texas—is to some extent reflected here, in New York City, from neighborhood to neighborhood.
There is so much to learn and know about our diverse communities, but you have to try.
Second, double down on the issues. According to Pew Research, the economy, health care, and COVID-19 response are top issues for Latino voters. Not surprising. My City Council district was the epicenter of the epicenter of the novel coronavirus outbreak, and we saw firsthand the disproportionate health and economic impact on Latinos. This has been of great concern among those who lost loved ones, lost income, who have small businesses, and who have to put food on the table for their families.
Jobs and the economy have been focus issues on both sides of the political aisle. In Florida and Texas, like elsewhere, voters had legitimate economic concerns related to keeping small businesses afloat, saving jobs, food insecurity, and loss of personal wealth. For Puerto Ricans, the second largest population within the Hispanic eligible voter population in Florida, the economic crisis and the devastation in Puerto Rico following Hurricane Maria were prevalent concerns. Trump's campaign doubled down on the American Dream vs. a socialist nightmare, and clearer economic messaging alongside disinformation helped make headway with capturing part of the Latino vote including Cuban Americans.
Which brings me to the next point: invest time and resources to appropriately engage voters in the Latino electorate that span generations, experiences, and consumption habits. The young Latino that just turned 18, the naturalized citizen, the first-generation citizen, the voter whose family has been in the U.S. for generations. Each of their stories, where they live, and how they consume information will unequivocally vary, and will determine who they support.
Address early and at every turn, and at a community level, the issues that are concerning voters in the Latino electorate. If a voter is concerned about keeping their small business afloat, show how you're addressing that. For example, I introduced legislation to cap delivery app fees to protect mom and pop shops during the pandemic. If worker protections are a priority, address that (after all, Florida resoundingly supported a $15 minimum wage despite its presidential vote going for Trump). I'm proud to have championed worker protections, from construction sites to nail salons, and will continue to do so because these are issues important to my constituents and New Yorkers across the city. They are also important to working people across the country.
Engage different communities often and consistently, and factor in groups that are relatively new to voting in the United States.
The issues that we in the larger Latino community are prioritizing are not simply "Latino issues," but they impact our population the most, which we've seen exacerbated by this pandemic. Races across the country not only need to have the communities within our larger voting bloc represented, there also has to be a real commitment to reducing racial and ethnic inequalities.
As we go into the races being waged next year, voters in the Latino electorate will be key deciding factors in choosing the next Mayor of New York City, and the election of Governors in New Jersey and Virginia—all three of which include the multiplicity of our population.
The Latino electorate is heterogeneous in composition and united in power so don't ghost us until the eve of the next election—whether mayoral, gubernatorial, presidential, or otherwise. Court us early and don't make promises you can't keep.
***
City Council Member Francisco Moya represents the New York City Council's 21st District, which encompasses East Elmhurst, LeFrak City, parts of Jackson Heights, and his native Corona. He chairs the Subcommittee on Zoning and Franchises and is vice co-chair of the Black, Latino, and Asian Caucus (BLAC). On Twitter @FranciscoMoyaNY.
***
Have an op-ed idea or submission for Gotham Gazette? Email This email address is being protected from spambots. You need JavaScript enabled to view it.