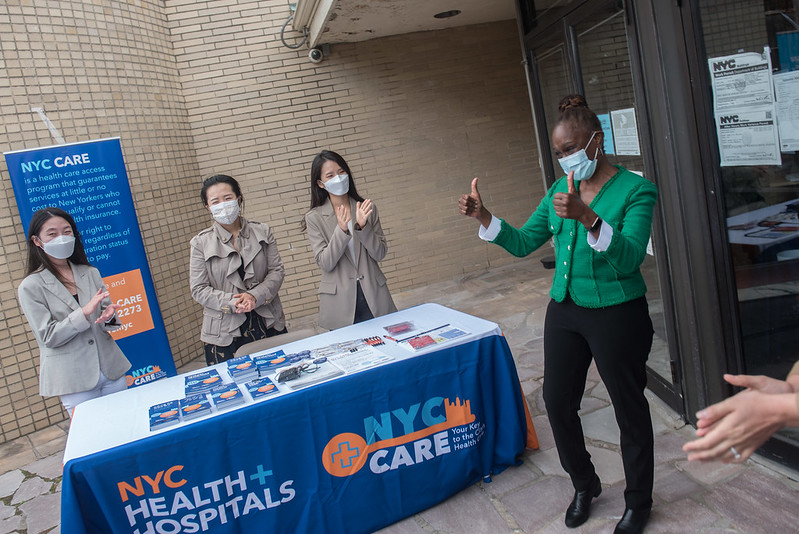 Chirlane McCray, the author, thanking health care workers (photo: Michael Appleton/Mayor's Office)
---
This Thanksgiving will be unlike any other. The empty chairs at our tables are a stark reminder of lives lost, personal caution we must take, and the advisories to limit travel to control the spread of the coronavirus. Amid the rising virus toll and deep divisions symbolized by an electoral map of red states and blue states we still crave connection.
New Yorkers have something in common with those in every single state: the pain all humans suffer through sickness, isolation, death, economic distress, and socio-political upheaval. This year has been a powerful reminder of the need for emotional healing, as well as policies and a national mandate to prioritize behavioral health care. The past few months have also brought an equally powerful realization of how much we need each other.
Let us make this Thanksgiving a day to exercise gratitude for the many ways we have survived the long days and nights of 2020. From health-care workers saving lives to the teachers returning to classrooms amid uncertainty, our fellow Americans have had our backs.
Here in New York, anyone needing support can find it 24/7, in over 200 languages through our NYC Well helpline at 1-888-NYC-Well. You can talk, text "well" to 65173, or visit nyc.gov/nycwell. The city has also gathered resources and holiday advice at one accessible website.
On the precipice of a dark winter, we will have to lean on one another for sustenance, for survival, for joy. We must connect to each other and what keeps us whole. Think about it. Do we care about the political affiliations of our teachers, our doctors, those working in food pantries or delivering the mail?
No matter how they voted, everyone is under pressure. Seventy-six percent of Democrats and 67 percent of Republicans found the election significantly stressful, according to a recent American Psychological Association poll. New research suggests that almost one out of five COVID-19 patients are diagnosed with a psychiatric disorder within 90 days of a virus diagnosis. More than 12 million of us have tested positive for the coronavirus.
With the virus raging and the country in the midst of a political transition, our streets and our airwaves are far from quiet. Protestors continue to march against racial injustice. Some of our fellow citizens, including our current president, have raised their voices to question the election results, despite no evidence supporting that claim.
As an African American woman in her sixties, who has lived through many iterations of social justice movements, I am not naïve about the country's continued need for change or the political struggles ahead. As a mental health care advocate and the First Lady of New York City, I sit at the juncture of the political and the personal. Those two worlds both overlap and collide.
But this Thanksgiving, I hope others can bow their heads, as I will, to express gratitude for the high turnout for this presidential election, which one expert has suggested could well be the highest in over a century. People risked their health to stand in long lines to vote and exercise rights that cannot be taken for granted.
This Thanksgiving, these many months of social distancing should only sharpen our awareness of the importance of our families, our neighbors, and our loved ones. Maybe instead of talking about politics and voting at our gatherings we can find ways to talk about our feelings, our hopes and dreams, and our fondest memories of times we have been together.
Voting for president is just one expression of civic engagement. What do we know about politics closer to home? Who is our local councilperson? What about the school board? In a time of enormous need, there is so much we can do to help and show true citizenship. Volunteers are needed for seniors and for children, in animal shelters and in food lines. We can honor those we have lost by expanding our social circles and reaching out to friends and relatives in distant places.
It is amazing what can be achieved when people go through tremendous pain and make it to the other side. Let us pledge to be civil in our disagreements, to push for continued progress, and to be grateful for what we have.
***
Chirlane McCray is First Lady of New York City. On Twitter @NYCFirstLady.
***
Have an op-ed idea or submission for Gotham Gazette? Email This email address is being protected from spambots. You need JavaScript enabled to view it.