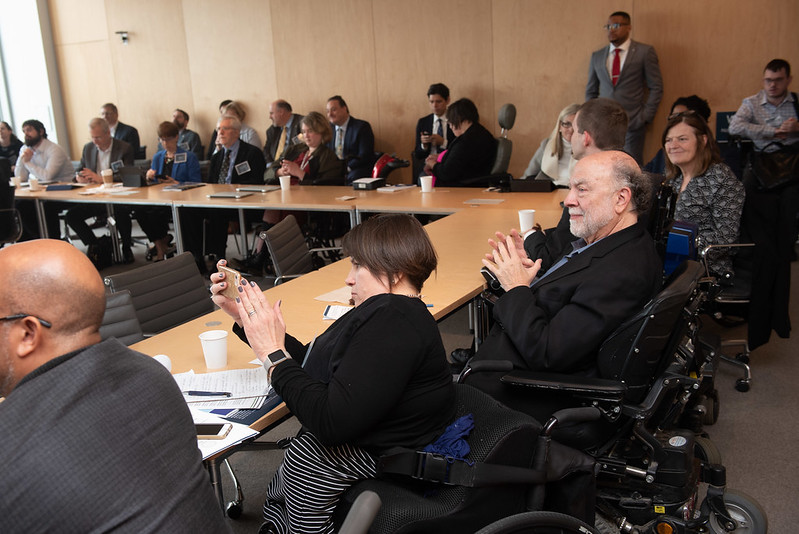 A pre-pandemic conference (photo: Michael Appleton/Mayoral Photography)
---
One of the great ironies of the new remote-working economy is that it is built on employment innovations that people with disabilities have long advocated. A second great irony is the speed with which those innovations – opposed by businesses for years – were adopted. These developments underscore, as we celebrate the 30th anniversary of the Americans with Disabilities Act this year, the importance of addressing the needs of people with disabilities and the potential for the broader public to benefit as a result.
COVID-19 taught the U.S. business community that it has a far greater ability to adapt to new ways of working than it realized. Within weeks of the pandemic's arrival, the business community adjusted to numerous employment practices that were previously discouraged. With schools and offices closed, and parents working from home while trying to teach their children, companies faced a choice between adjusting or going out of business. Those that could adjust did.
Suddenly Zoom meetings became standard. Having children interrupt them was no problem. Flexible work hours were to be expected. Shifting meetings to meet family needs was fine, too.
Necessity may be the mother of invention. But what should not be missed is that such accommodations were long championed by people with disabilities, only to have been met with resistance. COVID-19 proved that not only were these changes manageable, but they were also improvements with widespread benefits.
People with disabilities led the way because they understood the challenge of work-life balance. A parent with Multiple Sclerosis knows the time-crunch of getting children ready for school, while needing extra time herself to get dressed and out the door. A person who uses a scooter knows the ordeal of getting from work to a doctor's appointment and back again at mid-day. They understand that life cannot always fit the traditional nine-to-five business schedule.
Now that the entire workforce is benefiting, it is hard to believe we will ever return completely to the old ways, even when COVID-19 is behind us. Employers now know that parents can work from home effectively. They now know that a Zoom call can be just as valuable as an in-person meeting.
Telemedicine may be the best example of all. It had been available for years, yet government had constrained its growth by, among other things, not compensating health-care providers properly for its use. Now we are seeing telemedicine not only facilitate essential care effectively but bring that care to people who previously could not easily receive it.
Imagine the increased convenience, if you use a wheelchair, of having a medical check-up at home without going through the time, effort, and expense of getting to and from a doctor's office, which may not even be wheelchair-accessible. The telemedicine check-up could save hours in connection with a 15-minute appointment. Now imagine having that same convenience if you live in a remote community – hours from the nearest medical facility.
It is vital to understand in this regard that "disability" is a social construct. A staircase makes someone in a wheelchair "disabled;" a ramp makes that person "abled."
We need to move beyond the idea that people with disabilities are lacking something and recognize that they are adding something. We need to appreciate that the knowledge, experience, and perspective of people with disabilities offer benefits for everyone.
A key recognition is that flexibility in the workplace is an asset and should be embraced. With flexible tools such as videoconferencing now commonplace, the access that they provide should be exploited, too. For example, remote vocational training for people with disabilities – as for all people – makes it theoretically possible to expand educational opportunities to broader geographies. Yet compensation for training – typically provided through states – is often limited geographically, with contracts specifying service to New York City, for instance, as distinct from other parts of New York.
The U.S. workforce benefits when people with disabilities are included. The unemployment rate for people with disabilities was 2.5 times higher than the general population before COVID-19, and 70% were not in the workforce. It is time to make more adjustments to bring all people into the economic mainstream. It is time to recognize the contributions of people with disabilities to the newly adapted economic and cultural landscape and build on them to benefit everyone.
***
Susan Scheer is Chief Executive Officer of ICD - Institute for Career Development. On Twitter @sscheer5 and @ICD_NYC.
***
Have an op-ed idea or submission for Gotham Gazette? Email This email address is being protected from spambots. You need JavaScript enabled to view it.