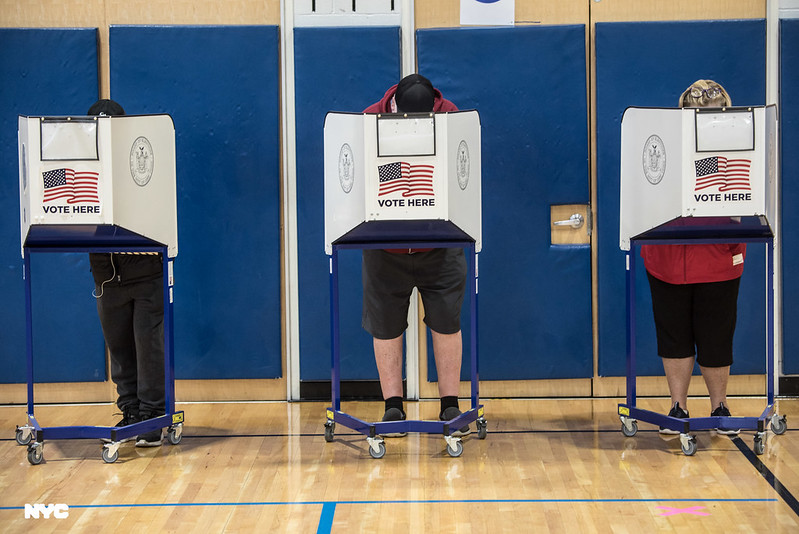 Voters at work (photo: Michael Appleton/Mayoral Photography Office)
---
The combination of early voting, vote-by-mail, and the desire to vote out Donald Trump made 2020 a huge year for voting in New York City. Despite long lines, when voters are given the right resources and awareness, we can raise the level of participation.
As we turn towards 2021, the next chapter for voting in New York City will be the implementation of ranked-choice voting (RCV) for special and party primary elections for city government positions. If properly implemented, it will further improve our electoral process. But it's an open question whether our government is up to the task of strong implementation, including extensive voter education, and the lack of effort and funding so far does not inspire confidence.
Ranked-choice voting allows voters to rank candidates based on their preferences, from choosing one up to five candidates in order. If a single candidate does not reach 50% of first-place votes, the last place candidate is eliminated and their votes are reallocated to the remaining candidates based on those voters' second choices, with candidate elimination and vote reallocation continuing until a candidate hits 50%.
When properly implemented, ranked-choice voting is good for our democracy and our city:
It is a more accurate representation of the electorate and a fairer process.
It empowers voters to make more candidate preferences heard.
It forces campaigns to build broad coalitions -- to focus on winning over a majority of voters in their districts.
It decreases negative campaigning.
Ranked-choice voting will be a major change in how city officials are elected, yet most voters are unaware of what's coming or how RCV will work. City government, having adopted this new system through a charter revision commission and voter referendum, has a responsibility to educate voters or risk disenfranchising large swaths of voters who are confused by the process. With the first ranked-choice election scheduled for a special election that will culminate on February 2 in Queens' City Council District 24, a seat recently vacated by Rory Lancman, we cannot allow any more delays in launching a major public education campaign to ensure all voters understand ranked-choice voting.
After that special election, we will quickly have at least three more special City Council elections, followed by the June citywide primaries for Mayor, Comptroller, Public Advocate, Borough Presidents, and the entire City Council. With such a significant change in how voters will elect these officials, there is no time to waste.
Similar to the 2020 Census efforts, it is critical that the city immediately funds a public education campaign on ranked-choice voting. From sending mailings to voters, to partnering with local organizations and influencers to get the word out, to running television ads, to utilizing digital advertising, the city should be meeting voters where they are. Further, this outreach must be conducted in multiple languages so that voters for whom English is a second language are not left out of the civic process, as they too often are. We must be careful to include historically-disenfranchised communities of color in every part of our electoral process as we transition into ranked-choice elections.
Voting is the most sacred right in our country and a cornerstone of our democracy. With Republicans no longer able to block voting reforms in Albany, our laws are finally catching up with more progressive states and making voting easier. But failure to invest in civic education following such a major change creates an obstacle to reform, unintentionally suppressing votes. The implementation and funding of a ranked-choice voting education program is New York City's opportunity to ensure the success of our new voting system, but only if we step up and take action right now.
***
Josué Pierre is a candidate for City Council in the 40th District, in Brooklyn. On Twitter @CitizenPierre.
***
Have an op-ed idea or submission for Gotham Gazette? Email This email address is being protected from spambots. You need JavaScript enabled to view it.