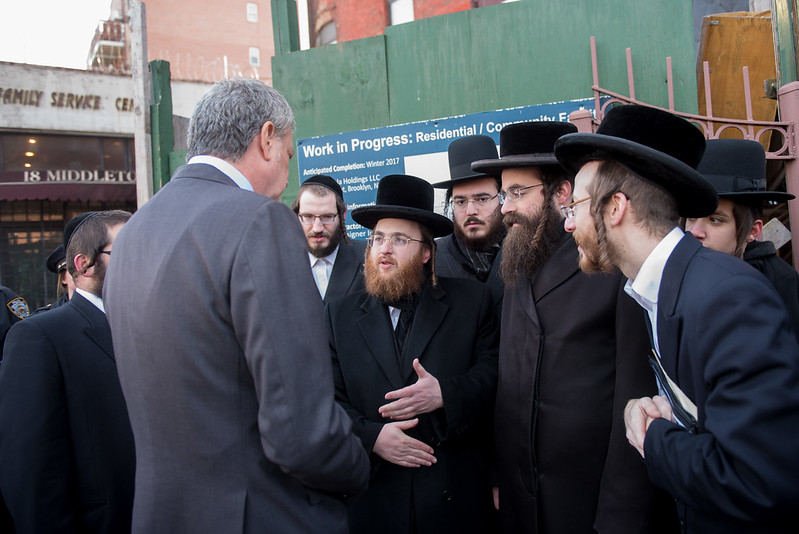 The mayor in Williamsburg, Dec. 2019 (photo: Michael Appleton/Mayor's Office)
---
For years we at Young Advocates for Fair Education (YAFFED) have raised awareness of the utter failure of many ultra-Orthodox and Hasidic yeshivas to comply with minimal secular education standards for non-public schools. Many legislators and voters considered it to be a niche issue, some believing it is a community that should be left to its own devices. However, the repeated pattern of disregard for COVID-19 public health guidance by leaders of these communities has shown again that what happens in these communities has real consequences for people across the city and state.
Since 1894, New York State has required non-public schools to provide an education that is "at least substantially equivalent" to that of public schools. This is such a common-sense law that for decades the state and local districts didn't feel the need to actively enforce it. The notion that anyone would pay to send their children to schools that are inferior to the free-of-charge public school seems ridiculous.
Yet that's exactly what's happening in dozens of ultra-Orthodox and Hasidic yeshivas in New York. Boys attending those schools receive an education that is severely lacking in, or completely omits, any secular education. According to our research, on average, Hasidic elementary and middle school boys receive just 90 minutes of secular education four days a week, consisting of basic English and arithmetic taught in an afterschool setting. No other subjects are taught. In high school, boys get completely cut off from any secular education, doing only Judaic studies.
As early as 2012, New York officials were made aware that dozens of ultra-Orthodox yeshivas don't even come close to providing a "substantially equivalent" education, yet the city and state failed to take any action. In July 2015, the city finally announced an investigation, but it became one that was filled with delays and political horse-trading. The New York State Education Department, for its part, began working on revised guidelines to enforce the "substantial equivalency" laws in 2017.
One of the claims that yeshiva leaders have made, with some success, is that they are an independent and self-sufficient community, and therefore should be shielded from government scrutiny. In reality, yeshivas are heavily subsidized by taxpayer dollars, and the majority of Hasidic yeshiva graduates depend on public benefits upon "graduating" because they haven't been prepared for higher education or careers.
The truth is, all of our communities are connected and have an impact on one another. Nothing brings this into greater focus than COVID-19, an airborne virus. The air we breathe is shared among New Yorkers, regardless of the communities we are in. Hasidic leaders' eschewing of guidance, with their flock following suit, has resulted in increased restrictions for all New Yorkers, especially living, working, and going to school in the temporary red and orange zones established by the state.
As the brazen violations by Hasidic leaders and their followers continue to emerge, it is important to understand that long after this virus is gone—let's hope the vaccine becomes available soon—New Yorkers will still be dealing with the lack of secular education in ultra-Orthodox communities. Our children are our future. Without a quality education, we are robbing kids of opportunities and our society of the next generation of informed citizens and voters.
Whether it is a sub-par secular education or the disregard of public health guidance, the flouting of rules not only harms the Hasidic community, but the entire city and state. It is time for our elected officials to protect the good of all New Yorkers over the special interests whose choices have an impact far beyond their own neighborhoods.
***
Naftuli Moster is the founder and executive director of Young Advocates for Fair Education (YAFFED), a nonprofit focused on improving secular education in ultra-Orthodox yeshivas. On Twitter @nmoster & @yaffedorg.
***
Have an op-ed idea or submission for Gotham Gazette? Email This email address is being protected from spambots. You need JavaScript enabled to view it.