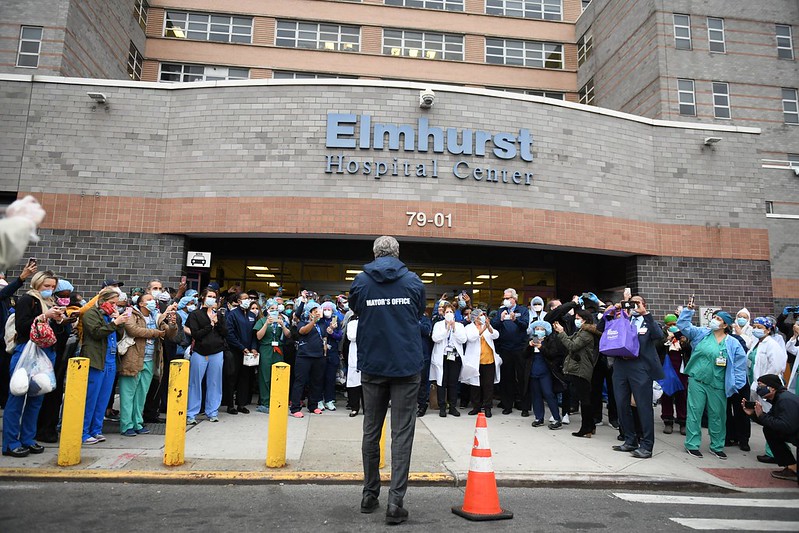 Mayor de Blasio at Elmhurst Hospital (photo: Ed Reed/Mayoral Photography Office)
---
A study recently released by New York City's Department of Health and Mental Hygiene and the U.S. Centers for Disease Control and Protection had a grim finding: as the pandemic overwhelmed the city last spring, 30% of patients hospitalized because of COVID-19 ended up dying. The findings confirmed the images New Yorkers grew accustomed to seeing — mobile morgues and patients struggling to survive in hallways.
The problem was particularly acute in my home borough of Queens, where there are only 1.8 hospital beds per 1,000 residents as compared to five beds for every 1,000 residents in Manhattan. Elmhurst Hospital and Northwell Forest Hills became national symbols of the seriousness of covid, with Elmhurst experiencing 13 deaths within a 24-hour period at the height of the pandemic while Northwell Forest Hills experienced 17 deaths within a 24-hour period. This is totally unacceptable.
Even in Manhattan, the situation became so dire that a field hospital in Central Park was erected. Dying New Yorkers were routed to tents to receive care during the cold evenings of early spring.
This temporary facility was built by anti-LGBTQ activist Rev. Franklin Graham. It added insult to injury for a city that was failing to take care of its own. And it was especially difficult to stomach for New Yorkers who lived through one of the city's other major health crises, the HIV/AIDS epidemic.
For me, it was a horrifying and unexpected combination of my work as a Queens-based LGBTQ organizer and health-care activist. It made plain that it is impossible to separate the medical from the social and the scientific from the political.
In fact, during the height of the AIDS crisis in New York, I watched a generation of friends and neighbors die because of the indifference of too many people in power. One of my closest friends who guided me through the difficult coming out process ultimately died from complications with AIDS.
We were unprepared for the breadth of the crisis then, just as we were for this pandemic. But just because covid wasn't expected, that doesn't mean New York had to lose well over 20,000 lives and counting.
In Queens alone, ten hospitals have been shuttered over the past 20 years as a giveaway to the real estate industry. A similar dynamic unfolded in Manhattan with St. Vincent's Hospital, which was one of the few facilities to treat individuals with HIV and AIDS with dignity.
The thinking was that the city had excess capacity and more focus should be on preventing the root causes of hospitalizations. The hospital property could then be repurposed by real estate developers. This was a big mistake.
And while focusing on preventative medicine is laudable, the city also failed on that count. Black and Hispanic residents, as well as vulnerable older New Yorkers of all races and ethnicities, were the most impacted by this virus.
One of the main reasons I'm running for New York City Council is to pass legislation to add hospital capacity and implement health-care impact assessments for every zoning and land use proposal that needs Council approval. We need to understand how new development impacts health-care access before some large projects are built.
That work will also entail creating a Hospital Capacity Task Force to rebuild health-care facilities throughout our city, with a focus on central and southeast Queens. We must ensure that whatever capital allocations are made, that they are dedicated to building additional hospital beds in an expedited fashion so that all communities are safer in the future with nearby access to world-class emergency care.
With covid cases on the rise and hospitals again facing a possible shortage of beds, we must use this moment to reflect on what we want the city's health-care system to look like in the future. Hospital beds may not be something the average New Yorker thinks about on a daily basis, but with the inevitable future public health emergencies ahead, we can't let our own policy decisions be our biggest impediment to recovery. For many of us, it is a matter of life and death.
***
Lynn Schulman is a Democratic candidate for the New York City Council in Queens' District 29. On Twitter @schulman2021.
***
Have an op-ed idea or submission for Gotham Gazette? Email This email address is being protected from spambots. You need JavaScript enabled to view it.