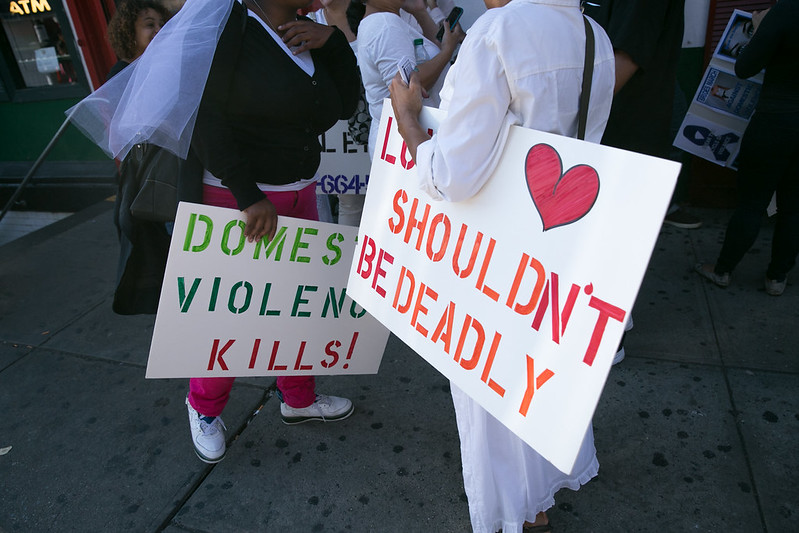 Seeking an end to domestic violence and protecting survivors (photo: William Alatriste/City Council)
---
Three women tragically lost their lives in New York City over the course of one week due to domestic violence. Thousands of women and children remain in danger. Many are faced with the devastating choice of staying with an abuser or losing their home.
Domestic violence was the leading driver of homelessness in New York prior to the pandemic, and it's only become a greater threat since. One of the still-unfolding consequences of New York's stay-at-home order in March is its dramatic impact on victims of domestic violence. The Centers for Disease Control and Prevention acknowledge that the very measures that are necessary to curb the spread of COVID-19 can contribute to a spike in domestic violence.
Social distancing and shutdowns mean more time at home, and in New York City, that is likely to mean 24/7 contact with your abuser in a relatively small living space. When the victim is a child, school closures have made that violence harder to see.
The last eight months have taught us that we are unlikely to know the true toll of this pandemic for many years. But here are some things we know right now: Families with children make up over 70% of the city's larger shelter system population and many more are at risk of losing their home in the year ahead. Despite this, only one in four victims of domestic violence can safely find space in a domestic violence shelter. The majority instead stay in the regular family shelters which in which they often fear for their safety.
For the past eight months, those enduring domestic violence have faced the added barrier of considering whether or not going into shelter during a pandemic is more dangerous than the escalating abuse in the home.
This pandemic has catapulted the conversation on housing as the front line of defense for health and safety. It has underscored how critical permanent, affordable housing is to keeping vulnerable families who have survived domestic violence from becoming homeless a second time in a crisis. These families are coping with trauma, rebuilding their financial security, may lack external supports and familial networks, and are typically headed by a single parent.
When New York City went into lockdown last spring, Linda, a single mother of two and a survivor of domestic violence, lost her job as a cashier. Fortunately, her immediate fears about how to pay the next month's rent were addressed by her case manager at New Destiny, a nonprofit that provides housing and services for survivors of domestic violence, who helped her maintain her housing by applying for unemployment benefits and arranging to have her rent subsidy level adjusted to cover the rent. Linda has this housing and support thanks to a federal subsidy.
Unfortunately, most families with children who enter the shelter system are stuck in shelter for over a year before they find a suitable apartment. One of the reasons for this is that the primary rental subsidies availability to domestic violence survivors and other homeless families are at a rate significantly below market value and nearly $500 per month below what federal Section 8 pays, putting survivors at a significant disadvantage securing an apartment for their family. These programs also place arbitrary time limits on the subsidy that can force women and children to endure the trauma of losing a home and returning to a shelter for a second time. While it is illegal for landlords to discriminate based on the source of rental income, it remains a pervasive issue.
A proposal currently in committee at the New York City Council would level the playing field and set local housing subsidies for domestic violence survivors using the same fair market rents and length of time as federal Section 8 rental subsidies administered through the New York City Housing Authority (NYCHA) and Department of Housing Preservation and Development (HPD). We must pass it.
On December 31, when the eviction moratorium ends, advocates for those experiencing or at risk of homelessness anticipate an unprecedented influx of families and single adults into the already overburdened shelter system. City officials must do everything they can to mitigate a tidal wave of family homelessness, and ensuring survivors have access to affordable, supportive housing is a key part of that process.
With local officials sounding the alarm about rising coronavirus infection rates, policy-makers must act swiftly to provide a path to housing for victims of domestic violence. The lives and well-being of some of New York City's most vulnerable women and children depend on it.
***
New York City Council Member Stephen Levin represents parts of Brooklyn and is the chair of the Council's general welfare committee. Nicole Branca is Executive Director of New Destiny Housing, one of New York City's largest supportive housing providers for domestic violence survivors. On Twitter @StephenLevin33 & @nbranca13 of @newdestinyorg.
***
Have an op-ed idea or submission for Gotham Gazette? Email This email address is being protected from spambots. You need JavaScript enabled to view it.