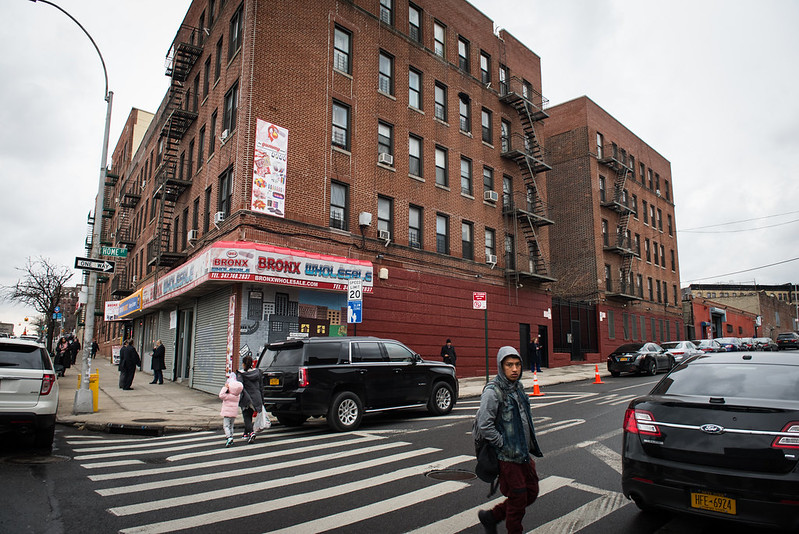 Housing on the line (photo: Edwin J. Torres/Mayor's Office)
---
On the eve of the pandemic, I gathered with my neighbors outside their building in the Kingsbridge neighborhood of the Bronx to sound an alarm. For those tenants, it wouldn't be true to say that "crisis had hit home." They had been steeped in crisis for some time.
For three decades, the landlord of 2201-2205 Davidson Avenue had racked up a $12.6 million debt in unpaid property taxes while the tenants lived with the unlivable: black mold that crept over lead-painted walls, rats that chewed through clothes and stoves, leaks that never stopped, elevators and hot water that hardly ran. Then, the investors that took over the building issued over a dozen eviction notices to tenants on rent strike.
At the press conference, tenants unfurled a banner from the fire escape that read: "We are ready to take control. NYC, are you ready?" It was February. By March, COVID-19 hit our city like a tsunami, plunging us deeper into housing, health, and economic crises. With winter upon us and COVID-19 cases on the rise again, tenants are bracing for our government to lift eviction bans come January.
My Bronx community in City Council District 14 is ground zero, with the highest rate of evictions in the city prior to the moratorium. We didn't know it back in February, but the Davidson Avenue tenants' message was pointing us towards what an equitable and just recovery requires: a path to community ownership to secure our future.
We know that the pandemic has shot unemployment rates to levels unseen since the Great Depression. When the Depression had reached its peak in the 1930s, landlords delivered hundreds of thousands of eviction notices to tenants unable to pay rent across the city. In response, Bronx residents mobilized for rent strikes and eviction blockades to prevent their neighbors from being thrown out on the streets. Similarly today, evictions are on the rise in the face of mass unemployment.
So I took to the streets with hundreds of tenants from across the city to end evictions and demand rent relief. Unwilling to stand idly by when millions of New Yorkers stand to lose our homes, in October we barricaded Broadway with furniture until police came to forcibly remove us. While we are clear in our demands of legislators to cancel rent and deliver a homes guarantee for our state, there are specific ways city officials must show leadership for a just recovery.
Now more than ever, we need short-term fixes, including an immediate extension of eviction moratorium and expansion of Right to Counsel in housing cases across the city, and long-term structural changes that democratize and decommodify housing.
We know this is possible during a crisis. We need only look to how our people commanded the government and banks to respond when our city nearly went bankrupt in the 1970s.
Planned shrinkage and racist redlining practices diverted investment and critical services away from poor and working class communities of color, and the Bronx was burning with landlord arson and abandonment. But our people organized to hold their landlords, government, and banks accountable and rebuilt our communities from the ground up. The city sold public land to our communities for cheap so they could launch cooperative and non-profit housing companies, and tenants passed legislation for rent stabilization to safeguard affordability.
I recently fought alongside a statewide coalition of tenant organizations to defend those laws and remove loopholes that landlords exploited to displace our people. When we won, we believed that it was our time to dream big again. Learning from history, now is the time to invest in real collective ownership over where we live — in transfer of land and supportive infrastructure to sustain it for the long haul.
Crisis brings into sharp focus inequities that were already present. It also presents an opportunity to come to new conclusions, to write new futures. We each have a choice to make about how we will show leadership in this moment. Our government could choose austerity and cutbacks that reinforce a system in service of wealth and power for the few. Or we can reach for solutions that put our people at the center and invest in long-term sustainability.
So what could real community ownership look like today in New York City? When Davidson Avenue tenants proclaimed to the world that they were ready to take control, they acknowledged that landlords, courts, banks, and their government had failed them. Instead, they would be prepared to own and govern the buildings they live in, collectively advancing a vision to steward land and stabilize our communities.
The City Council must support grassroots-led efforts for community ownership and social housing. Last month, as part of a city-wide movement, I joined Bronx residents at a town hall with Bronx Council members focused on resisting displacement, preserving long-term housing affordability, and establishing self-determination through transfering publicly-owned land to the Bronx Community Land Trust. Land in our city should not be a commodity. It is our urban commons — something we all need to share in order to survive and to live with dignity. We're on the precipice of the biggest homelessness crisis that the city has seen in decades. But we can't be evicted if we own where we live.
"How do we live like this?" a nine-year-old boy asked when he took the mic at that press conference. I felt his question in my bones. By age 12, my family had moved from one dilapidated building to the next, never finding the security we deserved, never able to afford better on my mother's salary as a home health aide. It's the kind of experience that will lead you to read a speech with shaking hands in the freezing cold before a row of cameras. It will fuel you to fight with your community so that no family ever has to feel that powerless. It will move you to run for public office to push these aspirations in the City Council.
By dropping that banner, my fellow Bronxites were issuing a call across the city to everyday people — poor and working class, Black and brown, immigrant and worker, queer and gender-nonconforming, elder and youth. Our people are calling for emergency actions and long-term solutions. It is time for our representatives to get on the same page. Instead of putting bandaids over deep-rooted inequities, let's guarantee our people's shelter, health and wellbeing. Let's make sure we all have the freedom to thrive.
***
Adolfo Abreu is a candidate for New York City Council in District 14, in the Bronx. On Twitter @Adolfo4Council.
***
Have an op-ed idea or submission for Gotham Gazette? Email This email address is being protected from spambots. You need JavaScript enabled to view it.