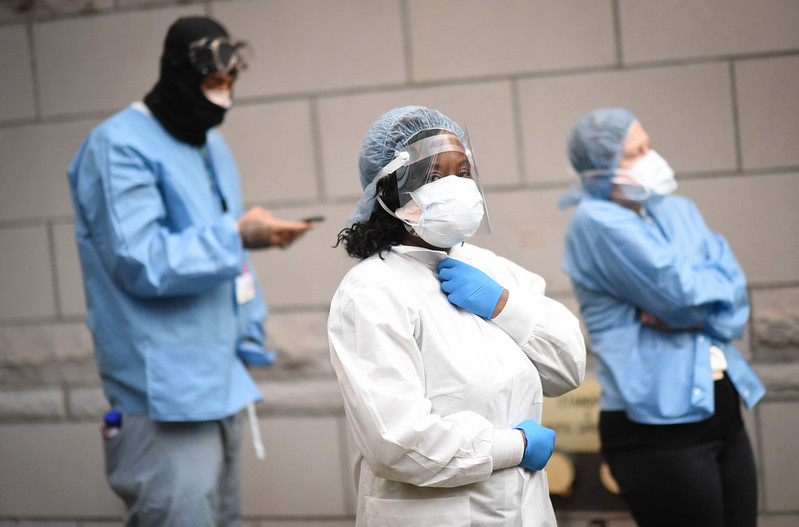 Health care workers during covid (photo: Michael Appleton/Mayor's Office)
---
Last month, Governor Andrew Cuomo delivered remarks at Riverside Church on the inequities in the Trump administration's COVID-19 vaccine distribution plan. He admirably stated that we must prioritize fairness and equity. Communities like many in the Bronx that have suffered the most because of this virus must not be left behind. But that commitment to leaving no community behind must also be applied to addressing the underlying issues that led to disproportionately negative outcomes for impoverished communities of color impacted by the virus.
Governor Cuomo was right when he stated, "Covid low tide in America also showed us the deep inequality in our country and the systemic discrimination in this nation. The truth is covid killed Black people in this country at twice the rate of white people. The truth is covid killed Hispanic people at 1.5 times the rate of white people. Those are ugly facts. The covid infection rate was 2.5 times higher among Black and Hispanic people and the hospitalization rate for Black and Hispanic patients was over three times higher compared to white patients."
This accurately describes our experience at SBH Health System (SBH). For the community we represent, a return to "normal" would be both a disaster and an affront, as it would not address the life and death issues being further exposed by this "low tide" moment in America. According to the New York City Department of Health's COVID-19 database, more than 90% of Bronx residents who have died from COVID-19 had preventable underlying health conditions.
A recent study by Gibenga Ogedegbe, et al also supported the fact that Black and Hispanic populations were more likely to test positive for COVID-19, and although their in-hospital mortality rate was not higher than white patients, "the structural determinants pervasive in Black and Hispanic communities, including inequality in housing, access to care, differential employment opportunities and poverty…explain the disproportionately higher out of hospital deaths due to COVID-19 infections in these populations."
Moving forward, we know that access to affordable and accessible quality community health care will be a primary factor in addressing the systemic health-care inequities in New York. Without coordinated patient-centered care, it will not be possible to ensure appropriate care continuity. Coordination is key to prevent redundancies and lost opportunities across the entire health-care delivery system, from vaccinations to highly-specialized procedures.
This means primary care clinicians and specialists, ambulatory surgery centers, specialized procedural centers, hospitals, and post-acute care facilities must seamlessly interact on behalf of the patient. We began to see the immediate benefit of this coordination during the height of the pandemic last spring, when hospital systems and others developed collaborative relationships with each other, in concert with public health officials to effect rapid responses to the crisis.
We also know that health and wellness depends not only on healthcare delivery, but also on those social determinants of health that interfere with that delivery. New York must immediately adopt policies that embrace and demand value-based health care. This must include a continued and renewed financial commitment to move health-care delivery from a volume- and profit-driven model to a value-based model that encourages providers and payers to collaborate and focus on programs aimed at improving the health, wellness, and resilience of all communities.
As part of this program, we must preserve the safety net by investing in community-based anchor institutions such as SBH, which has consistently exhibited a commitment to broad-based Bronx community partnerships aimed at improving the lives of the residents of the Bronx.
Our Affordable Housing and Wellness Center Development, in part supported by New York State, is an example of this willingness, and we are proud that we have created opportunities for hundreds of families by investing in safe, clean, affordable, and permanent housing, including for those who were formerly homeless. But it's not enough.
The Bronx continues to rank 62nd of 62 New York counties in terms of health and wellness, according to the RWD Community Health Rankings. Housing, physical, and food insecurities; education, income, technological, and health-care disparities -- many of them further revealed by the impacts of covid -- must be addressed to ensure that the next pandemic doesn't wipe out the rest of our community.
The moment is now to right the wrongs of previous generations and put our communities on a different trajectory. We have a real opportunity and responsibility to address once and for all the structural inequities that have contributed to the overwhelming losses experienced in our community. New York can serve as a model for the rest of the country about who we are and who we must be, and in the process create a "new normal" that guarantees opportunity and fairness for all New Yorkers.
***
David Perlstein, MD MBA FAAP, is President and CEO of SBH Health System. On Twitter @SBHBronx.
***
Have an op-ed idea or submission for Gotham Gazette? Email This email address is being protected from spambots. You need JavaScript enabled to view it.