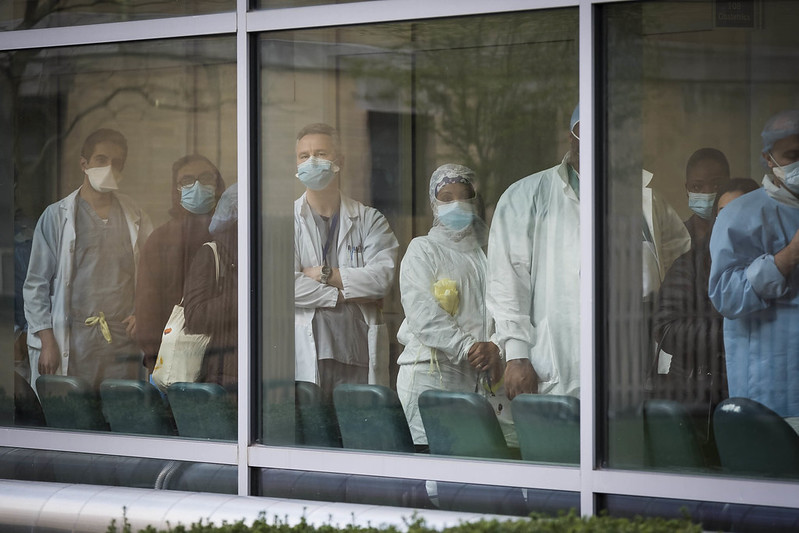 Health care remains the top issue for voters (photo: Ed Reed/Mayor's Office)
---
The Biden-Harris victory is great news and a huge relief. Our country has suffered under Trump.
But we have a problem. A record number of voters rejected a national campaign that stood for greater economic fairness, science-based policies on COVID-19 and the environment, protecting health care coverage, and racial justice.
In New York state legislative races, moderate and progressive candidates did well, achieving strong legislative majorities for Democrats in both houses. But several challengers as well as good incumbents running for re-election lost or won in races that were real nail-biters. After all we went through with Trump, these candidates, and others, should have had stronger results.
As we look forward, we need to ask: What's wrong, and how do we fix it.
Many working people across the country, in every demographic group, are disillusioned. They believe many of our political leaders are too close with corporate interests and fail to fight on vital kitchen-table economic issues.
Many people have been swayed by campaigns that make dishonest accusations and exploit divisive issues and fears.
But that doesn't mean they can't be won back or for the first time, to support policies that would make a real difference in their daily lives and futures.
To achieve that, I believe we must strengthen our progressive message, not move away from it.
Opinion polls have long told us that health care is the number one issue for the most voters. And while the Affordable Care Act has done a lot of good, COVID-19 has further exposed the gaping shortfalls and gross inequality that plague American health care.
Three quarters of our neighbors are afraid that they cannot afford their health care or health coverage and fear medical debt. Each year, a third of families who have health coverage have a household member who goes without needed health care because of cost; their health coverage doesn't do the job.
We don't have real choices. The vast majority of employees are covered by a health plan that's tied to their job. Health plans impose rising premiums, deductibles, and copays, and we have to pay them if we want to keep our insurance. Health plans dictate which doctors, hospitals, and medicines they cover. And they impose the same costs whether you're a multi-millionaire CEO or a receptionist.
If you lose your job, which has happened to millions of people, you lose job-connected health coverage.
Access to health care is diminishing. Losing hospitals, doctors, nurses, and neighborhood pharmacies is a growing problem in many communities, including rural areas, in large part because "third party payers" (i.e., health insurance companies) underpay them or exclude them from their restrictive provider networks.
We need to deliver a health plan that by law guarantees everyone complete coverage; complete choice of doctors, hospitals, and other health-care providers; and is funded based on ability to pay. It should include long-term care (home care and nursing home care), which can be a frightening cost that can wipe out a family's lifetime savings.
In New York, this means the New York Health Act to establish universal single-payer health coverage. It's more comprehensive than any health plan available. Having us all in the same boat – rich and poor alike – is the best way to guarantee it's the best possible plan.
Passing the New York Health Act is the one best thing we can do for the health and family finances of almost every New Yorker.
Does the covid recession mean we can't afford it? No.
Taking insurance companies out of the picture will save New York $55 billion a year we now waste on insurance company bureaucracy, marketing, and profit; on administrative costs doctors and hospitals spend fighting with insurance companies; and on the excessive prices we pay to drug companies because no single insurer has enough bargaining clout to force prices down.
These savings would enable us to cover the uninsured and cover what New Yorkers now spend on deductibles, co-pays, out-of-network charges, and other out-of-pocket costs. Instead of premiums, the New York health plan will be funded through a broad-based tax based on ability to pay.
It will simplify an excessively complicated and convoluted system, for patients, health-care providers, and employers, while providing universal health coverage for all New Yorkers, regardless of ability to pay and not attached to employment.
The New York Health Act has passed the State Assembly four times. We need to do it again and get it through the State Senate. New York's health depends on it.
***
Assemblymember Richard N. Gottfried represents parts of Manhattan and is the chair of the New York State Assembly Health Committee. On Twitter @DickGottfried.
***
Have an op-ed idea or submission for Gotham Gazette? Email This email address is being protected from spambots. You need JavaScript enabled to view it.