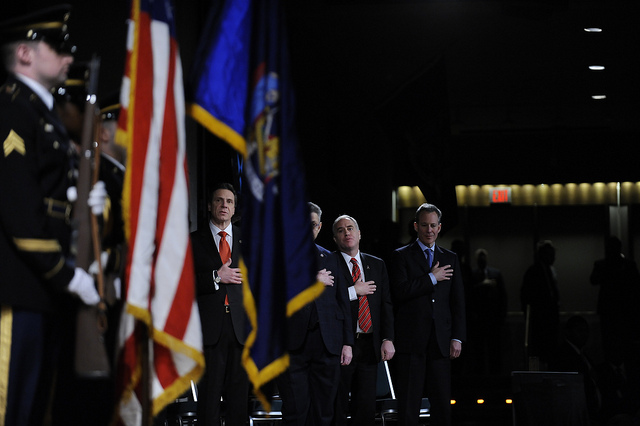 Cuomo, left, and DiNapoli, middle, in 2012 (photo: The Governor's Office)
---
Gov. Andrew Cuomo's recent assertion that Comptroller Tom DiNapoli should "educate himself" and that the comptroller's audits on state economic development projects are "dead wrong" and "opinion" drew a lot of attention. Many Albany observers took it as a sign of Cuomo's growing sensitivity to criticism about his signature projects.
Those projects, like the Buffalo Billion, are the subject of a federal investigation headed by U.S. Attorney Preet Bharara. The state Legislature remained fairly removed from oversight of the projects until very recently. However, several government watchdogs say that Cuomo's attacks on DiNapoli are part of a long-running pattern of Cuomo trying to weaken the comptroller's oversight of the executive branch.
"The governor hates oversight and the governor actively works to undermine and weaken anyone who is keeping an eye on him," said John Kaehny of Reinvent Albany, a group that has closely followed the Buffalo Billion economic development project. Kaehny noted that Cuomo and the Legislature approved a measure in 2011 that prevented DiNapoli from reviewing contracts at SUNY and CUNY ahead of time. "The governor has been undermining the comptroller from his first budget," said Kaehny of Cuomo, who took office in January 2011.
A recent DiNapoli audit of the Empire State Development Corporation's Excelsior Jobs Program, which gives businesses refundable tax credits for creating jobs in certain areas of the state, found that there wasn't proper oversight to make sure companies were providing the jobs they pledged to create and that they weren't simply relocating jobs from elsewhere in the state. Further, the audit found ESDC didn't obtain the proper paperwork to justify handing out tax breaks to some organizations. Cuomo told reporters that DiNapoli's audits on his economic development programs are invalid partly because DiNapoli is a former member of the state Assembly.
"The comptroller is not just the comptroller. The comptroller was an Assemblyman for many, many years. And that New York State Assembly, first of all, passed numerous economic development plans for many, many years," Cuomo explained. "For an Assemblyman to now critique economic development programs in upstate New York - what did you do? What bills did you vote on? And how did you allow this situation to develop?"
When asked by a reporter from The Observer why he then put DiNapoli in charge of auditing New York's homeless shelters, Cuomo responded: "You get in some audits the person's opinion, right? 'I think this about economic development.' Some audits are pure quantifications: count how many people are in a homeless shelter. Go 'one, two, three.'"
The combination of comments appeared aimed at undermining DiNapoli's work and authority, and fit the Cuomo mold of punching back at critics, whether they are advocates, local elected officials, or the elected chief fiscal officer of the state, DiNapoli.
Empire State Development issued a detailed rebuttal to DiNapoli's Excelsior audit that challenged some of its more damning assertions. ESD claimed DiNapoli's staff failed to grasp how the program actually works and the mandate of certain statutes. DiNapoli's office responded that ESD staff had not been cooperative.
Jason Conwall, spokesperson for ESD, issued a statement to media outlets after the report was released, stating: "Any truly objective review would show this program is cost-effective, performance-based, and incentivizes business growth by only providing tax credits to those that have achieved their job commitments and investments. The reporting requirements to this agency, as well as to the Department of Labor, are rigorous and companies have to demonstrate to ESD that they met their job commitments before any credits are issued."
The comptroller also recently released audits of Cuomo's Charge NY program and of Medicaid. DiNapoli's Medicaid audit found dead people were still receiving benefits.
Cuomo's dismissal of the comptroller's audits seems to discount the fact that the comptroller oversees an army of professional auditors that base their reports on figures and facts.
E.J.McMahon of The Empire Center, a conservative think tank, said that it is generally expected that there will be tension between a Comptroller and Governor and that it is unsurprising that Cuomo, who has a reputation for "ad hominem denunciation" over "the substantive argument," is feuding with someone charged with monitoring him. Yet accounting for those points, McMahon said there is still something surprising about Cuomo's animosity toward DiNapoli.
"Cuomo has exhibited a peculiar mix of antipathy and disrespect for Tom DiNapoli. It's hard to explain. After all, DiNapoli generally has been cautious and measured in his criticisms of administration policies, which reflects an institutional tradition in the comptroller's office. He's not exactly a confrontational kind of guy. If anything, DiNapoli seems to go out of his way to avoid taking potshots or unduly juicing up the wording of criticisms he does make.."
Representatives from Cuomo's office repeatedly pointed to press releases of critical audits by DiNapoli's office as salacious, saying they do not jibe with what is contained in the reports. During legislative hearings on economic development programs held earlier this month, administration officials quizzed on DiNapoli's audit failed to provide detailed rebuttals, only indicating they did not agree with the audits.
Cuomo spokesperson Dani Lever said in a statement, "When someone makes false or misleading attacks, our administration aggressively defends and corrects the record and we make no apologies for doing so." She did not offer comment to the assertion that Cuomo has worked to undermine the comptroller's office. She also did not respond to a request to elaborate on what might have been "false" in DiNapoli's audits.
In a statement, DiNapoli reiterated his role: "As state Comptroller, my office provides checks & balances and oversight to ensure that the state is working efficiently for our taxpayers. Government should always be working to improve itself. We have a job to do, and we will continue to do it."
Cuomo and DiNapoli are both Democrats.
In October, as news about Bharara's investigation broke, DiNapoli faced questions about why his office wasn't more involved in providing oversight into how two SUNY nonprofits were awarding million-dollar contracts. He told Susan Arbetter of The Capitol Pressroom that Cuomo and the Legislature had taken away his ability to review contracts before they were issued by SUNY and CUNY.
Kaehny of Reinvent Albany said that it is important to note that these powers were stripped from DiNapoli as the Buffalo Billion program began to take off. "The governor has worked methodically to undermine and resist the comptroller's oversight. His first budget stripped the comptroller's oversight over SUNY Research Foundation, which has been essential in the unfolding scandals in what appears to be pay-to-play for millions of dollars of contracts," said Kaehny.
Just as McMahon said, many watchdogs see Cuomo's reaction to DiNapoli's audits as concerning because they don't believe DiNapoli has been as critical as he could be and has not hit some of the more sensitive areas of Cuomo's economic development programs.
At the same time they see DiNapoli as standing mostly alone as a check on Cuomo's economic development spending given the Legislature has been relatively absent. "There is no question Tom DiNapoli has been standing alone on this," said Ron Deutsch of the Fiscal Policy Institute, a liberal think tank. "The comptroller should be praised for doing his constitutionally-mandated job and the governor shouldn't begrudge him for doing it. The governor needs to learn to take the criticism along with the praise."
Kenneth Giardin of The Empire Center agreed, "The comptroller has been picking up the slack that has been all but abandoned by the Legislature. The responsibility for oversight has fallen exclusively to the comptroller."
In New York City, Comptroller Scott Stringer has released a series of troublesome audits of city government, which have painted different levels of waste, dysfunction, and ineffectiveness by the administrations of Mayor Bill de Blasio and his predecessor, Michael Bloomberg. While de Blasio has contested different points and looked to downplay the findings, he and his administration have not dismissed the office as one that simply delivers 'opinion.' Nor has de Blasio called Stringer's work politically motivated, even though Stringer is thought to be a potential 2017 challenger to de Blasio.
Asked about the conflict between Cuomo and DiNapoli on Thursday, de Blasio said that he wasn't familiar with all the specifics, but that the comptroller was asking "valid" questions about the efficacy of economic development programs and that he's known DiNapoli to be a "a very serious public servant." "And obviously the state Comptroller should be respected," de Blasio added.
"The city comptroller does much, much broader audits," said Kaehny. "When the state comptroller does an audit that looks at how the executive branch spends money they don't pull back and ask questions about the bigger picture of nonprofits cutting million-dollar checks to campaign donors."
Former Gov. George Pataki had a relatively cordial relationship with Comptroller Carl McCall despite the fact that McCall was a political rival. Former Gov. Mario Cuomo's dislike for Republican Comptroller Edward Regan was not much of a secret - Regan was considered a possible serious challenger, though he never ran for Governor.
The New York Post recently reported rumors that DiNapoli could challenge Cuomo in a 2018 primary and capitalize on Cuomo's weakness with liberal voters. DiNapoli dismissed the notion in an interview with Politico New York and said he plans to run for re-election as Comptroller.
Note: this article has been updated to include ESD rebuttal to the Comptroller's Excelsior audit.