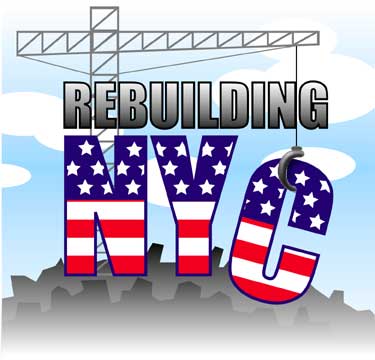 In his article in Gotham Gazette, "Fast, Not Fancy - And in Midtown, Not Downtown", Dick Netzer argued that Lower Manhattan should not be rebuilt nor its infrastructure restored in the aftermath of the September 11th terrorist attacks. Many of the so-called facts on which he and other detractors build their arguments are just plain wrong and, more importantly, his post-September 11th remedy would be a disaster for the city and the region.
We will rebuild Downtown.
Nothing less is demanded by Lower Manhattan's role as a critical engine of our economy, its history as the birthplace of the city and the nation, its architectural splendor and now, its unexpected and tragic role as a site for grief and prayer.
Just before the attack, the financial district was the most dynamic it had been since World War II. Over the past seven years, thanks to the efforts of government, business leaders and the local community, a downward spiral spanning several decades had been dramatically reversed to create a unique, mixed-use neighborhood that served as a model for the rebirth of older downtown districts throughout the United States.
But as all levels of government marshal the massive public and private resources required, and the redevelopment corporation takes shape, we must set as our goal the creation of a Downtown that is even more spectacular than the vibrant community that existed before September 11th.
Here are some basic objectives that should guide the renewal effort:
1.Maintain the financial core.
Downtown is the nation's center of finance. The primary institutions that make up a global financial marketplace - such as the New York Stock Exchange, the American Stock Exchange, NASD, NYMEX, the Federal Reserve Bank and Depository Trust - are committed to remaining in the area. But more is needed for the area to maintain its financial dominance: the area's concentration of investment banks, brokerage houses, trading operations, law firms and support services must be protected and enhanced by assuring that Downtown remains one of the world's pre-eminent central business districts.
One must not fail to understand the importance of Downtown's role as the nation's financial center and its dynamic growth over the past several years. Throughout the 1990s, the public and private economic development strategy for Lower Manhattan was the creation of an economically diverse and vital 24-hour, 7-day a week community. This approach was designed to enhance the area's vibrant FIRE (finance, insurance and real estate sector), not diminish it.
And the strategy was extremely successful. Prior to September 11th, 43 percent of Lower Manhattan's 370,000 jobs were in the FIRE sector, with the vast majority at banking, securities and commodities firms. This strength reflected a neighborhood that was coming into its own as a truly diversified, premiere financial service district. Following the declines of the late 1980s, the Lower Manhattan business district grew by 50,000 jobs during the 1990s to include not only the banks, brokerage houses, law firms, and insurance companies that historically have been located Downtown, but many professional services and retail firms that support financial services and, accordingly, made the area their headquarters.
In fact, in the late 1990s, the pronounced "shift to midtown" of previous decades had stopped and in fact had largely been reversed. As with any dynamic and large business district, some companies left during this period, but many more -- including such household names as NASDAQ, Deutsche Bank, and Guardian Life Insurance Co. -- moved their headquarters Downtown, confident that the area would remain the financial center of the city and the nation, and that economic value lay in their close proximity to clients, partners and competitors.
The area also remains the headquarters of many of the industry's most illustrious firms. Since the mid-1990s many prominent financial services and insurance firms, including Goldman Sachs, American Express, American International Group, Merrill Lynch, Standard & Poor's, Depository Trust, have recommitted and expanded their operations throughout Downtown. Major law firms including Sullivan & Cromwell, Cleary Gottlieb, Stroock & Stroock & Lavan and Milbank Tweed have stayed in the district, convinced of its long-term viability as the financial center.
The events of September 11th notwithstanding, the growth of the financial services sector in Lower Manhattan in recent years is all the more remarkable because it occurred despite industry trends - such as the wave of consolidation in commercial banking - that should have led to a decrease in the sector's presence Downtown.
The remarkable clustering of many different industries and uses Downtown over the past 15 years seems to have escaped the notice of Downtown's detractors. Recent diversification of the area's economy has led to an increase in firms connected to the F.I.R.E. sector, including high-tech, professional services, and retail. Other firms in key New York industries - such as architecture and design, including I.M. Pei, Skidmore, Owings & Merrill, and numerous graphic design firms - have made Downtown their home. These firms don't work in isolation - in fact, their economic livelihoods are intertwined with that of the financial services community. For example, a survey conducted this spring by the Downtown Alliance of the area's 600 high-tech firms found that 72 percent of these firms serve the financial services sector.
The importance of financial services to Lower Manhattan's economic cluster brings us to the second important fact that must be considered in efforts to maintain the financial core. A diminished role for financial services in Lower Manhattan would spell trouble for the financial services industry in the New York City region as a whole. Financial services generates 24 percent of New York City's $440 billion economic output and 14 percent of the city's tax revenue. Lower Manhattan, with its heavy concentration of these firms, provides an anchor location that is close to the New York Stock Exchange, as well as to firm partners, clients, and service providers.
This has implications for the surrounding area as well. Lower Manhattan is at the center of the New York City region, along an east-west axis of economic activity that stretches from New Jersey through Lower Manhattan, into Brooklyn and Queens and onto Long Island. Downtown's financial service industry does not just sustain Downtown, but is absolutely necessary for the continued economic viability of Downtown Brooklyn, the outer boroughs, and the New Jersey waterfront as well.
2. Improve the area's transportation infrastructure.
The aftermath of September 11th has highlighted the crucial role that transportation infrastructure plays in Lower Manhattan's economic viability. Prior to September 11th, 26 percent of the Downtown workforce consisted of commuters from New Jersey. Many, if not most, of these commuters used the PATH system that went through the World Trade Center. Since September 11th, these commuters have had to find alternate routes.
The longer commutes that resulted from the damage done to the area transportation infrastructure on September 11th affect area workers and their employers. We have already seen that one-quarter of the companies displaced from damaged or destroyed Downtown buildings have left the city. It seems that they left not because of a lack of available space, but instead because the commuting pressures on their employees necessitated their relocation to areas that were more accessible.
This suggests that unless the transportation links to Downtown are quickly re-established - and in fact this can occur much faster in Lower Manhattan than anywhere else in the City -- these workers and, equally importantly, their employers, will go elsewhere.
Rebuilding Downtown's transportation infrastructure to better serve its long-time commuters from Brooklyn, Staten Island, and New Jersey is crucial; however, infrastructure should be improved upon to better serve commuters from other parts of the metropolitan region as well. Downtown has the best subway connections in the city, but has long suffered from poor commuter access from the northern and eastern suburbs. Rebuilding and possibly relocating the World Trade Center PATH station, extending the Long Island Railroad from Brooklyn and expanding our budding ferry service will secure Downtown's future a premiere business center.
Federal and insurance dollars will be available to restore and -- if allocated wisely -- improve Downtown's transportation links to this grid. It seems clear that these dollars are earmarked for these kinds of projects in particular and are not available for transportation investments elsewhere in the region. We must seize the opportunity to access these one-time funds and with it, a once-in-a-lifetime chance to improve our transportation infrastructure.
3. Nurture the residents.
The vibrant Downtown economy also includes another important area constituency: its residents. Before September 11th, Downtown was the fastest growing residential district in Manhattan, with a 60 percent increase in population between 1990 and 2000. It has some of the city's best public schools -- P.S, 234, P.S./I.S. 89 and Stuyvesant High School. The Downtown Alliance's most recent survey of Downtown residents, conducted this past January, found that 37 percent of the 25,000 residents south of Chambers Street worked in the F.I.R.E. sector. This does not include the many residents of TriBeCa and SoHo who also work in financial services. Indeed, the stability of the area's financial services job base is linked in critical ways to Downtown's continued residential growth and to the long-term stability of Lower Manhattan as a residential neighborhood. Desirable residential neighborhoods in close proximity to Lower Manhattan provide the area's business people - many of whom are quite affluent - with the ability to live close to work while having access to all the amenities of city living. In fact, nearly 50 percent of survey respondents reported that they walked to work.
Now, many of these mostly affluent and mobile residents are skittish. Many have raised safety concerns about remaining in the area, and we must calm their fears and renew their hope by demonstrating that the new Downtown will be a spectacular place to live and raise a family.
4. Advance the 24/7 community.
Thanks to strategies put in place by Mayor Giuliani and Governor Pataki in 1995, Downtown pre-September 11th was on its way to becoming an around-the-clock neighborhood, with new restaurants, movie theaters, hotels, museums and tourist attractions. These new uses were just beginning to emerge, and many will need material support to continue their development while the area is rebuilt.
5. Redevelop the Trade Center site as part of a larger plan.
Understandably, much has already been said about the need to rebuild and the need to memorialize. Both are important. But the Trade Center was not merely 12 million square feet of office space: it was also Downtown's retail and transportation hub, the crossroads for thousands of employees and visitors each day. Most importantly, the site lies at the geographic epicenter of Lower Manhattan. Because of its role as a central location, the World Trade Center area's development cannot proceed in isolation. Instead, it must be the centerpiece of a broader program for the Downtown of the future.
6. Connect Battery Park City to the east side of Downtown.
Battery Park City is the pre-eminent new urban community of the last half-century. However, it is separated from the rest of Downtown as well as from most of Manhattan by West Street, a six-lane highway. Battery Park City and the rest of Downtown are mutually dependent. Now is the moment to bring them together.
7. Beautify the waterfront.
One of Downtown's major assets is its magnificent waterfront, which stretches from the East River around the tip of Manhattan to the Hudson River. One of its deficits is insufficient open space. The Hudson River Park will soon grace the west side of Manhattan, but the east side waterfront and the very tip of the island -- 17 acre historic Battery Park, Lower Manhattan's largest open area -- should become a resource and a jewel for New Yorkers and visitors.
8. Improve vehicular and pedestrian circulation.
Only one street goes river to river south of Chambers Street. The redevelopment of the Trade Center site offers an opportunity to provide much better vehicular and pedestrian circulation.
The centerpiece of any revitalization effort must be an appropriate and compelling memorial for the victims and heroes of September 11th. Most living Americans will make a pilgrimage to this site. And all of us hope that, as with other sites of profound national memory -- like Gettysburg -- this pilgrimage will be made by future generations as well.
Any suggestion that Lower Manhattan is not worth rebuilding is an insult to the thousands of people - rescue workers, small business people, public officials, and many more - who are working around the clock to stabilize the area. Moreover, it would be a bitter legacy to an act of international terror that claimed more than 3,000 lives, dislocated thousands of residents and severely affected our nation's economy.
Over the past four centuries, Lower Manhattan's mettle has been tested many times. It has withstood war, fire, depression and, yes, terrorism. Now, as we grieve the deaths of thousands of family, friends and colleagues, it is important to consecrate this ground by demonstrating, once again, the extraordinary grit, creativity and talent of New York.
It is essential to rebuild. We will do so -- magnificently.
###