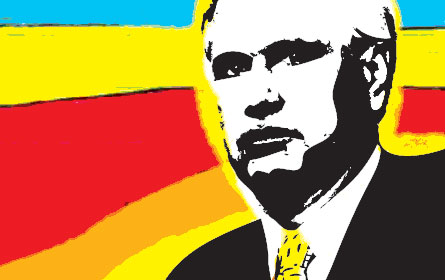 Image by Ya-Hsuan Huang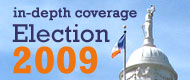 This is the second story in our series on the mayoral candidates. Read the first story: The Underdog.
Councilmember Tony Avella's campaign headquarters is fitting.
Located on the middle floor of a storage facility that's practically on top of the Brooklyn Queens Expressway, it's an elusive setting to kick off a run for the city's top office.
When I visited last week, the Prince Street sign teetered on its hinges, the Q train crossing the Manhattan Bridge rumbled in the distance and a likely homeless man marched in the vacant lot next door, dragging a large wooden stick. Just flights up inside, a quote from Mahatma Gandhi hung in one room, a bubble-lettered campaign schedule in the other. Another hand-written poster read: "Viva Avella."
In the flesh, Avella was berating his newest target: William Thompson Jr. The city comptroller is Avella's opponent in the September Democratic primary and the latest addition to Avella's all-too-powerful-politician list. That list has long starred Mayor Michael Bloomberg and Council Speaker Christine Quinn.
The councilman-slash-mayoral candidate's latest grievance: Thompson's call for the resignation of city schools Chancellor Joel Klein -- a stand Avella said he himself took years ago.
"I guess [Thompson's] getting worried that I'm getting closer in the polls and now he is in fact copying what I have said," Avella argues, with a hint of hauteur in his voice. "I have no problem calling him copy cat Thompson." He laughs, then calls to his communications director: "We should start calling him out. Where are the original thoughts?"
Originality, according to Avella, is his campaign's modus operandi.
Avella claims his run for mayor might break boundaries. With barely any cash on hand (just 5 percent of what Thompson has raised and .007 of what Bloomberg has spent), Avella is banking on good, old fashioned word of mouth to get him into the west side of City Hall. "This," Avella exclaims, throwing his arms up, "has never been done before."
So far, though, "this" has showed little sign of success. Operatives, advocates, council members and even his own allies don't think this city's official pre-McCain maverick stands a chance. What his campaign might do, they say, is shine a spotlight on the issues central to the Avella platform: the city's so-called run amok development and the lack of community input.
Unintentionally, the Avella campaign's supreme impact may be giving the councilman's archrival of the moment a leg up after the Democratic primary.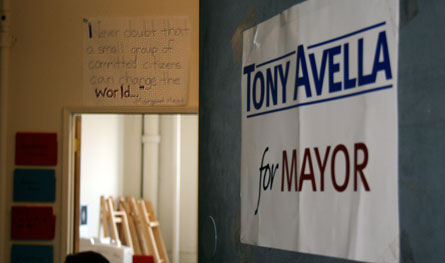 Photos by Courtney Gross
A Man of Independence
Nobody ever said Tony Avella was out to make friends. Most, in fact, say he's out to do the opposite.
He jumps at any chance to criticize the Bloomberg administration and the council speaker. He has the second highest number of negative votes out of the council's 51 members, following only Charles Barron, another notorious administration foe. For the most part, Avella's colleagues find him tough to tolerate (they even took the opportunity to vote down an uncontroversial residential development in his district when he stepped out of a stated meeting last year).
If there is ever a voice of dissent in the council chamber, it's likely coming from Avella's chair. The chairman of the zoning subcommittee voted against the rezonings of Harlem, Coney Island, the Lower East Side and the area around Columbia University. He said no, to little effect, when the speaker proposed to put green carts in impoverished neighborhoods. He rejected a bill to give women at reproductive clinics more protection from protesters.
For a look at Avella's voting record, check out our City Laws Database .
Avella vehemently opposed the extension of term limits. He has said no to every tax increase that has come before him since he joined the council in 2002.
All of this hasn't won him praise from other members.
"Tony hasn't fully accepted the reality that the council is a collaborative body of 51 legislators and not a collection of mini-mayors," said Councilmember John Liu of Queens.
Avella was not always a political pariah. He started his career in politics working for then-Councilmember (later council speaker) Peter Vallone Sr. (When I asked Vallone what he thinks of Avella now he said he was a "man of conviction" and "whether you agree with him or not on his political stuff, he certainly sticks to his guns.") Avella worked in former Mayor Ed Koch's community affairs unit, at one point handling all of Queens, then for former Mayor David Dinkins. He also had a stint in the state Senate as the chief of staff for the late Leonard Price Stavisky and Toby Ann Stavisky.
But somewhere in between being elected in 2001 and voting against the city's 18 percent property tax increase in 2003, Avella said he found his voice (or more accurately, his bully pulpit). Now those at City Hall question whether Avella is passionate about issues dear to his heart or whether this modern day martyr just likes to piss people off.
"He's an independent," said Brooklyn Councilmember Simcha Felder on the floor of the council chamber last week. "I'm being too nice," he quips, then mulls over his perception of Avella for a bit. "He's an independent, but entirely on his own."
A Long, Long Shot
Tony Avella is the 2009 mayoral race's stowaway -- nobody even knows he's on the ballot.
But he is. Avella says his campaign collected 30,000 signatures to secure a spot in the Democratic primary for mayor. To get on the ballot, a candidate needs 7,500. Thompson gathered 210,000 signatures, while Bloomberg gathered 20,000, according to their respective campaigns.
Now that he's on there, Avella has to figure out how he'll get the support. He won't, he said, advertise on television or even have a significant mail campaign. He can't afford it.
So far, Avella has raised barely $260,000 -- a smidgen of cash compared to the $36.6 million Bloomberg has spent on his re-election campaign. The number withers even more when compared to the more than $5.3 million Thompson has secured for his primary run.
Avella claims fundraising is "part of the corruption of the political system," so he isn't doing much of it. Even though he has already spent three-quarters of his cash, Avella brought in just over $20,000 so far this year. In the latest filing alone, which spanned much of May through part of July, he raised only $10,741.
Avella isn't worried. He points to his 10 point leap in the polls. A Quinnipiac University poll in June had Thompson topping Avella 36 percent to 8 percent with 46 percent undecided. A Marist poll earlier this month had 47 percent for Thompson and 18 percent for Avella with 35 percent unsure. Others say this could just be the residual effect of Rep. Anthony Weiner bowing out of the race.
To most political aficionados, Avella's attempt is laughable.
"Word of mouth," said political consultant Joseph Mercurio in between bouts of chuckles, "doesn't win an election... You actually have to communicate with voters. Most voters don't know who he is or that he's in a race for mayor."
Just one week of enough television ads to make a difference, estimates Mercurio, would cost $1.25 million. Bloomberg has already spent more than $20 million on television ads -- four months before the general election.
In order to get public financing for a mayoral race, a candidate must raise at least $250,000 in matching funds. Avella has received $68,930 in matching claims so far, making it highly unlikely he will qualify. The first $175 of a contribution, except those from lobbyists and others who have city contracts, is matched six to one.
Avella will likely qualify for debates sponsored by the city's Campaign Finance Board. The first one, slated for Aug. 26, requires a candidate have $50,000 and 5 percent in the polls.
Avella, an Abba fan who can't remember the last time he read a book, hasn't taken a vacation since being elected. But he isn't campaigning full time either. Admirably or ignorantly, he says he's putting his job as a councilmember from northeastern Queens first. The campaign comes second.
"I was elected to do my job as councilmember," retorts Avella. "First I do my job as councilmember, and then I try to fit in my campaign as much as possible."
Campaigning on the nights and weekends hasn't brought in endorsements. So far, only a handful of groups, including the League of Humane Voters of New York State and the New York Community Council, have signed on to support Avella. Bloomberg, on the other hand, has garnered more than 85 endorsements, while Thompson has 105.
Characteristically, Avella doesn't care. "I think endorsements mean nothing," said Avella. "You don't get these things because you're a great guy. The payback is enormous."
A Grassroots Agenda
Once again, the Bloomberg administration had run afoul and Avella was there to straighten them out. Earlier this month, in front of the Department of Buildings, Avella, along with a handful of other higher office hopefuls, blasted the city for new rules, which he claims limit the people's ability to comment on the city's development.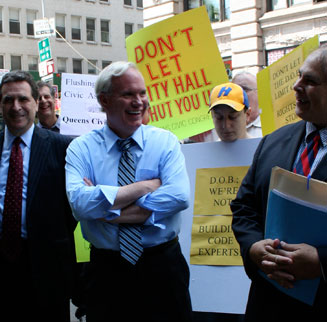 "It's amazing we have to be here once again in front of the most corrupt agency in the entire city," said Avella, while double-decker buses whooshed by. "Illegal construction, out of character construction is out of control in this city, and we are not going to let the mayor and the Department of Buildings let the real estate industry have its way."
Since 2002, the Bloomberg administration has steered 96 rezonings through the City Council, some of which will drastically change the character of certain neighborhoods. That development plan is the linchpin of Avella's candidacy. Avella claims the administration has stonewalled communities, leaving them on the sidelines as it plans to bring in luxury condominiums and out of character development to neighborhoods across the five boroughs.
If elected, Avella says he would put development in control of local community boards, essentially giving them veto power over what's in and what's out of neighborhoods. When asked whether that would be NIMBYism run rampant, Avella says people are smarter and more understanding than you think.
"He prides himself in fighting for smaller development and downzoning communities in the city," said Land Use Committee Chair Melinda Katz, who often has to work with Avella. "I think it's a goal that most people want to see in the city of New York."
The idea is popular among many of the city's community development advocates. Some of them hope an Avella candidacy will get this type of community development approach on the agenda of the next administration.
"I think Avella is bringing up some very, very important ideas and important issues which no one else is talking about," said Simeon Bankoff, executive director of the Historic Districts Council. "I don't hear the mayor talking about his plans for the city. I hear him talk about education. I hear him talk about guns. I don't hear him talk about neighborhoods the way I talk about them."
Whether Avella will be able to capitalize on the groups that are against the Bloomberg administration's development approach is unclear. While the anger may be there, Avella's ability to harness it is questionable.
Avella's 09 Role
There are some places where Avella fits in.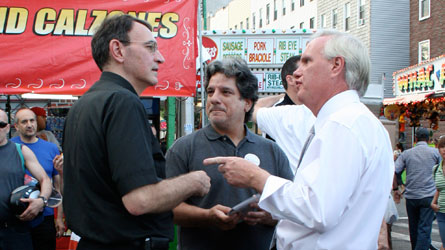 Earlier this month in Williamsburg at the Italian Festa del Giglio, the candidate weaved through the crowds, undaunted by the smell of cannolis and the sausage and peppers sizzling.
While making his way through, Avella turned to his campaign confidant, Phil DePaolo. "You know my crowd," he said with a smile.
"That's why I wanted you to come," DePaolo, president of the New York Community Council, replied.
Just a half hour before, Avella had been attempting (emphasis on attempting) to court the voters of Williamsburg disembarking from the Bedford Avenue subway stop. Note: The young and hipster laden population seemed far more interested in getting to the local watering hole than shaking Avella's hand.
But here on North 7 Street, flooded with Catholic Italians, Avella felt right at home.
If there are any areas that Avella will be able to carry come this fall's primary, it's the ethnic enclaves, said one city political consultant. They won't carry him into the general election, Mercurio says, but Avella might be able to win the votes of New Yorkers who, whether they want to admit it or not, would not vote for a black candidate, like Thompson.
Other than that, Mercurio said Avella's real influence on this year's Democratic primary is giving Thompson the opportunity to get his name out early.
"The favor Tony Avella is doing in this campaign is to allow Thompson to have an opponent in the primary, to allow him to do a media campaign in the primary," said Mercurio. "The Tony Avella race is basically an opportunity for Thompson to get matching funds in the primary."
When asked if Thompson considered Avella a threat, a campaign spokesperson only said that Thompson had garnered support from other mayoral hopefuls, like Weiner.
Either way, Avella, isn't giving up.
"I'm not the phony politician that says, 'I'm gonna win this. We're gonna win this,'" Avella says, sitting in his tiny campaign headquarters, his fist clenched pounding the air. " I don't believe in that. I'm the honest guy. I'm telling the truth. We can win it. Are we definitely going to win it? No, that's too egotistical for me."
Clarification: Tony Avella has been endorsed by the League of Humane Voters of New York, not to be confused with the New York League of Humane Voters.