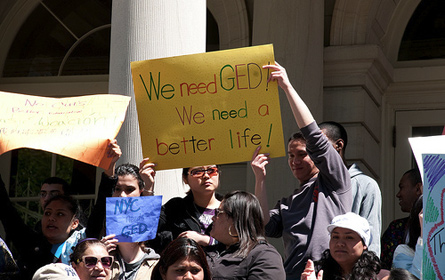 Photo by Vanessa Velez
Some 1 million New Yorkers over the age of 16 do not have a high school diploma. For these people, the high school equivalency diploma -- the GED -- can offer the best hope of a better job or further education.
To get that diploma, though, these New Yorkers have to navigate an often confused and chaotic system. Most who try do not succeed. Only 47.5 percent of New Yorker City residents who take the GED pass it, compared with a passing rate of 56 percent for the state as a whole and a national rate of 71.5 percent. The state's rate is said to be the highest in the country.
To address this, adult education advocates and some members of the City Council would like to see the GED system get additional resources and become more centralized. The Paterson administration, though has proposed cutting the state program by $3.9 million budget or almost 30 percent. People who have studied the GED program say these cuts could extend the amount of time students must wait to take the test and reduce the state's already low pass rate even further.
GED Basics
The General Equivalency Diploma given by New York State is based on nationwide exam created by the American Council on Education. It can be taken by any New York resident 16 years old and older. Those between 16 and 19 have to meet tougher eligibility requirementsthan older people. In 2009, almost 29,000 individuals took the test in New York City, and almost 56,000 in New York state, according to the state education department.
The seven-hour test includes an essay and subtests in five subjects: writing, reading, social studies, science and mathematics. To pass, the test taker must score at least 410 points on each section -- on a scale, like the SAT, of 200 to 800 -- and average 450 across subjects for a total of 2,250 points. Students who take the test in French or Spanish also must pass an English proficiency test. Candidates may not take the exam more than three times in 12 months.
Contrary to popular perception, the GED is not easy. The American Council on Education sets the passing score at a point where only 60 percent of a sample of high school seniors would pass the test.
Beyond that, the certificate can indicate a student's determination, perseverance and valuable life experience. At the School of General Studies, Columbia University's school for "nontraditional students," the GED is a "necessary first step … indicating academic readiness," said Curtis Rodgers, the dean of admissions. But Rodgers said. "We also look at life experience -- what they did after leaving high school and coming to us -- that indicates personal preparedness for the career they are choosing."
The New York City Department of Education offers a range of GED programs, including separate programs for individuals under 21 and over 21. The City University of New York providescomprehensive programs on campus to help students transition to work or to college. GED programs in public libraries focus primarily on basic literacy. Community organizations also offer GED preparatory classes.
New York State subsidizes the GED program with $20 for each student who takes the test.
Slashing the Subsidy
Now, though, the Paterson administration, facing a massive budget deficit, has proposed eliminating that $20 payment. People involved in adult education say this could have a huge impact.
"If we lose this funding source we will have to suspend testing after June 30," said Mae Dick, director of the Adult Learning Center at La Guardia Community College. Even now, she said, "The monies generated by the $20 reimbursement don't come close to covering testing costs. If you test 1,500 people a year you get $30,000, which is the salary of one test site staff worker."
The state says it will continue to pay for materials and scoring the test.
One alternative would be to charge the students for the test. Every other state except Arkansas charges a fee ranging from $13 to $200, according to Jane Briggs, a spokesperson for the New York State Education Department. New York did away with its fee in 2008.
Denise Deagan, director of adult basic educationprograms at the Borough of Manhattan Community College, called the proposed budget "catastrophic" and said it would add six months to the already long waiting list for people hoping to take the test. This means, she said, that more students will fail since "students should test soon after they have attained readiness to maximize retention of the material."
Merryl Tisch, chancellor of the New York State Department of Education said advocates exaggerate the effects the cuts would have. "To focus on the $20 reimbursement per test taker budget cut is a simplistic view of the problem. It is one of three or four major problems," she said. "We can't fix any one problem without addressing the totality.
Tisch said, though, that the state education department has asked "the legislature to invest more money in the GED program so that we can get a comprehensive solution."
Taking the Test
"GED testing in NYC has become a barrier rather than a threshold to further opportunities," Jaccqueline Cook wrote in Our Chance for Change: A Four-Year Reform Initiative for GED Testing in New York City, a 2008 report prepared for the city Department of Youth and Community Development. "Simply stated, the NYC GED testing system functions poorly and is greatly underfunded."
Problems exist at many stages in the system, critics say. Dick of La Guardia Community College characterizes the current registration system for the GED test as "ridiculous." With no coordination among test sites, she said, students apply for five or six test seats to try to guarantee they get a place. According to Dick, the students are not notified if they do not get a seat. Often, an individual will take the test at one site and not bother to notify the other sites.
Since the $20 per seat provides needed funding for the test sites, test administrators have an incentive to overbook seats. "In order to get adequately funded for the exam, we book 170 people" for 100 places, Dick said.
In her 2010 State of the City speech, City Council Speaker Christine Quinn, who has termed the GED system "broken," called for making the city's job centers a hub for the GED. She also has proposed the creation of a website that would centralize test registration and help people find prep classes. Together, her change would cost about $1.4 million, according to the council.
Cook called for a $6.1 million to revamp the testing system. In its place, she proposed a citywide GED testing, scheduling and registration database that would track who has applied to take the GED, what seats are available and who has been accepted. In addition, Cook would establish a hotline for applicants who do not have access to computers, and a website with information about test content, procedures, methodology, strategies and scoring.
Quinn and other say that, before they can take the test, applicants should have to take a practice test. A predictor test, which is half the length of the official test, would familiarize the student with test content and multiple-choice format.
As for the test itself, Cook advocates breaking it up into shorter sitting periods. Currently, the test is administered in one seven-hour session or in back-to-back Friday evening and Saturday sessions. Students say sitting, let alone thinking, for that length of time is exhausting. And they say the 10-minute breaks between subtests don't even allow all 100 test takers to use the rest rooms.
Getting Ready
By many accounts, though, the problems with New York's GED program start long before the test. "What we are proposing for starters is to have New Yorkers complete a GED preparatory program before testing. This would correct New York's poor image of having a very low pass rate," Tisch said. "Other states in the nation do this. As things now stand in New York, anyone can sit for a test."
In their report for the Community Service Society, Lazar Treschan, and David Jason Fischer endorse Cook's recommendations but conclude that the problems New Yorkers face "begin earlier along the road, in test prep programs hampered by insufficient funding, ineffective teachers and inadequate oversight."
People seeking an appropriate GED instruction program must deal with a "baffling" and "frustrating" system, they said, and finding the right program is often a matter of luck.
Kennedy Fischer-Mack would probably agree. Soon after leaving high school at age 17 in 1989, Fischer-Mack took the GED test twice. But he said he never got his test results, and his GED instructors shrugged him off, saying they had no way of tracking the exam. "I got frustrated," he said. "The teachers just didn't care. For them it was just a job." So he gave up.
Today, Mack has his GED and is pursuing an associate degree in business administration at LaGuardia Community College. He enrolled in January soon after passing his GED and completing a college preparation program at LaGuardia. Why did he succeed this time? Teachers at LaGuardia "guide and encourage you every step along the way," Fischer-Mack said. "So, I never felt like giving up."
Treschan and Fischer also point out that there is no standard for the teaching of GED preparation courses and that even GED instructors who "do have state certification … are not necessarily prepared for teaching the GED." They recommend the state Education Department develop a graduate level course in GED instruction and cited a need for other trained staff, including guidance counselors, college advisors and social workers.
Since "nearly 20 percent of the city's working age population has not earned a high school diploma or its equivalent," Treschan and Fischer said, "improving the current performance of the dismal GED system is an important priority."