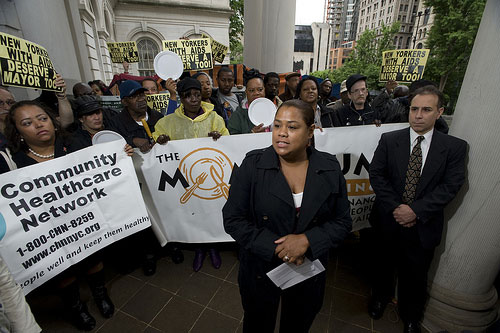 Annabel Palma at a rally for AIDS workers last month.
City Councilmember Annabel Palma had her payday.
Palma has used at least $64,000 from local unions to pay legal fees and fines from violations of the city's campaign finance law during her City Council campaign in 2003, according to several sources familiar with the account. The cash was funneled through a legal defense fund that is not registered with the State Board of Elections or the city Campaign Finance Board and was established by Kevin Finnegan, the current political director for 1199 SEIU, where Palma once worked as an organizer.
Palma was slapped with $30,000 in fines from the Campaign Finance Board because her 2003 campaign allegedly coordinated its activities too closely with 1199 -- the city's large and powerful healthcare workers union. The Bronx councilmember also racked up substantial legal fees during the dispute.
According to filings at the State Board of Elections, 1199 contributed a total of $51,675 to the Annabel Palma Legal Defense Fund -- making one donation in December of 2006 and another in August of 2009. The Bronx Democratic County Committee, a local UAW, United Federation of Teachers political action committee and a local International Union of Operating Engineers also contributed to the Palma defense fund.
Palma said she was not involved with setting up the fund.
"That fund was created separate and apart from my knowledge," said Palma. "It's an independent fund. Through conversations, [it] was created by my supporters that believed that someone like myself, who came up through the ranks, needed help in paying off these fines."
The account predates Finnegan's tenure as the political director of 1199, he said, and it was established while he was still a partner at Levy Ratner -- a labor-linked law firm.
At least two other current City Council members have used independent funds to pay off fines associated with their campaign activity. According to files at the State Board of Elections, council members Joel Rivera and Elizabeth Crowley also have similar accounts.
These accounts, which are legal, are not subject to contribution limits or disclosure and may operate completely independently from the campaign finance system, despite the fact that the three officials accepted public dollars for their campaigns.
Unregistered Accounts
While state elected officials often set up private accounts or use their state campaign accounts to pay off hefty attorney fees -- recently convicted former State Sens. Joe Bruno and Efrain Gonzalez both did -- it has been completely under the radar on the city level.
Eric Friedman, the director of external affairs at the Campaign Finance Board, said candidates can use personal accounts or campaign accounts to pay fines. Friedman said the board is currently researching how other jurisdictions handle the disclosure of legal defense funds.
"We don't currently audit candidates' personal bank accounts," said Friedman. "We don't do that nor do we think that is appropriate. The question is: Is there something that is appropriate to advance the values of our campaign finance system?"
In Palma's case, she said she had nowhere to turn when she received her hefty campaign penalty in 2007.
"I had no idea how I was going to pay this. The CFB was calling me on a daily basis just like a creditor would," said Palma. "Was the fund a blessing? I think so. If not, I would have been over $100,000 in the hole to this day."
Both Palma and Finnegan said they went to the city's Conflicts of Interest Board for a ruling on whether the Palma defense fund would represent a conflict of interest for the councilmember. They both said the board approved the use of the fund to pay Palma's fines.
Wayne Hawley of the Conflicts of Interest Board said the board has not issued a public opinion on the Palma case. Many of the board's decisions are private.
Finnegan argues legal defense funds are entirely separate from the campaign finance system, because they do not expressly advocate for the election or defeat of a candidate.
Others disagree.
"I'm stunned that this practice is permissible," said Dick Dadey, the executive director of Citizens Union, the sister organization to Gotham Gazette's publisher. "It undercuts the integrity of the campaign finance penalty system for gross violations and misuse of public funds."
When asked whether getting her campaign fines paid off by powerful city unions had the appearance of undue influence, Palma said she was not beholden to any special interest.
"As an individual, I think I'm smart enough to be able to make an independent decision separate and apart from anyone asking me to do certain things," Palma said.
An Unusual Practice?
The use of legal defense funds on the city level isn't unprecedented. Palma's current colleagues in the council have done the same thing.
According to filings at the State Board of Elections, the "Crowley for Council CFB Debt Fund" received at least $24,000 between 2006 and May 2008 -- just before the newly elected councilmember ran in a special election for an open seat in Queens. Money came from unions, including the International Union of Operating Engineers, 32BJ SEIU, 1199 and the Uniformed Fire Officers Association, among others. Crowley was slapped with $80,000 in fines by the Campaign Finance Board for fundraising irregularities associated with her 2001 campaign, which she lost to former Councilmember Dennis Gallagher.
Crowley did not return calls for comment.
Candidates cannot receive public financing unless their debts to the Campaign Finance Board are paid off.
Councilmember Joel Rivera, the council's majority leader, had to pay the Campaign Finance Board $56,245 in 2003 for failing to verify certain expenditures.
According to filings at the State Board of Elections, a fund titled "Rivera CFB Fund" received more than $19,000 from political action committees across the city, including the Uniformed Firefighters Association, 1199 and the Correction Officers' Benevolent Association, among others. The fund's address is the same as his city campaign finance account.
Yesterday Rivera said he could not recall the account, but he did say he fundraised to pay his campaign finance board fines.
"We did some fundraising, and we used the fundraising to pay off the fines," said Rivera.
The campaign finance system is complicated, he added, and candidates can get entangled in its regulations.
"There needs to be a remedy," Rivera said. "Because we're not rich."