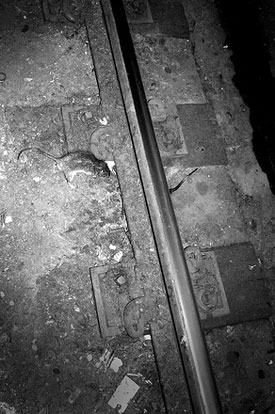 Photo (cc) pieter.morlion
Natalie Hunnicutt's first assignment as a pest control aide for the city, was, she recalls, also her most memorable: crashing a party of dozens of rodents at a Queens supermarket.
"There were rats scurrying left and right and I just thought 'Oh my goodness,'" the Brooklyn resident said. The pests were leaping over her feet and into a mountain of trash, the result of people using the store's parking lot as a garbage dump. By the end of the day, Hunnicutt said she and seven of her colleagues removed about 400 bags of garbage from the site.
Hunnicutt continued to clean private and public properties with rodent problems for a little more than two years until the city laid her off in May.
"It hurt," the 28-year-old said about the pink slip. In her job, she said she was "cleaning up communities and making a difference. I was keeping New York City clean."
The Department of Health and Mental Hygiene, where Pest Control Services resides, laid off Hunnicutt and 48 of her coworkers. That will save $1.5 million, according to the department. It will leave the department with 41 workers.
Beyond saving money, however, the city says the layoffs are part of a plan to restructure the bureau's rodent control program. Rather then cleaning lots in response to complaints, the health department has a new project called rodent indexing, which, it says, can control the rat population with fewer workers. Union leaders and some City Council members, though, remain skeptical and warn about a potential vermin crisis in New York.
City Stalwarts
Rodents are preponderant, albeit unwelcome, residents of the city. New York has consistently been named the city most at risk for rodent infestation, according to several reports released over the years by d-Con. The two research scientists who coauthored the 2009 Rodent Risk Report said with New York's aging infrastructure and high population density, it is no surprise rodents run rampant here.
"The average person does not see much of the infrastructure, some of which are underground," Bruce Colvin, a rat expert and one of the report's authors, said. "But rats see it and use that for travel and movement, such as sewers."
Earlier this week, the health department released a study showing rats either currently infest or could easily inhabit half of the city's subway lines. As many as 150 rats can live in the walls of a single station's refuse room, the study found.
Despite that, health department senior research scientist Robert Corrigan told the Board of Health, subways are not the city's most rodent-infested places. Parks, vacant lots and construction sites are also havens for the pests, he said.
Over the years, experts have offered widely ranging estimates of the number of rats in the city. While some have put the number at one rat per person -- for a total of about 8 million -- others figure there could be as many as almost 100 million rats. Robert Sullivan, the author of Rats: Observations on the History & Habitat of the City's Most Unwanted Inhabitants, has put the figure far lower.
A Plan for the Future?
Whatever the count, most New Yorkers would probably agree that there are too many rats living in their midst. In recent years, the city has tried to stem the number by responding to complaints, often made through the 311 non-emergency hotline. When a rat report is received, Pest Control Services would send out pest-control aides. If they found a problem, property owners could let the aides take care of it for a fee -- shared by the city and the owner.
With rat indexing, however, the health department says it targets rat infestations before a complaint is even made. During an 18-month period in the Bronx – from December 2007 to July 2009 – Pest Control Services inspected 30,000 properties in the borough three times. Combing through neighborhoods block by block, they used hand-held computers and mapping technology to find potential rodent issues.
When they detected a problem, workers gave recommendations to property owners to improve conditions, such as clearing clutter and debris or removing rat enticing garbage. The agency subsequently sent notices to those property owners. If they failed to comply, the agency issued a notice of violation and corrected the issue at the property owner's expense.
Comparing numbers from the inspectors' second and third visits, the department said infestations declined in every neighborhood. According to health department numbers, the indexing approach led to an 83 percent decrease in the number of properties with rodents during the Bronx pilot.
Citing its success, the city expanded rodent indexing into Manhattan in January. The health department said further expansion will depend partly on the project's outcome in Manhattan. The department also said the results of the Bronx pilot program, indicate that the cutbacks in Pest Control Service would not lead to more rat infestations.
Fewer Workers, More Rats?
Fitz Reid, president of Local 768, a union of health workers, questions that reasoning. He said rat indexing is not proactive, as the city describes it, but "a passive thing [that] does not respond to the people." He said with fewer workers less attention would be paid to services such as baiting and cleaning.
The department contends it will continue to answer complaints about rats, conduct inspections, perform exterminations and issue violations.
City Council members also have their doubts. Although he commended the department for being proactive with the indexing program, Councilmember James Vacca said he is not convinced the program will work since the health department has yet to give council members information on the impact of laying off pest control workers. Knowing New York's history with rodents, "I don't want to cut programs that keep [rats] at bay," Vacca said.
Councilmember Peter Vallone said even in lean times, services such as pest control should not experience cutbacks.
"I'm glad [the health department is] using technology against an age-old problem, and perhaps that will allow for things to be done more efficiently in the future," Vallone said. But he wants the health department to remember that "pest control is one of the things government needs to do that the citizens can't do for themselves. That's a quality of life issue that we need to provide necessary funding for."
Funding Issues
In theory, said Colvin, proactive approaches such as indexing are the most effective means to control rat infestations. But, he said, other cities that tried such preventative measures find it difficult to secure funds to sustain the effort.
That, he said, is because attention to pest control increases when there is a visible problem. That attention translates to political, and therefore, financial, support for extermination and prevention projects. In New York for example, it took rats overrunning a Taco Bell in Greenwich Village to lead to stricter restaurant inspections.
"There's a myth that if we're seeing rats, we don't have to invest in rat control programs," Colvin said, "That's a fallacy that's gotten cities into trouble. … Rat populations can rebound quickly within six months if risk factors are not continually targeted."
If Colvin's reasoning applies here, the health department could find it difficult to get steady funding for rodent indexing in the future. The department said it did not have the cost of the rat indexing program available.
From her experiences as a pest control aide, Hunnicutt said she also is skeptical about how well rat indexing will do.
"It's a given," she said, that reducing the workforce will make the siutation worse "because there's not an efficient amount of workers to get the job done. The work will always grow."
Hunnicutt said she has kept in contact with some of the other laid-off workers. Some of them have moved on, she said, while others are still coping with the job loss. But she said she rebounded pretty quickly. She applied for, and was offered and accepted, a janitorial position at the department of health.
Her first day, June 14, went well, she said, adding "I don't have to deal with rats!"