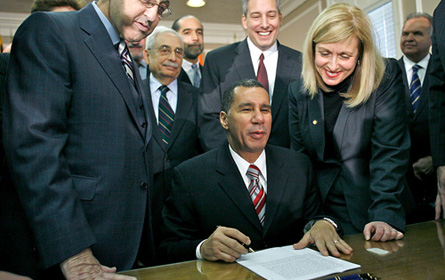 Photo by New York State Assembly
Gov. Andrew Cuomo's misguided proposal for a adding another tier to New York's pension systems represents another grandstand play to impress his millionaire friends at the expense of working people. The proposal is unnecessary, unfair and will not provide any immediate savings. It means the lowest paid public employees will pay more, work longer and receive less benefit.
There are a lot of misconceptions about New York's public employee pension systems. A little background is required.
Nearly all public employees represented by the Civil Service Employees Association participate in the New York State and Local Employee Retirement System, the largest of New York's systems. (There are eight separate systems: five in New York City and two others, one for police and fire and one for teachers, in addition to the state and local system for public employees outside of New York City.)
The New York State and Local Employee Retirement system is fully funded according to all appropriate professional accounting standards. This means that the system has adequate assets to cover the cost of all current and future pension obligations.
Paying for Pensions
State and local government pensions are paid for by employee and employer contributions based on salary, investment earnings and lifespan and other projections.
Before 2000, most state and local retirement system participants contributed 3 percent of their annual salary toward their pension. Since 2000, that contribution ended after 10 years in the system. In 2009, the state enacted a Tier V, reinstituting provisions requiring new employees joining the system to contribute 3 percent of salary throughout all their years of active service. The state claims this reform will save taxpayers $35 billion over the next generation.
The state and local government system, which is combined with the New York State Police and Fire Retirement system into what is known as the Common Retirement Fund, currently has assets of around $133 billion. However, the fund saw some dramatic swings in value over the past decade as Wall Street investments see-sawed. As a result, a number of reforms were put in place by legislation to ensure fund assets will be able to meet obligations.
In the past, strong investment returns allowed state and local governments to practically avoid making pension contributions for extended periods of time. Throughout the 1990s, as public employees contributed 3 percent of salary each year, public employers contributed only token amounts. That can no longer happen. Reforms enacted in recent years, largely out of concern about Wall Street volatility, require responsible, minimum employer contributions in good economic times and bad. Related legislation allows the obligations to be spread out over time to avoid spikes.
Attacks on the System
Because of these necessary and appropriate reforms, a number of highly vocal politicians, egged on by business groups with their own agenda, have been railing about the high costs of pensions.
Again, keep some perspective: the average Civil Service Employee Association pension is $14,000; members of our association and most other participants do not double-dip or pad their pensions in any way. In fact there are already caps on the amount of overtime that applies for pension purposes.
Yet Cuomo's Tier VI proposal overreaches for reform at the expense of working people. Rather than address specific reforms that close loopholes and eliminate political abuses, Cuomo is pursuing draconian, wholesale changes that tar all participants with the same broad brush. His proposal would hit the lowest paid employees the hardest and without good reason.
The governor's proposal would require employee contributions to be increased from 3 percent to 6 percent of salary; raise the retirement age from 62 to 65; lengthen the time period to vest in the system to 12 years. It includes a number of other provisions that would seriously diminish benefits.
At the same time, Tier VI will not yield any short-term savings for taxpayers. Tier V was implemented last year for the state systems only, and its savings are not expected for another generation.
Cuomo's timing on the proposal is also suspect. It was unveiled without warning when there were only 10 days left in the legislative session -- hardly enough time for legitimate consideration of such a controversial piece of legislation.
For all these reasons, the Tier VI proposal can only be viewed as an attack on working people to score some cheap political points rather than seriously addressing the challenges that confront all the people of New York.
Danny Donohue is the president of the nearly 300,000 member CSEA.