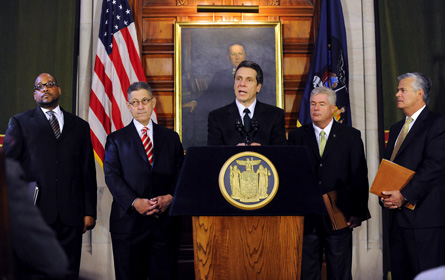 Gov. Andrew Cuomo, Assembly Speaker Sheldon Silver and Senate Majority Leader Dean Skelos may have been able to reach a budget deal late on Sunday evening, but the announcement left plenty of questions. The most pressing being, "Who is going to actually vote for this?"
"This budget makes tough choices, which is what you sent me to Albany to do," Cuomo said in a statement. "It closes a $10 billion dollar deficit with no new taxes or borrowing, redesigns government to force it to cut waste and inefficiency, and finally delivers real results for hard-working families across New York State."
Cuomo used tough talk, high poll numbers and the constant threat that he could make his budget a reality through extenders if legislators did not reach an agreement with him before April 1. The deal will force some rank and file legislators into a tough spot: vote for a budget that slashes spending and services and risk losing votes, or vote against a deal reached by the most powerful and popular man in New York State politics.
The $132.5 billion budget cuts spending by approximately 2 percent and makes major cuts to education and Medicaid spending. If passed before April 1, it will be the state's first on-time budget in five years. Not all the details of the budget are clear yet.
At least $250 million has been added to Cuomo's proposal, including funding for human services, state universities and education for the blind and deaf. In a victory for Assembly Democrats and advocacy groups, Cuomo eliminated a proposed cap on medical malpractice rewards. But in other areas, Democrats and advocates lost big: there is no millionaire's tax extension despite a major last minute push by education, labor and advocacy groups. Also absent from the budget is the renewal of rent control laws that are set to expire in June. And it is unclear exactly how school aid will be distributed. Cuomo said that will be sorted out in the coming days. These issue could keep a variety of legislators from voting for the measure.
Reaction
Reactions from advocates were as expected. Conservative business groups praised the budget.
"This budget agreement marks a dramatic reversal in the tax and spend habits of Albany that drove this state to the brink of fiscal disaster. We congratulate Governor Cuomo, Senate Majority Leader Dean Skelos and Assembly Speaker Sheldon Silver for closing a $10 billion deficit without raising taxes. They have sent a clear message to employers that New York is open for business," said Kathryn Wylde of the Partnership for New York City in a statement.
The Alliance for Quality Education's Billy Easton had the opposite reaction: "Governor Cuomo's first budget makes heartlessly large cuts to our schools to finance tax cuts for millionaires and billionaires, and students in poor and middle class districts will lose the most educationally. Nobody who cares about students is celebrating this budget. Make no mistake about it: this budget will reduce the quality of education in New York."
A number of city Democrats were making a lot of noise this past week about their desire to see rent regulations renewed. "That may be one of the key issues for me as a legislator," Sen. Liz Krueger told Liz Benjamin. "If there is not rent regulation in the budget, or an ability to believe that we are ending up with much stronger laws long before June 15th, the deadline, that may be a basis for me and many of my Senate Democrat colleagues not to be able to vote for this budget."
Krueger even seemed to toy with the idea that the Senate would not have a quorum to bring the budget to a vote if Democrats did not show up to session.
Tentative deals have crumbled in previous years once legislators who were shut out of secretive negotiations were able to dig into the gritty details.
Mayor Michael Bloomberg slammed the deal as the "largest cut of state aid to New York City ever."
"At the outset of the budget process, we urged the governor and State Legislature to adopt a budget that treats New York City equitably and provides the mandate relief and reform that would allow us to absorb the State's heavy cuts. This budget agreement appears to fail on both counts, and worse, it passes heavy new costs down to the city," the mayor said in a prepared statement. Bloomberg added that it was "encouraging" that a deal was reached on time. Bloomberg also said he hoped the state would move to abolish regulations that require the city to layoff teachers based on seniority.
Silver told reporters that he still plans to lobby the Senate to reauthorize both the millionaire's tax and rent control laws. "Hopefully by doing this thing early, it will follow through on a lot of other issues," he said.
Meanwhile, as part of the budget, Cuomo will have the authority to close prisons. The deal calls for Cuomo to eliminate 3,700 prison beds --"in consultation" with the legislature. It isn't clear which prisons will be eliminated. It is likely that legislators whose districts face closures will put up a major stink.
"Government had to tighten its belt with the same sense of urgency that working families have been tightening their belts since the economy went into freefall in 2008," said Silver in a statement. "The sole consolation is that working with the Governor, we were able to achieve critical restorations which will soften the cuts affecting working families, our senior citizens, our most vulnerable populations and the children in our classrooms."