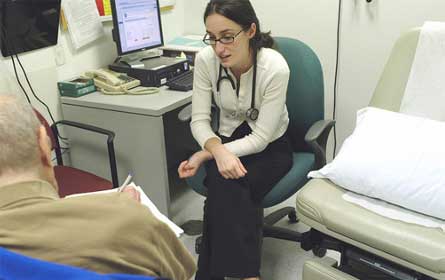 By almost any measure, people of color suffer worse health outcomes than their white counterparts. The contributing factors vary, ranging from lack of access to healthy food to taking fewer preventative health measures.
On Tuesday, the New York State Medicaid Redesign Team voted on a slate of proposals to reduce disparities in healthcare in the state. One of them attempts to tackle the thorny problem of separate and unequal access to health care for people on Medicaid at some of New York's most elite private hospitals -- a problem we call "segregated care."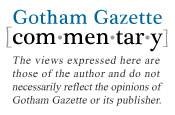 In New York City, the type of specialty outpatient care a person receives is often dictated by how they pay for that care Private academic medical centers, also known as teaching hospitals, are partly to blame for this.
People who have private insurance go into one system. Those with no insurance or with public insurance such as Medicaid go into another. Because African-Americans and Hispanics in New York City are more than twice as likely as whites to be publicly insured or uninsured, patient steering by insurance status disproportionately hurts people of color. Whether intended or not, this two-tiered system amounts to racial discrimination.
New York State Sen. Gustavo Rivera and Assemblymember Nelson Castro, both of the Bronx, have introduced legislation that gives New York the chance to right this wrong and make health equality a reality. The proposal voted on by the redesign team is based on this legislation. Together, these measures could substantially improve access to health care for millions of New Yorkers.
The Second Tier
In New York City, private academic medical centers, which unlike community or public hospitals also run their own medical schools, operate a two-tiered system. Privately insured patients are seen in faculty practices, while those on Medicaid or uninsured are seen in outpatient clinics. (Because public hospitals largely cater to Medicaid or uninsured patients, segregated care is a non-existent issue in these institutions.)
Worse still, the academic medical centers do not ensure that Medicaid patients seen in the clinic have access to the same services or quality of care as privately insured patients. In the clinic system, patients are usually treated by residents on a rotating schedule. This makes continuity of care, which is linked to reduced hospitalization and earlier identification of chronic disease, difficult. Other issues, such as long waiting times for appointments, limited coordination between specialists and primary care doctors, and lack of night or weekend coverage, continue to plague the clinic system and the patients who shuffle through it.
To document this segregation, Bronx Health REACH conducted two telephone surveys of several major hospitals in New York City. The callers phoned four different specialty departments (cardiology, endocrinology, ophthalmology, and nephrology) to try to make an appointment for a relative. In almost every instance, the first question the caller was asked was what insurance their relative had. If the answer was private insurance, the caller was always referred to a private practice. Callers who stated their relative had Medicaid or no insurance were almost always referred to the clinic system.
Bronx Health REACH and New York Lawyers for the Public Interest have been fighting to end segregated care for over a decade. Other avenues, including a civil rights complaint filed in 2008 with the New York state attorney general, have not proved successful.
The introduction of the legislation in June by Rivera and Castro in both houses of the legislature is a major step forward. The statewide bill would prohibit steering of patients into different care settings based on insurance type and instead require that patients be treated by integrated care teams. It would also mandate that hospitals inform patients of financial assistance programs and require that academic medical centers negotiate with Medicaid managed care plans so that all providers are eligible to treat Medicaid patients.
"In New York state, we have the opportunity to go a step further than the national health care legislation requires by addressing health inequities that exist based on an individual's ability to purchase quality healthcare insurance," Rivera said. He said the bill, which Bronx Health REACH helped initiate, "will further chip away at policies that create health disparities along class lines, and will work toward ensuring that quality healthcare be a basic right for all New Yorkers."
Separate and Not Equal
Though our phone surveys determined that private hospitals do separate patients based on insurance status, hospitals have argued that separate doesn't necessarily mean unequal. In meetings with hospital administrators over the years, Bronx Health REACH and attorneys from New York Lawyers for the Public Interest have received a number of vague responses about why the two-tiered system continues to persist.
Administrators have said that this is how it has always been done. Some administrators, and even some doctors, have implied that the clinic patients should be grateful for what care they do get.
Hospitals also have cited financial considerations, arguing that Medicaid does not reimburse enough for visits to private doctors' offices. This may be true, but it's not the whole truth. Medicaid reimburses at a higher rate for a patient seen in a clinic than at a private doctor's office. If a faculty or attending physician saw patients in a clinic setting, they would receive the higher rate and the patient would get the high quality care afforded to privately insured patients.
The Effect on Patients
Bronx Health REACH's work in underserved communities throughout New York City has uncovered countless stories of unequal treatment in outpatient clinics.
Vanessa Ghigliotty was a 27-year-old single mother from the Bronx when she went to the doctor in May 2001 to find out why she was always tired. As a Medicaid beneficiary, she went to her usual place of care, a hospital clinic. The doctor told her that she had been working too hard and advised her to take it easy for the summer.
The summer passed, and Ghigliotty still felt incredibly fatigued. Meanwhile, a growth that hurt to touch had formed on the right side of her stomach. In October, she went back to the same clinic and saw a different doctor, who rather than running any tests, told her she needed to eat more roughage and lose weight. He attributed the bulge to gas, even though Ghigliotty told him she was concerned because it was rock hard and very tender. The doctor dismissed her concerns and suggested she pick up a new hobby and find a boyfriend.
By April 2002, Ghigliotty could no longer walk. Though in constant pain, she was terrified to go back to the clinic and receive the same dismissive treatment. Her parents finally convinced her to go to the emergency room, where she learned she had Stage 4 colon cancer. Eventually, Ghigliotty got treatment for her advanced cancer at Memorial Sloan-Kettering and underwent four and a half years of chemotherapy and seven surgeries.
"When I first went to the doctor, I probably had Stage 2 cancer, but then I had to wait almost a year and it was everywhere," she said. "I think that's what the problem is in clinics. You get largely ignored until you can't ignore it anymore, until it's impossible to ignore."
For Gary Spears, a pastor from the Bronx, a small cut on his finger turned into a massive infection. Concerned, Spears went to the emergency room, which referred him to the hospital's outpatient clinic. They sent him home with some Tylenol and a bandage. The infection continued to get worse, and Spears kept returning to the clinic, where he saw a different doctor each visit.
At the time, the reverend had experienced rapid weight loss and was constantly tired, had trouble eating and needed to go to the bathroom frequently. Despite these all being signs of diabetes, especially in people who are overweight, the medical staff never gave Spears a blood test to determine if his glucose levels were too high.
Luckily, at his church Spears met a doctor, who noticed his bandaged hand and made him an appointment for the next day. Spears got a finger stick and found out he was a diabetic and at risk for amputation. Through proper intervention and treatment, Spears was able to keep his finger and get his diabetes under control.
"Every time I went for a follow-up, or to let them know how I was doing, I saw a different doctor. And that doctor appeared not to be looking at the charts until he got into the room," said Spears. "I felt I wasn't being cared for, and I was wasting my time. I was waiting for long periods of time to be seen, and then I was not getting treated like an individual."
One System for All Patients
Integrated specialty care systems are not a radical pipe dream. At academic medical centers in other areas of the country, including at Massachusetts General Hospital in Boston, the same doctors see all patients, regardless of insurance, in the same place. This integrated approach is not only equitable, but it does away with a wasteful system where hospitals operate two specialty-care practices under the same roof.
In addition, under the Hill-Burton act and other laws, academic medical centers, which receive millions of dollars in federal and state funding, must make their services available without discrimination, especially to recipients of Medicaid. Instead, by providing a separate system of care with poor access to specialty services, these hospitals are practicing blatant discrimination against a population that is largely low-income and racially and ethnically diverse. The failure of academic medical centers to participate in many of the Medicaid managed care plans available in New York, despite the fact that 90 percent of Medicaid recipients in the state are mandated to participate in managed care, further discriminates against this underserved population.
The medical community does have guidelines that address these concerns explicitly. The New York State Patients' Bill of Rights states that patients have a right to "receive treatment without discrimination as to race, color, religion, sex, national origin, disability, sexual orientation, source of payment, or age." (Italics added.)
The New York State Department of Health has also issued guidelines for medical residents as specialty-care providers for Medicaid managed care patients. These guidelines require that patients be given the name of the attending physician in writing, even if they are seen by a resident. All patients have a right to be cared for directly by the attending physician if they request it. The guidelines also require that Medicaid enrollees in specialty outpatient clinics be cared for in a setting that allows for continuity of care and have the ability to make follow-up appointments with a particular resident or attending physician. In addition, the guidelines state that training sites must integrate the care of Medicaid, uninsured and private patients in the same settings. While these guidelines are in place, they are not enforceable nor have they been followed.
The Health Equity Bill now in the legislature, and the Medicaid Redesign Team proposal going before Gov. Andrew Cuomo for possible inclusion in his budget, would eliminate the separate and unequal system of care in favor of an integrated system that delivers the highest quality of care to all patients, not just those with private insurance. Without it, the New York City private teaching hospital system, considered by many to be one of the best in the world, will continue to cater to the white and affluent, leaving the publicly insured and uninsured to manage high need chronic conditions without quality medical care. We can do better.
Charmaine Ruddock is project director of Bronx Health REACH, community coalition funded by the Centers for Disease Control and Prevention and dedicated to the elimination of racial and ethnic health disparities.