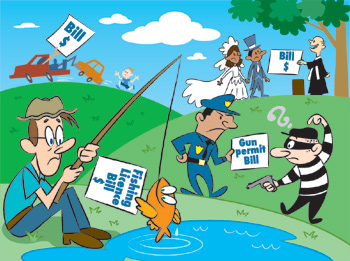 When New York City homeowners open their $400 property tax rebate this year, Mayor Michael Bloomberg wants there to be no mistaking who sent it.
The mayor's name appears on the rebate four times: once on the envelope, once on the rebate check (unusual for city issued checks), and twice in an attached letter, which also includes a reference to "my rebate."
"This rebate honors the sacrifices you made in order to help New York City's recovery during difficult times," the letter concludes. "Sincerely, Michael R. Bloomberg."
What the mayor does not mention in any letter or in any of his campaign literature, however, is that over the last three years, the city and the state have offset the cost of tax cuts and rebates with hundreds of "miscellaneous" fee increases.
In the last three years, the city and state have raised the price of, among other things:
Buying a new car
Obtaining a photo ID
Parking a car in a city owned lot
Having a car towed
Making a cell phone call
Fishing
Playing tennis
Sailing a boat
Visiting the zoo
Visiting someone in jail
Shooting a turkey
Such fees do not show up on a New Yorker's tax bill and seldom make headlines, but they cost taxpayers billions of dollars.
When these fees are added to other recent increases in subway and bus fares, bridge and tunnel tolls, taxi fares, water rates, and rent-regulated apartments, the cost of living in New York - already one of the most expensive cities in the nation -- becomes even pricier.
"There is definitely a sense that New Yorkers are being nickel and dimed to death," said Bonnie Brower of City Project, a fiscal watchdog group.
This year's city budget - which must be approved by the mayor and City Council by July 1 - contains no tax increases, no drastic cuts to services, and only a few additional fee increases. It's an election year. But next year, the city will face a huge deficit, which means New Yorkers will be looking once more at new and higher fees.
SAMPLE OF INCREASES IN STATE OR CITY FEES
Official Documents


Documents Filed with City Clerk

$.15 (old) to $9 (current)

Documents Requiring Signature from City Clerk

$3 to $10

Copy of Marriage License

$1 to $10

Copy of Marriage License for use outside of U.S.

$5 to $15

Marriage Record Change

$25 to $40

Telephone

Monthly 911 Emergency Phone Service

$.35 to $1

Monthly City Cell Phone Usage Fee

$0 to $.30

Parks and Sports

Parks Department Recreation Center Membership

$25 to $50

Recreation Center (with Indoor Pool) Membership

$50 to $75

Stadium Parking

$10 to $12

Prospect Park and Queens Zoo Admission

$2.50 to $5

Seasonal Adult Tennis Court Permit

$75 to $100

Golfing Greens Fees

Increased $10

Transportation

New Car Ownership Title

$10 to $25

All-Terrain Vehicles

$10 to $25

Department of Motor Vehicle Fee

$5 to $10

Photo ID

$3 to $5

License Plates

$5.50 to $15

Towing Fees

$150 to $175

Rents

Rent Regulated Apartments

Increased 8.5 percent

Water

Water Rates

Increased 5.5 percent

Toll or Fare Increases

Single Subway Ride

$1.50 to $2

Daily Unlimited MetroCard

$4 to $7

Weekly Unlimited MetroCard

$17 to $24

Monthly Unlimited MetroCard

$63 to $76

Bridge and Tunnel Tolls

Increased $4

Taxi (Base Fare)

$2 to $2.50

Taxi (Per 1/5 mile)

$.30 to $.40

Taxi (Flat Rate from JFK Airport)

$35 to $45

Other

Sidewalk Café License

(varies by size)

Hair Cuts for Jail Inmates

$0 to $2

Lobbyist Registration Fee

$100 to $150

Shotgun License

$55 to $140

Handgun License

$170 to $340
FEE MANIA
When Mayor Michael Bloomberg took office in 2002, the city was still reeling from the terrorist attacks of September 11, 2001 and the economic turmoil that followed. As a result, New York City faced its worst fiscal crisis since the 1970's and struggled to close billions of dollars in deficits.
But the mayor had announced that he would not raise taxes, and in his first year, he kept to that pledge. How? He told the commissioners of each city agency to generate revenue in other ways -- by instituting new fees, and raising old ones.
How is a fee different from a tax? There are at least two ways to answer this:
1. A fee is a charge for a specific service or product, or the price for permission to engage in certain activity (e.g. the price of a license to practice a particular profession).
2. A fee is something that a politician doesn't want to call a tax.
"There are legal and technical differences between a fee and a tax," said Doug Turetsky of the Independent Budget Office, "but for New Yorkers, it comes out of their pocket just the same."
In the last three years, local government has hiked a slew of fees, and instituted new ones where none before existed.
The City Council passed a 65-cent monthly fee added to every New Yorker's phone bill to pay for 911-phone service, and a 30-cent monthly "usage fee" on cell phones. This money does not go to the telephone company, but directly to City Hall.
Filing a document with the city clerk's office, which used to cost 15 cents, is now nine dollars.
Parking fees at city garages and at Yankee and Shea Stadiums went up, and 3,500 parking meters were adjusted so they have to be fed seven days a week. Those who parked in the wrong place or forgot to feed the meter found that the cost of having their car towed also increased from $150 to $175.
The Department of Corrections came up with inventive ideas to raise money from a population with little disposable income: inmates must now pay two dollars for a haircut and visitors must lock their belongings in coin-operated lockers before entering a jail.
But one of the biggest sources of fee revenue is city parks. Fees for using ballparks and fields, swimming at recreation center indoor pools, playing tennis on city owned courts, lifting weights at a city-run gym, or visting a zoo have all increased.
This year, Governor George Pataki and the State Legislature also approved nearly three dozen fees totaling about a billion dollars, hiking the cost of getting a title for a new car, registering an all-terrain vehicle, getting a photo taken at the Department of Motor Vehicles, and spending the night in a state campground.
"Everything in this city is getting so expensive. How are you supposed to live?" a 77-year-old Bronx resident Frank Cervatini told the New York Times after the last round of fee hikes. "Thank God I'm nearly dead."
But even death could soon cost more. This year, the mayor plans to raise fees for birth, marriage, and death certificates in order to generate an additional $10 million.
THE COST OF DOING BUSINESS
It is not just individuals who are paying more; businesses in New York also face an increasing list of fees, a cost that they pass on to customers in the price of their products.
In 2003, the cash-strapped city increased their fees for sidewalk cafés for the first time in a decade, drawing complaints from café and restaurant owners who said their business was already being hurt by the smoking ban. Under the fee increase, a large café on the Upper West Side saw its annual fee increase from $3,052 to $8,109. A small café in downtown Brooklyn paid $1,440, up from $435.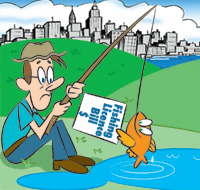 The Bloomberg administration has proposed an increase in the registration cost for companies that sell products in wholesale markets, like the Hunts Point produce market in the Bronx, arguing that it needs more money to do background checks to ensure companies do not have ties to the mob.
The City Council recently voted to increase the fee paid by property owners seeking special building permits by 25 percent.
While these various fees are relatively small when compared to the total cost of doing business in New York -- which is already high because of rent, transportation costs, and business taxes -- they do add up.
"They probably affect small businesses that have a narrower profit margin the most," said Elizabeth Lynam of the Citizens Budget Commission.
DEBATING FEES
The argument for fee increases is that when the city provides a service to its citizens or regulates a specific activity, it is not unreasonable to charge those who use the service to help cover the costs.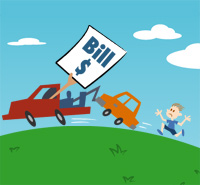 "When a fee is used primarily to cover the cost of an activity, then there is some justification," says Frank Mauro of the Fiscal Policy Institute, a group that monitors the state and city budget.
However, most government fees do not go directly to cover the cost of a specific service or even to the agency that oversees it. They go back into the city's general operating budget.
For example, when a New Yorker pays $100 for the seasonal permit required to play tennis in a city park, that money does not go to help maintain that specific tennis court, nor the park it is located in, nor even to the Department of Parks and Recreation.
Officials argue that earmarking funds for a specific service would limit government's ability to spend money where it needs it most.
"[If park fees went to the parks department] that is money that would not go to education or firehouses and would have to be generated elsewhere," said Parks Commissioner Adrian Benepe at a recent City Council hearing.
However, some economists argue that unlike income taxes, which are proportional to a person's income, fees are "regressive" because lower-income people end up paying a more significant portion of their salaries for the service -- or they simply give up the activity because they can not afford it.
"Fees have a more significant impact on lower- and moderate-income people than on high-income people," said Mauro.
In New York, government is increasingly relying on these sources of revenue.
In the last four years, the "miscellaneous" category of the state budget -- which is comprised of fees, fines, college tuition, and lottery profits -- has risen from 18 to 26 percent of the state's entire revenue, according to E.J. McMahon, who writes about budget fiscal issues for the Manhattan Institute.
HIDDEN TAXES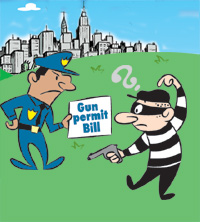 For politicians who are reluctant to raise taxes, fees are a less visible and less controversial way to fill the city's coffers.
"Fee increases are a fast, cheep way to get revenues without generating organized opposition," says Bonnie Brower of City Project.
At a recent forum, San Francisco Mayor Gavin Newsom argued that many cities across the country have been forced to raise fees because the federal government is cutting taxes and then reducing funding for health care, housing, and education programs.
"Look at your parking tickets, look at the cost of getting across the bridge or using a roadway, look at the cost of your recreational facility," said Newsom. "You are getting squeezed across the board. We don't have a choice."
Still, many citizens, who learn about tax hikes either from news headlines or their annual tax bill, are not necessarily aware of what is happening with fees.
"From the public perspective, many of these things aren't even viewed as taxes," said Lynam.
This is not surprising since officials make fee increases difficult to track.
Some fees are built into the bottom line of a specific agency's budget, so it looks like politicians have not made cuts, when in fact they have reduced funding and then offset them with new fee revenues.
How the city's financial information is made available may become increasingly critical in the future.
Since the 1970s fiscal crisis, the state has overseen aspects of the city's budget and made local officials adhere to a set of strict financial requirements. That oversight power ends in 2008 and local officials (in particular the members of the New York City Charter Review Commission) are currently looking at how the city will report its finances once those rules are lifted.
FUTURE FEES?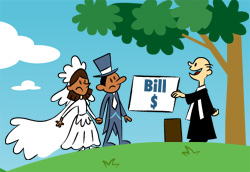 Although it may seem like the government is already charging for every possible service in the city, there are still plenty of new ways that the city could generate revenue.
One famously free service is the Staten Island Ferry. Until 1997, passengers paid a roundtrip fare of 50 cents, and if the city reinstituted it, it would generate $4.5 million a year.
There are 12 city-owned bridges between Manhattan, Brooklyn, Queens, and the Bronx that are free to cross. Some estimate that charging $7 to cross the East River bridges and $3 for the Harlem River bridges could generate as much as $690 million a year.
Others have argued that libraries should charge a fee for video and DVD rentals just like Blockbuster or the local video store.
Even tossing out a bag of garbage may someday have a specific price tag. More than 6,000 towns and cities across the nation already charge individuals for the amount of trash they throw out in the same way residents are charged for water and utilities.
The new city budget contains only a few fee increases. Incumbents have been talking of a budget surplus and of tax breaks. But once Election Day has passed, the city faces a projected $4.5 billion deficit for the fiscal year that begins in July, 2006, and another $4.2 billion deficit the following year. Tax breaks of one year can often lead to fee increases in the next.
Â