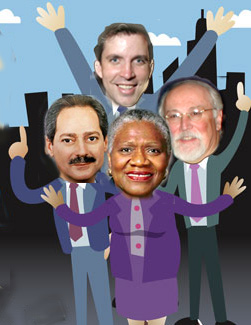 On July 28, 2005, five candidates for mayor debated issues of poverty, gentrification, education, and the proposed basketball arena in Brooklyn at a forum at Medgar Evers College. The debate was sponsored by the Community Service Society, which dubbed the event "The People's Debate," hoping that the candidates would address concerns related to the two million New Yorkers who live below the federal poverty level. Mayor Michael Bloomberg was invited, but did not attend. U.S. Rep. Anthony Weiner was in Washington and did not attend. Reporters from NY1, Amsterdam News, El Diario, and NY1 Noticias asked the candidates questions. The following is an edited transcript of the debate.
OPENING STATEMENTS
Fernando Ferrer: I want to thank the Community Service Society as well for documenting the struggle of so many families struggling just to be able to survive in New York. The mayor's multi-million dollar commercials on TV won't talk about that. The 60 percent who don't have health care; or the third of them who rely on food stamps and food pantries just to be able to eat. And this mayor isn't making it any easier for them. Twenty-five percent who pay half their income and rent. They're the reason I'm running. They're the reason I'm here tonight.
I'm here to talk about a city that treats poor people as if they were invisible and [ignores] the middle class...out of existence. This is by a mayor who just doesn't get it. Well I do. I know what happens when a family gets that envelope from Con Ed with the red printing on it that says your gas and electric are about to turn off. I know what happens when you have to bang on the pipes to get heat and hot water; or your phone service goes off; or you get that dispossessed taped to the door by a marshal telling you that you and your family are about to be homeless. Well I think we've got to do better than that. I think we've got to do better than that especially in a city that's the world capital of finance, commerce and communications. We got to do that with a mayor who not only understands that he has to make a difference, but understands the difference itself. That's the mayor I want to be with your help.
C. Virginia Fields: One of six youth out of school aren't employed; Nearly 50 percent of high school students dropping out before graduation; Only 10 percent of black and Hispanic students receiving regents diplomas; 40 percent of Black and Hispanic men unemployed. One out of five low-income New Yorkers paying 50 percent or more of their income for rent; and two million New Yorkers are potentially going hungry every day. These are startling statistics, but they represent real lives of people; people who live right here in New York City. And if we fail to address these issues, we fail to plan for a future of hope and prosperity for all New Yorkers. And I'm running for mayor because I will improve the conditions in these areas. I will be a mayor for all New Yorkers. And it is about leadership. It is about focusing on the priorities that affect all of our lives.
Gifford Miller: Thank you Dominic and thank you to Community Service Society for hosting this debate. New York City is the home I've called my home my entire life. And my wife and I wouldn't dream of raising our two sons anywhere else. And for the last four years, I've had the privilege of being speaker of the New York City Council, standing up to this Republican mayor time and time again and winning on behalf of New York's families. I made sure we kept our promise to our kids by stopping devastating cuts to the schools. We kept our promise to our children by stopping day care cuts, and to seniors by stopping the mayor from closing senior centers, and libraries, and so many other services that make this city great. We've gotten results, but there is much more to do in a city where 550,000 children are failing in our schools.
Mike Bloomberg may be satisfied with New York City the way it is but I know we can do better. And I have specific plans to take New York in a new direction by reducing class sizes in our schools; not waiting to fix and secure our subways; making sure housing is affordable for all New Yorkers, and finally getting our fair share from Albany and Washington. I know we can have a better city and I have a plan to get us there. And let me just tell you this; for every time you try to do something worth doing in this city or anywhere else there's 2,500 people who'll tell you it can't be done, I've never listened to those voices and I'm not going to start now, and I hope you'll join me in building a better city.
Thomas Ognibene: My name's Thomas Ognibene, and I'm the former Republican leader of the New York City Council and a councilman for ten years in the City of New York. Obviously a Republican and I'm also running on the Conservative party line and as a matter of fact, I'm the only person up here that's actually definitely on the ballot all the way through the November election. I also have a challenger in the Republican primary, Mr. Bloomberg and he's running as a Republican, although I don't believe that he's a Republican and I hope my fellow colleagues don't believe that.
Fernando Ferrer: No, I think he's a Republican.
C. Virginia Fields: I know he's a Republican
Gifford Miller: He's not a particularly good one.
Thomas Ognibene: The interesting thing is that I've also been a lifelong New Yorker. The only time I spent away from New York were the three years of military service from 1967 to 1970. When I was growing up, New York, I think was a friendlier town, a friendlier place to be. There was more opportunity. There was less hostility. There was less aggravation between ethnic and racial groups. We seemed to be able to all get along. There were a lot of improvements that had to be made but I was sad when I saw our city deteriorate in the 70's and 80's.
And many people may not agree with me, but I thought we had a rejuvenation and a renaissance in the 1990s. And the reason we did is that we took an aggressive approach to restructuring New York City. We attacked crime in our most vulnerable neighborhoods; we reduced welfare dependency and we created opportunity for everyone. And that's why I'm running for mayor. Because I believe that while some people may be more qualified through training to do things that others may not, there is no one in the city of New York that is better than anyone else. As a city, we have to work together; we have to understand each other; and we have to work for the common goals. All the communities have to pitch in. If there are problems, they're not only just related to government or government's failure. Sometimes they're our own failure; our failure to take care of our families and communities. So I encourage you to join me in my quest for mayor of the City of New York.
EMPLOYMENT AND AFRICAN-AMERICAN MEN
Question - Jamal Watson, Amsterdam News: For at least a decade employment rates for African-American males have been falling behind their white and Hispanic counterparts. Why do you think this is happening and what steps would you as mayor take to reverse this trend?
C. Virginia Fields: There are a number of factors we know that have contributed to this problem; some related to the loss of low-skilled jobs that had been previously occupied by many of the persons in this population; some related to discriminatory practices by employers; some related to criminal records as well as a failed school system. So I think that what we must do is in terms of the age group that we're talking about, - job-training programs are incredibly important.
In addition to that placement, we must make sure that there is follow up once the job training has been completed. There has to be job training relevant to the labor market. Not at the end of a process no one is able to find a job. Apprenticeship opportunities not only in construction but other trade industries and occupations. Also, I think it is important that the city at this time make a real commitment to put these men back to work through large-scale development projects.
I have in the past called for, especially in lower Manhattan to be used as a public works program so that we can invest and help this population move in terms of working. And how I would address it specifically as mayor I have said I would make this a number one priority in my office; I would create a new position: Deputy Mayor for Full Employment. And they would have the responsibility of coordinating all of the relevant entities that are necessary in order to collaborate and make sure that we keep this moving forward.
Gifford Miller: First of all, let me say that the Community Service Society has done a tremendous service to this city by exposing the extraordinary structural unemployment in communities of color and the disparities between the actual non-employment level and the federal unemployment level that this mayor likes to cite when he's running around declaring victory on jobs in this city. And the difference of course is because when you see 39 percent of African American men in this city who don't have jobs and the unemployment rate at the federal level of 6 percent - what that means is you're not unemployed according to the federal government, unless the federal government says you're actively looking for a job according to their definition. So people who've given up hope; people who don't feel that they have the skills or the opportunity to access the job market, they don't get counted by the federal government; but they're here, and they're hopeless and we have to give them hope. And how do we do it?
After the Community Service Society announced its report what do we get from this mayor? Total silence. He has never addressed this crisis at all out loud. What did we do in the council? We created the "Long Term Structural Unemployment Initiative" -- and this past year almost $20 million that we're putting towards attacking the root causes of these problems.
First and foremost, job training for the formerly incarcerated. It's a huge crisis. We let people come out of jail; we don't give them any opportunity to or chance at a better job and of course they've lost hope.
Secondly, programs to keep kids in school.
And third access to capital and training for entrepreneurs in communities of color. We have to create jobs in every community in this city and we ought to do it more broadly. I have a plan to cut small business taxes across this city. We have a real challenge. But this is one of the great moral challenges that faces this city today. And we ought to have a mayor that's willing to talk about it and act on it.
Thomas Ognibene: I think the most important thing that can happen to an individual during their life, especially their adult life, is that you get a job. All other problems seem to go away when you're working. You can pay your bills; you can feed your family; you can provide for safety and security in a home; that's the most important thing you can do in our society. And it's unfortunate that there are so many that don't have those jobs.
And I often wonder what are the root causes of it. And it's difficult to ascertain, but I think one of the things we do, as a society is fail when we provide an education, particularly in high school. I don't think we have enough directed training, vocational training identifying the industries in which jobs are available. Making the kinds of training that would allow someone to go right [out of] high school and move into a job environment and be able to function. We don't do enough to train people for jobs. We give them an education, it's a basic education; sometimes it simply doesn't work. It's not always the fault of the school system. When people come out of high school in the city of New York, I don't think they're prepared to go into the job market.
I can tell you that as a trustee for 25 years at Christ the King High School we have a very diverse population. And we have programs in the high school, not only the normal ones, but we have things like the Microsoft Academy, which is the only high school that has this in New York City. And we train kids for specific jobs in that industry. And they're trained by Microsoft, and they get a certificate. And then when they get out we've had kids who have gotten out of high school and gotten jobs making between $50,000 and $75,000 dollars a year.
We have to identify the industries where jobs are available, bring them to the city of New York, and provide them with the kind of environment where training can take place so people can move into those jobs. That's our most important criteria. And we ought to work with a lot of the labor unions. Many of the labor unions, as a matter of fact all of them, really have apprentice and job training available through the unions and they ought to make that available to a broader range of people because I think that that's the most important thing they can do.
Fernando Ferrer: There are two reasons why men of color are among the highest unemployed in this or any other city. First, is that our school system regularly fails them. More than half drop out not only in high school but in middle school as well. Only 38 percent graduate on time; under a third of African Americans; under a third Latino don't graduate on time. Let me tell you; a job gives someone the ability to pay the bills, to feed their kids. And in that sense the city has failed them not only in education but also in opening the doors wide of the economic engine of this city to allow small business in. To do business with this city with other larger businesses.
The lack of jobs in our community is the second reason. That's why I proposed not looking at the school system in terms of 4th and 5th grade reading scores rising temporarily, but attacking the problem right where we should be doing the measuring of the effectiveness of our school system. How many kids we graduate, and graduating more kids so that they have the tools they need to get a skilled job or to go on to a higher education. And then using the 30 percent presence in this city of women and minority owned business to do business with this city and with other business. A mayor who is committed to that, a mayor who is committed to joint ventures, a mayor who is committed to unleashing the energy of small business and create more jobs in our community would almost single-handedly bring down the scandalously high level of unemployment among men of color in our communities.
GENTRIFICATION
Question - Evelyn Hernandez of El Diario: In neighborhoods from Brooklyn to the Bronx, communities of color are experiencing widespread gentrification. Latinos, for example, are being pushed out of long time Latino neighborhoods such as the lower East Side, East Harlem, Washington Heights and Sunset Park. How would you remedy long time residents being pushed out to make room for newcomers who can afford to pay more?
Gifford Miller: This is a very serious problem all over the city, not just in the neighborhoods that you mentioned, but also in many others across this city. And the answer is affordable housing. Affordable housing has to be one of the top priorities of any of us who are elected to be the next mayor for the city of New York. And we have to do three things in order to address the affordable housing.
First, we have to preserve what affordable housing we have in those communities. This is a mayor who has made no commitment to preserve that affordable housing; who has in fact vetoed legislation which we sent him - which we will override at the next meeting in August - legislation to preserve Mitchell Lama and Section 8 programs, which were two of the most successful affordable housing programs this country has ever seen and which preserve affordable housing in all of those communities and across the city.
Second, we have to devote more money to affordable housing; and I have done this as speaker of the City Council; tens of millions of dollars to create more affordable housing units. But also we have to go beyond that, and as mayor I will certainly do that; tapping into the Battery Park City trust fund among other places to develop more money towards the creation of more affordable housing.
And third, we have to use tools like inclusionary zoning that when we're re-imagining communities like Williamsburg-Greenpoint for example where we were able to set an unprecedented standard of almost 35 percent of affordable housing units being created in those rezonings; about 3,500 units of affordable housing. When we're doing re-zonings and we're re-imagining our communities, we have to ensure that we're imagining them in a way that reflects the needs of low income and moderate income people in this city by requiring that affordable housing be part of the future planning of our city.
Evelyn Hernandez: Mr. Miller, the mayor says that the City Council legislation is illegal and that's why he vetoed it. What's your response to that?
Gifford Miller: He's wrong. Anytime he doesn't like anything he vetoes it, goes to court and spends years fighting --- like access to training and benefits for people coming off welfare and public assistance --- many of our bills, which are all legal, he goes to court and he uses all the resources of our court system to fight against the rights of New Yorkers instead of standing up and fighting for the rights of New Yorkers. Now, he ought to be in court fighting to protect people at Mitchell Lama, fighting to protect people in Section 8 because the people in this city need that from a mayor and they're not getting it.
Thomas Ognibene: I agree with Mr. Miller that the mayor likes to go to court to get rid of people he doesn't like.
But with the more serious issue: I know when I hear the word gentrification, and I understand the meaning of it, as you know as long as you have a free country over here and people can decide where they want to live and there's an unfortunate aspect that those that have a great deal of wealth somehow can push out those that don't seem to have that kind of opportunity. It didn't happen years ago; it's happening in the city now and its kind of unfortunate. One of the things we can do about it is to create affordable housing in partnership with the private industry, and I've always been in favor of that. Whether it's 80/20 housing or some reasonable adjustment of proportions, whether its 60/40 or 75/25; whatever fits the project and you can build it.
One of the examples was where the mayor wanted to put the West Side stadium. That land was much better suited for affordable housing and hopefully it goes for affordable housing because we're going to receive a better return on our investment as a city than would have been created from a Jets stadium, which we certainly didn't need in that area. So there are a lot of opportunities to have a blend of private investment and public incentive to create the kind of housing that the people in this city can afford. Now in my community in Middle Village, I can tell you that most of the middle age to elderly, including myself, can't really - or would have a tough time - affording the house that we're living in. And so I understand that and what's happening in this city.
...You get a mayor that wants to raise taxes and makes it more expensive to live in this city because his vision of New York City is the Manhattan skyline. He sees only the wealthy and he doesn't understand that in the boroughs there are hard working people that just want a place to be able to come home to, that their kids can grow up in safety, and I don't think he sees that.
So affordable housing to me - and people say Republicans aren't for that - I can tell you affordable housing --- having a roof over your head and a secure place to live is a priority in my heart and it would be in my administration.
Fernando Ferrer: It's tough enough for a family to find in this city a place that's decent at a price that you can afford. It's even worse when you've found that place and you're just struggling to hold on, and you find yourself getting pushed out not only because of real-estate forces in your own neighborhood, but city policy itself. That's wrong.
Look, no one's got to tell me the importance of decent stable affordable housing as a foundation of a stable life. I've known that since I was a kid. It's apparent that this mayor simply doesn't understand what affordable housing means and apparently confuses multi-million dollar condos that he can afford with housing that the rest of New York can afford.
I had the pleasure of working with Mayor's Koch and Dinkins to develop 66,000 units of real affordable housing units in the Bronx. There's only one way to do it. Build it! Build it everywhere in this city. Make it truly affordable - and not 80/20 anymore, 60/40 at the minimum so that people can live in every community in New York decently and affordably.
C. Virginia Fields: Clearly, affordable housing is key to our ability to be able to keep people, to enable them to live in any community in this city they desire. So affordable housing speaks to subsidy. Yes let's use the Battery Park dollars as interest in that. During an election year the mayor finally discovered that those dollars are there. And I've been calling for the use of those dollars for the past eight years since I have been in the office as borough president. So let's start there and leverage other private investment.
But we also must provide other incentives for developers. Land. Affordable land. Instead of selling city-owned private property now at market rate price, which is what is happening in far too many of these communities, lets still sell it for one dollar and make it [possible] for developers to develop.
In addition to all of the things, we know what must happen to create affordable housing - we must also fight in Washington against a lot of the federal policies that are also affecting the ability of people to remain in these communities: Section 8, make sure that we are fighting to keep low-income tax credit so that affordable housing can be built. Let's make sure we fight against the privatization of New York City housing development. All of these are a part of making sure that people can remain in these communities and be a part of the vibrancy and growth.
POLICE COMMISSIONER AND SCHOOL DISCIPLINE
Question - Bob Slade, KISS FM: Mr. Ognibene, several of the Democratic candidates for mayor have expressed a desire to fire Ray Kelly as police commissioner if elected mayor. What are your comments about a police commissioner who will support a policy of handcuffing seven-year old children and escort them out of school in handcuffs and say he saw nothing wrong with that policy? What's your reaction to that and would you fire the police commissioner if elected mayor.
Thomas Ognibene: I was once asked if I would commit to rehiring him. I said "no" at the time. That doesn't mean that if I were mayor I wouldn't interview Ray Kelly. My sense is that you shouldn't commit to re-hiring or hiring somebody before you become mayor of the city of New York. My sense is this about Ray Kelly. If you look around I think he's done an adequate job. The problem I have with Mr. Kelly and the mayor is that they say the statistics show that crime is down by 40 percent in the City of New York and yet when I talk to the police in different precincts they tell me that because of Compstat, that they regularly re-designate some of the crimes, so that sometimes burglaries become trespasses, misdemeanors, and thereby the numbers are reduced substantially and we don't really know. My wife picks up the paper every day and when she puts it down she looks at me and says what do you mean crime is down in the city of New York. I don't think it is. So I don't think Mr. Kelly has been effective as some people want to give him credit for.
Now, I don't know the incident, I read about it with regard to the children that were taken out of school in handcuffs. I know if a police officer can't control a seven-year old child without putting handcuffs on you've got to re-evaluate that police officer's ability to do his job. Now, I don't know what the circumstances are. I hope we're not getting to that state where the police have to handcuff seven-year old kids. And I think that that incident's kind of sad. I don't necessarily mean that I think the police are doing a bad job in the City of New York individually as police officers. I do know that the mayor is retrenching on doing effective crime enforcement. And let me tell you in every community, in communities of color, in my community, the one thing that made New York City livable is that we had strong police enforcement and we were willing to stand up as communities, and I think we have to continue to do that, otherwise we will lose control of our quality of life.
Bob Slade: Just a quick follow up on that seven-year old --- just to clarify something on that case. This young child was said to be emotionally disturbed. We wanted to really know what the policy was; the police commissioner basically supports a policy of putting handcuffs on seven-year old children. Do you agree with that?
Thomas Ognibene: I just don't see as a policy that that's a good idea. There may be some rare instances where the child has to be restrained for the child's own safety. But I think you have to be very careful when you start restraining children. And I'd certainly re-evaluate that policy if I were mayor.
Fernando Ferrer: I've known Ray Kelly since the days he was David Dinkins' police commissioner and I happen to like him and what I have said in response to this question previously, is my inclination is to bring in my own people fresh people with a fresh perspective.
But let me talk about this case; I've addressed it before as well. I know Ray Kelly and I happen to like him but I find his endorsement of handcuffing a seven-year old child, emotionally disturbed or not, bewildering. But let me tell you why I do. One, I'd have to as Thomas Ognibene suggested, evaluate what the police did at the scene. But I'd also want to know what the school leaders were doing and have been doing for this child. There is more to this than has almost met the eye. And to indicate that the appropriate final act was to take this child out of school in cuffs. I'm sorry the only time the cuffs were put on me was in front of Police Plaza and I was a full-grown adult.
C. Virginia Fields: I cannot think of a situation where we should have a policy of handcuffing a seven-year old child. In a school, with adults, principals, administrators, teachers and police officers, we must be able to find a way to work with children whether they are having temper tantrums or emotionally distraught. But a policy that will give a police officer the right to handcuff a seven-year old child will be eliminated off of the books, day one of Mayor Fields. In working with discipline in schools, we know that there are many issues there. But I think that we should develop those programs and initiatives by working broadly with our principals, our parents, our teachers, and students, in terms of disciplinary policies.
I have said I would appoint my own police commissioner, because I think it is important that a mayor have a relationship with that person and that they should have the right to appoint their own police commissioner, and I certainly would do that. In recent days of course, I'm very concerned with some of the polices that are being implemented with respect to acts of terrorism. I think we've got to develop more of a comprehensive policy and not just simply checking bags. We need a much more comprehensive policy and I would hope that Commissioner Kelly would lead the way in making that happen.
Gifford Miller: Bob, you and I have talked about this incident before. One of the terrible tragedies of this incident is that this wasn't even the first time a police officer was summoned to address the emotional disturbance of this seven-year old. I think it was the third time. And obviously, when a seven-year old ends up in handcuffs there has been a complete breakdown in the policies and procedures in handling that child. And it's unacceptable and shouldn't happen.
What concerns me more broadly is the way this administration has approached unruly and violent behavior in our schools. The mayor's response has been to send police officers into 17 of our more than 1,360 schools, as if this was a problem that was only in 17 schools and not a broader problem than that. And also to send incredibly conflicting signals to the principals of our schools. Principals are supposed to be responsible for the safety of the schools. They should be. They should be held responsible. But they're not given the tools to do it. The safety agents don't report to them they report to the local police department. And they're told if they suspend too many kids, they'll lose their jobs. They're supposed to have zero tolerance, and then if they suspend too many kids, they'll lose their jobs.
This system is broken and it needs to be fixed. And we ought to fix the problem rather than keep throwing cops where the incidents are. And the answer is to make principals responsible, have safety agents properly trained; given a real career track, put responsible to the principal, set real zero tolerance and get social workers and others who are trying to deal with the disturbed seven-year olds there and don't wait for the third time to call a cop and put the child in handcuffs.
SUBWAY BAG SEARCHES AND RACIAL PROFILNG
Question - Juan Manuel Benitez, NY1 Noticias: By now we all know about the random bag searches in subways, trains, buses. Some fear that this is going to be racial profiling. Can these searches be truly random, should they be truly random, and how would you do it differently in this particular case?
Fernando Ferrer: First of all, Manuel, the threat of an attack on our subway and bus system is not new. We've been talking about this in New York for a long time. Our wake up call was a report that subway crime spiked by 15 percent. And I happen to agree with the idea and with the evaluation that bag searches alone, random or not, are ridiculous. In combination with the things that the MTA and the mayor should have been doing up till now, surveillance cameras, how about putting the token booth agents back in the token booths; enough police underground and in our buses, so that they make this random bag check meaningful.
Let me say one other very important thing about it. Racial profiling has to be watched for all the time. When you have human beings interacting with other human beings, no amount of memos and directives and policies can prevent that kind of practice unless we take seriously two things. A law that we have on the books in this city which I'm proud to have helped draft in 2001 against racial profiling, and the United States Constitution which requires that we all be treated constitutionally; that there actually be randomness, that there be no racial profiling, and that all of our individual liberties are not only protected but safeguarded at all times.
C. Virginia Fields: Racial profiling will not prevent acts of terrorism, but comprehensive plans will. And simply by using random bag checks, as I [said at] a press conference earlier today, alone is not the answer. Yes, we must have a much more comprehensive plan and the fact that we do not have one, I think should be disturbing to every New Yorker here tonight and those who are watching.
When the mayor denounced the MTA recently for not spending more of the $600 million dollars that they have had for over a year for safety and security measures, it should not simply be a denouncement of the MTA. The mayor should have put forth a comprehensive plan for safety and security of our transit system. That goes to the heart of what we must be doing. It is about surveillance cameras; it is about the training of the transit workers; but it is also about making information available to the public; having evacuation plans: if any of you were in a situation would you know what to do. If any of us had to act quickly, what would we do? It is about public service announcements. These are very practical steps that can be done and we simply have not done them.
So to simply go to random bag checks, and now we hear it will be discontinued real soon is I think it was a reaction to what happened in London as opposed to putting forth a comprehensive plan that takes into consideration all of these factors. Gifford Miller: I'm in agreement with my colleagues about most of the points that have been discussed. First of all, racial profiling is unacceptable in this country, it's unacceptable in this state and it's unacceptable in the city. I'm proud of the fact that under my leadership, the City Council passed the first racial profiling ban in our city's history, making it not just a matter of policy, but illegal as a matter of law for any city agency to engage in any racial profiling whatsoever. We will not tolerate it from this police department or any other city agency of New York.
Secondly, I certainly feel strongly as well that long ago we should have had a more comprehensive plan for dealing with security in our subways. I laid one out months ago, in fact focusing on hiring another 1,000 police officers so that everyday in our subways and buses looks more like the few days after July 7th, as opposed to the few days before it when there was not the police presence necessary to secure our subways.
It's wrong for the mayor to leave safety of our subways and buses to a bunch of bureaucrats in the MTA who literally can't make the trains run on time as it is right now. And what's wrong is that he doesn't have to. He's forgotten that he's mayor of the City of New York. And he actually has four appointments to the MTA board, and he's partially responsible for the fact that the MTA hasn't spent the $600 million that we actually got from the federal government. We actually got money from the federal government, and then we didn't spend it. Normally we don't get money from the federal government, and we spend what we don't have. This is just wrong.
A comprehensive plan would involve surveillance cameras, 911 phones in every subway and tunnel, repeaters so that responders aren't playing in a game of telephone in order to relay responses, and modernization of our subway system so we actually know where all of our subways are, which we don't right now.
Thomas Ognibene: From a policing point of view and even from a security point of view searching a few bags of people going into the subway won't really help. And I don't think it was done because people thought it was going to help. I think it was a gesture that they were trying to create the illusion that there was some safety, or at least restore people's faith in the subway system after London.
Obviously I don't think it's a long-term policy and it's not going to solve anything. The long-term policy is what you're going to do to make sure you provide maximum safety in the subways. My friends, I ride the subways every day, that's how I travel, and from what I see there's probably no way that we could totally secure our subway system. What we can do though, is to take as much information that we can about how to do these type of security operations and make sure that the MTA, in conjunction with the police department, begins to employ them.
Safety on the subway is a big issue. You take away safety on the subway, people aren't going to ride it... Unfortunately, if terrorists believe that we're protecting our subways, they will find some other area in which they're going to do their dirty deeds, so it's a difficult task. But I think that the searching of the bags was not something that terribly disturbed me, because I understand why he was doing it - as just a quick knee-jerk reaction to try to restore some faith in the public in riding our public transportation system. It's not a panacea; it's not a good idea; it's not an overall solution. The important thing is now that people are sitting down hopefully and looking at ways to better secure the subway system. If there is a disaster, it will be monumental and I ride it every day, and like you and others, I hope and pray that this mayor is taking the steps he should. And I don't want to condemn him now, because I don't know if he's doing it, but hopefully he is taking the kind of steps to protect our subway system because I can tell you, it's vulnerable; and bag and pouch searches are not the answer.
WHAT SEPARATES YOU FROM OTHER CANDIDATES?
Question - Dominic Carter, NY1: As you know, [in] all of the latest polls, Mr. Ferrer is in the 30 percent range, he might be able to avoid a runoff in the Democratic Primary, you've lost a little ground statistically, Mr. Miller has gained some ground he might have a possibility of making it into a runoff, and for Mr. Ognibene you're on the Republican side, so my question is a simple one. For the audience, they have to make a decision in about six weeks, you've spent a lot of time tonight talking about Mayor Bloomberg. What separates you from each other, and for you Mr. Ognibene, what separates you from the mayor?
C. Virginia Fields: That seems to be a favorite question that everyone likes to ask. I think the voters are going to be able to make that decision as they look at a number of issues. One of the things I talk about, is that we have very different backgrounds, our focus, my focus is related directly to the priorities that affect the daily lives of New Yorkers and I have talked about that. I talk about how I will work to ensure that small businesses get the kind of support they need to expand jobs and in communities and help to grow those communities economically. I talk about specific steps to make sure that we get the chronically unemployed back to work. I have made a commitment to establish goal oriented initiatives so that more minorities and women will get contracts from the city. So my focus I think has been on issues that affect our daily lives and the plans that I have put forward I find are very different from what I've heard my opponents talk about over the past few months in many of these debates in talking about those priorities and how I as a mayor would address them.
Dominic Carter: How do you explain that you have lost some ground and Mr. Miller has gained some ground?
C. Virginia Fields: You know I've always said, polls are a snapshot of activities at any point in time, and I am always happy when my numbers are up, but I accept the fact that they might change. But it does not, in any way, stop me from going out and making my case to the public, talking to voters, because for me that is what the campaign is all about. Talking to people about things that matter. And I will continue to do that as we go through the remaining period of this campaign. So that's how I approach it. And I don't try to explain it, Dominic, and I don't have to. All I have to do is keep working, and I will continue to do that.
Gifford Miller: Let me agree with Virginia. Every time I come on your show you ask me like six questions about polls and sometimes it's comfortable and sometimes it's not so comfortable for me, but I gotta tell you that when I go out on the streets, I don't get six questions about polls in 60 days because people aren't interested in polls they're interested in ideas. They're interested in what you're going to do to make their lives better. I think that the polls will take care of themselves as long as the candidates talk about their ideas and how to make their lives better. I think New Yorkers know we have a caretaker mayor who hasn't messed the city up, but isn't tackling the tough problems that are facing our city, whether it's education (he doesn't have a positive plan to fix it), whether it's jobs (the Olympics were always a prayer and it didn't get answered and it wasn't a real plan in the first place). What they're looking for out of us is what are our ideas, what are we proposing to do, and they want to know what we've done. And I am going on my proven record of accomplishment. I have spent the last four years as Speaker of the City Council fighting to restore a billion dollars for example earlier this year to be sure we're building the schools that we need for our kids. Fighting to make sure that we address affordable housing and have specific plans.
Dominic Carter: But Mr. Miller what separates you from the other Democrats on stage?
Gifford Miller: I think that that's a decision for other people to make. I'm talking about myself, I'm not spending my time talking about what the other people on the stage are doing. I'm talking about what my vision is and what my record is. And what everyone wants out of a Democratic Primary is for us to spend all of our time - and its certainly what NY1 wants, and lots of the other press, they love it when we spend our time sniping at each other - but I don't think that's what voters want. Voters want to know what have I done and what am I going to do. And I'll tell you this: When I'm the Democratic nominee, I'm going to present a clear alternative to a mayor who doesn't know where to take the city in the next four years. I do. I know what I can do better. That's the message I'm out there talking about.
Thomas Ognibene: I guess the thing that differentiates me from the mayor the most is that he's got $6 billion dollars and I don't. Besides that, I'm 6'3 and good looking and he's not.
But the fundamental difference is that I'm running because I believe in my party, I believe in what we accomplished in the 1990's in New York City. And while there may be people that have disagreed with me, people that know me know that when I stand for something I stand for it truly; my word is my bond. I believe in principle. And I don't think that this mayor does.
I think he thinks that the Republican Party and the people of this city are for sale. And I think ultimately he wants to destroy it. He demonstrates no moral courage. And the perfect example of that is I've gone to many of these forums, he's the mayor of the City of New York who can answer every question that these people want to ask -- and he's not sitting here. And that annoys me more than anything.
When I come to a forum, and I'm ashamed too that the press in this city let him get away with that. And they shouldn't. He's the chief executive officer, he's the one that needs to answer questions and he's never here to answer a question. He likes to define himself by sending out these glossy brochures like this one he sent to my house. It's four pages, telling us what he's done. "Promises Made, Promises Kept" it reads. He forgot about the one not to raise taxes in my community, because that isn't promises kept. And I don't think he's kept any promises. Maybe he's had a charade and he's fooled people, but he hasn't been an honorable mayor of the City of New York. And if he doesn't have the guts to come here, he doesn't have the guts to run the City of New York. And I do!
Fernando Ferrer: Let me first say that I agree whole-heartedly with Thomas Ognibene. Let me be very serious about this, my Democratic colleagues, and my Republican one as well, all bring something special to this discussion. For myself, here's what I bring.
When I talk about education it's from the vantage point of a kid who grew up in Hunts Point. If not for a good education, someone else would be answering this question, not me. When I talk about after school programs, it's because I know the power of it. It took me off a tough street and gave me the opportunity to serve my city as a councilman and as a borough president. When I talk about affordable housing, I know the thrill of banging on the pipe and not getting heat and hot water and learning how to take a very quick shower in the morning. And that's why as borough president I worked to develop housing, 66,000 units of housing. And that's why as borough president I worked with Bill Clinton in our Bronx Empowerment Zone to create 38,000 jobs in our borough. That's why I've always understood public service. To get it and to make a difference in the lives of the people that put me there. That's why I'm running for mayor.
HIGHER EDUCATION
Question - Max Decir, student at Medgar Evers College: Given the high unemployment in black and Latino communities particularly for black males, a college degree is a crucial passport to today's job market. As mayor what will you do to increase access to higher education, financial aid, job opportunities and to support the important work of Medgar Evers College?
Gifford Miller: Let me tell you first what I've done. Over the last four years as speaker of the City Council, I have allocated millions of dollars to Medgar Evers College because I believe in the mission of this extraordinary special place, and I've seen first hand the lives that are changed the moment someone walks through those doors. Secondly, more broadly, I have strongly supported City University of New York. CUNY is one of the greatest treasures that any city has ever had. CUNY changes peoples lives; it lifts people up; it broadens horizons; it creates economic development; it's one of the best investments that anyone has ever made. And this mayor during tough times, and even since times have started to improve, has proposed to cut CUNY funds particularly for the Vallone merit scholarships that make it possible for thousands and thousands of young people to be able to afford a college education. The moment that they graduate, they are earning more money and paying more taxes and it is one of the best investments that we can make. So over the last four years repeatedly I've fought off the cuts that the mayor proposed - in fact restored it just this last year along with my colleagues on the council - support for initiatives here at Medgar Evers College. I am completely committed to this because I believe that CUNY and higher education is at the heart of any solution for New Yorkers. As mayor of the City of New York I will continue that record of support for higher education and expand it.
Thomas Ognibene: I'm glad you asked that question. One of the duties that I have enjoyed in the last 25 years is as a trustee of Christ the King High School in Middle Village. And we've worked hard to raise the standards. It's a wonderful school and people come there to learn in a safe environment. This year our graduating class received over $8 million in scholarships, over 95 percent go on to college. And it's a very diverse school. So everybody has the capacity to learn.
As part of a Republican administration in the 1990's, we were the ones that kind of forced the CUNY system to improve its standards - it was too much remediation and people said that we're hurting the minority communities. And it turns out that with the higher standards, the students from minority communities are doing even better. And that's what we like to see.
I have a tremendous belief in the City University of New York system. I was a senior fellow at Baruch College. I'm proud to see the kids from this school are going into CUNY. Right now some of the best teachers coming into the public system are coming out of the City University and we're proud of that and the changes that we made. I absolutely pledge myself to that.
But I also want to pledge myself to the high schools because there are some kids that aren't going to go on to college. They aren't going to go on and necessarily get their degrees. But they need to have the skills to go out and get good jobs. And that's just as important. I have a daughter who is a vet who went to Cornell at the top of her class. I have a son who's at what they call a power mechanic. My father was a painter and my mother was a schoolteacher. So I know there has to be jobs and you have to feel like you are important, contributing and earning money, and if you do that all the other problems will pale in significance.
Fernando Ferrer: You're asking this question to a guy who went to college on not one, but two scholarships simply because we had no money. Money is a barrier that is growing ever larger for young people and young people of color throughout this city to enter into City University. Given the fact that only 18 percent of graduates have a Regents diploma, too few are going to higher education. Even fewer are getting skilled jobs. It's awful when this mayor actually cuts funding for City University and supports a governor who cuts a tuition assistance program for City University as well. Let's be clear.
At least for myself, I was raised this way: you pass through that door you hold that door open for someone else to pass through. This mayor and this governor have appointed people to the City University board, who themselves went to City University when tuition was for free. Their attitude is: "I got mine, you go figure out how you get yours." The mayor of this city has to be committed not only to providing funding to lowering those economic barriers to get into City University but to supporting somebody for governor who will do exactly the same on the state level.
C. Virginia Fields: As a City Council member, I actively fought to make sure that we funded CUNY at a level so that more students could attend and be able to attend. And I'm very pleased about that. And that of course provided opportunities for more students here at Medgar Evers College also. As president of the borough of Manhattan, I continue to do that, because I too know the value of getting the aid to be able to go on to college. I too understand that without that, it will make a difference in the lives of so many young people of color; they simply will not be able to do that. As a mayor, using my voice at the state level to make sure that the aid through the tap program is continued, but using my position as mayor to increase funding at all of our CUNY colleges because of what it means to the young people who go there.
Also to make sure that we provide opportunities for jobs whether it is working at the college or other internships so that money can be made to finance education. Without an education it goes back to something that we've been talking about all along, and that is having a place where you can afford to not only take care of yourself, but to be able to take care of your family to be able to get a good job and without a good education that is becoming almost impossible to do. And as a mayor I will be very focused on that and ensuring that I fight to help CUNY students to stay in school.
EMINENT DOMAIN AND BROOKLYN BASKETBALL ARENA
Question - Jamal Watson, Amsterdam News: As you know, the U.S. Supreme Court recently gave the discretion to local governments to use eminent domain to acquire property for public use. Some, however, are calling for a moratorium on the use of eminent domain fearing that the law can be used to force individuals from their homes to build stadiums and arenas. Would you support a moratorium on the use of eminent domain in New York City?
Thomas Ognibene: The worst decision ever made by the Supreme Court of the United States was the eminent domain decision allowing the taking of private property to be...then turned over for private property. The concept of eminent domain is that you have a general public use, which benefits everybody. It's an unpleasant task, but we have to do it to build highways and roads, and other things of importance. And the people have to be justly compensated.
The idea - the convoluted reasoning - that you can take somebody's private property, then turn it over to a [private] developer and then say the taxes that he's going to pay are for the public's benefit is ludicrous. On that decision alone, it justifies changing some of the members of the Supreme Court, so we can look at that decision again. I'm telling you it's the worst decision, and it's a terrible thing for the people of not only this city, but throughout the United States of America. People who are going to be grabbed out of their homes so people can put up these malls that serve no value and no purpose, that are just disrupting the quality of life.
And by the way, it's not just the Supreme Court, our mayor has to take some blame for this because I know the biggest complaint when I go into these communities is overdevelopment. They're taking away these small residential homes and infilling three, four, five and six family homes. You have no room to send kids to schools. You have no room to park. There's no more quality of life. This has to stop. We are a residential city. We have residential communities and they have to be preserved not only from the Supreme Court, but from Michael Bloomberg too.
Jamal Watson: Can I have a follow up? Do you support the construction of the arena stadium in Brooklyn for the New Jersey Nets?
Thomas Ognibene: No, I don't think it's necessary at all and I think you can find a much more appropriate place. And I just wanted to just bring this up - when the mayor wanted to build a West Side Stadium, there was plenty of room in Queens County and he didn't want to do it. And he said, "Well you know, we can't get the same amount of money for luxury boxes." Well what do luxury boxes have to do with the Olympics? Nothing. Queens County was the appropriate place. The worst part was, when he finally decided to do it after being dragged kicking and screaming, the newspapers out there gave him credit for doing it and that's a disgrace. Stand up to the mayor and say he was wrong. You can say the mayor was wrong in the newspapers. Don't be afraid of the mayor.
Fernando Ferrer: I presume the question you are asking is not really eminent domain it's the Atlantic Yards.
Jamal Watson: It's a combination of both.
Fernando Ferrer: Well then let me let me answer your question up front about Atlantic Yards. I happen to like 50 percent affordable housing. I happen to like that, and I've said that before. You can't be for affordable housing and not find that powerful. I happen to like the idea of a "community benefits agreement" that if this mayor were serious about in this entire city, with the stroke of a pen we'd bring down unemployment.
I am troubled, however, with the lack of a public process here, the lack of transparency. I am troubled by the fact that we are still not clear about what the MTA will require as fair market value for the Atlantic Yards. It is precisely the same concern I had for the Hudson Yards, and I'm waiting and watching now that the MTA has apparently designated a developer to see if they will sell out or try to sell out the straphangers of New York City yet again.
C. Virginia Fields: I too was disappointed with the Supreme Court's decision. For years, I have seen how eminent domain has been used to deny people the right to remain on their property, to be able to develop their property, and in fact stealing their property. So I believe that the city should be allowed to make the decision on a case-by-case basis, and in some cases eminent domain has been important to expand in areas but I am opposed to that decision.
With respect to the Nets arena, I of course believe too that the public debate and public review of our land use process is extremely important. And I was very disappointed that the project did not go under review. But I too very much am pleased about jobs, affordable housing, the "community benefit agreement," one which we are also trying to include as a part with negotiation with respect to Columbia University. I think it gives the community a real opportunity to be a part of developing the workforce rules related to large-scale projects. So because of so many of the benefits related to what I believe in, and what I have fought for, and what I like to see moving forward with these large scale developments. I too have supported the project.
Gifford Miller: Well let me disagree with my friend and colleague Mr. Ognibene. There have been worse Supreme Court decisions, but I think eminent domain is a process that can certainly be abused by government. The question is whether or not it is justifiable and if there is a significant public benefit, and government has to decide and unfortunately government at times does not make the right decision.
In the case of the Atlantic Yards. Look you can't create more affordable housing without more housing. This is a tough balance, but in the end, I think the Atlantic Yard proposal that the MTA is currently negotiating over is one that has a great deal of benefit, particularly the thousands of units of affordable housing and the jobs. I think it would be great if we could bring the Nets here. Clearly eminent domain should be used as circumspectly as possible, as little as possible. In the end, we should be trying to find a way to do this, but the MTA clearly needs to get the best price that it can.
Apparently now they are negotiating with Mr. Ratner. It needs to hold out until it gets the best price that it can for the subway and bus riders of this city.
GRADUATION RATES
Question - Evelyn Hernandez, El Diario: You have all alluded to the state of education in this city and this mayor has asked us to judge him based on his performance in the area of education. Yet the graduation rate in New York is only 38 percent and only 18 percent of students get Regents diplomas. The numbers are much lower among black and Latino youth. Only 9.8 percent of Latino students and 9.4 of black students receive a Regents diploma. As mayor what would you do, what programs would you put in place to address this crisis?
Fernando Ferrer: I'm glad you asked that question. One, we have to bring down the full $23 billion from the Campaign for Fiscal Equity lawsuit to give our kids in New York City - all 1.1 million of them - what the suburban systems give their kids.
And let me be very specific about what I propose in order to do that. Reducing class size by building more classrooms and more schools. Hiring good teachers in math, science, athletics, music, art, pre-k programs, and after-school programs. Focusing on the "Bermuda Triangle" for education in our system - middle schools.
We have to bring those scores up, because as you see the mayor pats himself on the back for increasing reading scores, only one year, coincidentally an election year, but middle school scores collapse. By high school, the place where we should really be evaluating the effectiveness of our school system, by high school more than half drop out and as you point out only 38 percent graduate on time. In fact, according to the same Harvard study, most major school systems across the country out-perform us. The national average out-performs us by a full 30 points. We've got to graduate 50,000 more kids and give them all the tools they need to be economically self-sufficient. We've got to bring our own graduation rate up to the national average because unless we do that, focusing on a few test score increases in one year won't do anything to explain to their parents why too many of our kids are being failed by our own public school system.
C. Virginia Fields: We saw how the mayor fought with a great deal of energy and passion for a stadium on the West Side of Manhattan. But we have not seen him do this same thing in fighting for more money from Albany in the Campaign for Fiscal Equity. I'd begin by making sure we will fight in Albany, lead the charge in Albany, a very public campaign involving citizens in order to get the money from Albany in order to do what we know is needed. Smaller class sizes, we need to build more schools, but also let's start with utilizing vacant school buildings wherever they exist within this city, and we still have some. Let's start utilizing and modernizing those buildings, smaller class sizes, mass interventions at the very early level. Recruitment, and retention of qualified teachers means we have to negotiate contracts and we have to pay teachers good salaries. Tutorial, technical, vocational training so that we can expand options for these students within these schools. All of this is what it takes in terms of increasing and making sure that our students have a fair chance and in terms of increasing graduation rates and other opportunities in the schools.
Gifford Miller: There are three things to address the crisis within our schools, and we do have a crisis when 550,000 kids are failing in our schools every day. 550,000 kids.
Number one - we need to lower class sizes. This is not rocket science. When there are fewer kids in the class, teachers can give more attention. You know I was in a 4th grade class the other day, 31 kids in the class, and you know what the teacher said to me? He said he prays for the flu. Because when the flu comes 8 or 9 kids are sick, and he feels like he's teaching instead of just maintaining order. Our mayor's class size plan ought to be better than the flu and I have a specific plan that would cancel a tax cut that's coming for people making more than $500,000 a year on January 2006. If we cancel that tax cut, we could lower class sizes to 17 kids in a class kindergarten through third grade, 20 kids in 4th and 5th grade, and 23 kids in 6th through 8th grade.
Number two - we have to approve our ability to attract and retain quality teachers. We have to pay teachers more to teach in low-performing, high-need schools. You know, right now 33 percent of the schools in our city produce 60 percent of the failure. We should start paying our teachers more so we don't keep putting our most junior teachers in our highest need schools.
And finally, universal after-school programs. We need universal after-school programs. Every child should get a quality after school program and get a 3rd meal. Four hundred thousand kids in this city go to bed hungry every day. That has to change. Under my mayoralty it will.
Thomas Ognibene: You know, my mom was a teacher and a school principal and my wife is a schoolteacher, and I said I spent 25 years as a trustee of a Catholic high school. And the problems that I see in many of our schools aren't just related to the school structures themselves or to the teachers. I think the teachers are excellent. I think the problems that we have, that I don't see at Christ the King High School because parents pay a lot of money to send their kids there. But when I travel around the city and go to other schools like Franklin K. Lane and Grover Cleveland, what I see is a lot of kids who seem to have lost their interest in learning and that's important.
If you're going to get real education, sure it would help to have the Campaign for Fiscal Equity money, but you're never going to see that. Believe me folks, you're never going to see that. The lawsuit was ineffective; it's not going to work.
C. Virginia Fields: We will see it.
Thomas Ognibene: You're never going to see it. The one thing you're going to get from me is the truth. And it sounds good, but the governor's leaving and he was the only one who was part of that lawsuit so nobody's going to be a part of that lawsuit.
C. Virginia Fields: That's why we're going to see it because he's leaving.
Thomas Ognibene: The important thing is that we get together with our children and the parents in our community, and we convince them that the way that you can change your status, the way you can succeed in America is to go to school, and to pay attention, to be disciplined and not disrupt other kids and to learn.
DIVERSITY IN THE POLICE AND FIRE DEPARTMENTS
Question - Bob Slade, KISS FM: The Bloomberg administration says it's improving the numbers of people of color within the New York Police Department and the Fire Department. The fraternal organizations say that that is not true. If you were elected mayor, how would you go about improving the number of blacks and Latinos on the police department and the fire department?
Thomas Ognibene: I want to see everybody that is in this city become part of the employment force, particularly the uniform services. One of the things you want to do is just encourage people to come and look at the job. Work along with police officers and fire fighters, understand and see the job, and see if that's something that they want to do and if they want to do it, to encourage them. I don't know what incentives other than that you can give, but I'd like to see more people from different segments of the city participate in uniform services.
Fernando Ferrer: While the mayor patted himself on the back about the diversity of the latest police academy class, he neglected to mention that the middle management of our police department - the training ground for our chiefs, superchiefs, and even commissioners - is still woefully closed. People of color are woefully underrepresented in those ranks. Let's move to the fire department for a second. When I met with Mayor Bloomberg after his election, I showed him what happened to be the front page of the B section of the New York Times, a new class of probationary fire fighters. I said "Mr. Mayor, what's wrong with this picture?" This picture has few if any faces of color. We've got to open up pathways of opportunity, not only EMS and other ways to get into the fire department, but also do more aggressive recruiting at the very grassroots of every one of our communities to make sure they have the opportunity to become a firefighter if that's the dangerous and challenging job they want.
C. Virginia Fields: We need better recruitment, promotional opportunities, but I would also like to see a curriculum in our public schools that began to train young people to begin to move into the uniform services very early on.
Gifford Miller: Here's what I've done, and what I'll do. I've funded the CUNY cadet programs, which have been incredibly successful in getting people into both the police department [and, having put it back into the budget over the mayor's objection], into the fire department. We also need more money for recruitment. And let me just note, I don't know how we're going to be expected to recruit thousands of police officers with a starting salary of $25,000 a year, which puts a family on food stamps. So we're asking people to go put their lives on the line and then they're going to be getting food stamps to go feed their family. That's not going to happen. They ought to renegotiate that.
CLOSING STATEMENTS
Fernando Ferrer: I want to thank you very much for hosting this debate right here at Medgar Evers College, right here in Brooklyn. This is one of the most important mayoral elections of our time because it's about choices. Mike Bloomberg has made his choices. He wasted 3 1/2 years of his time and our time chasing a West Side stadium and chasing the Olympic Games, confusing that with a real economic development and job creation program in every one of our neighborhoods. Mike Bloomberg has made his choices. It's our turn to make our choices. He says he understands what New York is - New York's a business. He looks at himself as the CEO of a $50 billion corporation. I look at New York as a city of 8.1 million people, each needing hopes, dreams and aspirations. Some have said, and I agree with them, they want a mayor to make the tough decisions. I think New York needs a mayor to give them hope. That's the kind of mayor I want to be and with your help I will be.
C. Virginia Fields: As I said in my opening statement, my campaign is about priorities, priorities that affect all of our daily lives. And as I listen to your concerns, there are issues of jobs, education, housing, and opening opportunities for more rather than a few. We need a mayor who cares. We need a mayor who will focus on creating these opportunities. And that is the kind of mayor that I will be. I understand it based on where I have come from. My vision is informed by my work, by my accomplishments, and by my experiences. And I would bring that to bear as a mayor representing all of the people in this great city but most importantly, opening up the opportunities.
Gifford Miller: I want to thank you for the opportunity to share with you my positive vision to make this city a better place and I want to say this. I know I'm not asking you for something small, I'm asking you for something big, the opportunity to be mayor of the City of New York, the best job in the entire world. A chance every moment of every day to change people's lives for the better and I promise you this: If you give me that chance, I won't let you down. I will never go to bed without being able to say to myself and to you, "today, I helped somebody's life a little better. I helped a child get an education; I helped somebody get a job." That's the kind of mayor I'm committed to being and I thank you for the opportunity to share this time with you.
Thomas Ognibene: I want to say thank you to everybody and especially the good people here because you took the time to come to this debate and to listen to the different issues and how people wanted to present solutions to it and that's what's important to America. We don't have to agree; what we have to do is take honorable positions and defend them. It's only those that refuse to debate, refuse to rise up to a challenge, and try to shut out those who say things differently than they do - those are the people we have to be suspect of in this society. And I'm running for mayor because I believe there are people who need to be heard and I want to be their voice.
Â