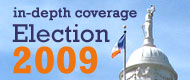 A former attorney general, assembly member and two-term city councilmember made his way down from the 20th floor of a Waldo Avenue apartment building one step at a time.
On the way, he knocked on the doors of Riverdale's "good Democrats" -- the ones who vote in every primary, he said. Many of them -- or at least the ones who answered the door -- recognized him.
"I know who you are," said one resident. "I see you around," said another.
Oliver Koppell already has a record and a reputation in the 11th council district in the Bronx -- which stretches from Riverdale to Woodlawn. But is it one that Democrats want to keep for another four years?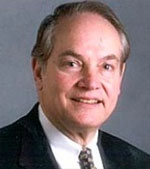 Koppell, unlike most City Council incumbents, is facing a tough challenge. It comes from a former community board chair and attorney Tony Perez Cassino. Cassino, a North Riverdale resident, says Koppell is out of touch with the district. Riverdale is changing, Cassino argues, and residents need a new face to see them through the transition. Koppell counters: The district, which is far more suburban than urban, is great the way it is.
While Casino calls himself a change agent, Koppell says he wants to do exactly what he says he has been doing for eight years -- making Riverdale and its surrounding communities a better place to live.
Riverdale as Destination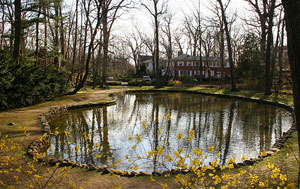 While driving through the tree-lined streets of Fieldston -- the councilmember's home turf, characterized by single-family homes -- Koppell explained how he has worked to preserve his Northwest Bronx district.
"I am very proud of landmarking Fieldston," Koppell said. "That's going to keep it like this presumably forever."
During his council tenure, he steered through the landmarking of the neighborhood, and worked to rezone Wakefield, Riverdale, North Riverdale and Woodlawn -- all an attempt to preserve the character of the communities.
"I don't want to see Riverdale become Paramus, N.J., and if people want to have a wide variety of department stores where they can buy fancy designer dresses, they can go to Paramus," said Koppell. Koppell says the people of district 11 do not want to see the area change or be the site of large-scale residential development.
This may be the largest difference between Koppell and his competitor. Cassino, who has lived in Riverdale for 16 years and grew up in Bedford Park, says young families are leaving the district because they don't have enough entertainment and family-friendly options.
"They want a community that is vibrant," said Cassino at a recent debate. "There aren't enough things that will keep them for the long term. That refers to the schools, that refers to the shopping districts, that refers to the family friendly options, and what we hear over and over again is we need to do a better job."
Cassino, who has spent his law career working on and coordinating pro bono cases, wants to bring a wide range of small businesses to the smaller neighborhood of Riverdale and larger, chain stores throughout the rest of the district. Restaurants, small shops and larger stores along Broadway, he says, will help keep residents from moving out.
To attract residents, Cassino is looking at the area's school system as well. If elected, within his first 30 days, Cassino said he would set up a task force at a local middle school of parents, educators and other stakeholders to come up with a detailed plan on how to improve the area's schools.
Although Koppell disputes Cassino's claim that residents are leaving Riverdale en masse, the council member does agree that schools must continue to improve. He says he has already brought two new schools to the area, and if re-elected he would continue to push for more seats.
Term Limits Bites Back
Cassino had just finished his appearance on Bronxnet -- the area's public access channel -- where he had slammed the incumbent for championing the City Council's and the Bloomberg administration's extension of term limits.
"We're not getting the representation we should be," said Cassino, who was dressed in khakis and a blue blazer. "Twenty years ago, (Koppell) would never have voted for term limits."
Koppell didn't just vote for it either. A year before the City Council voted to extend term limits from two to three terms, giving Koppell and the other 38 term-limited members an opportunity to seek four more years in office, Koppell introduced legislation that was nearly identical to the bill the council approved. Just a few weeks before the approval last year, he introduced another bill urging the city to give elected officials another term via referendum.
Koppell's explanation: He has been and, he says, always will be against term limits.
"If my constituents want to vote against me because I voted to extend term limits, of course they have the right to do so, but I have never believed in term limits," said Koppell.
Cassino, though, is trying to capitalize on the move, sending out mailing that attacks Koppell for approving the extension. When asked what the first thing he would do as a councilmember, Cassino said he would introduce a bill that would roll back the extension.
A Mixed Record
Cassino also attacks Koppell's ability to govern overall, claiming the lifelong politician has had his run and should be put out to pasture.
As an example, Cassino cites the City Council's approval of the wastewater treatment plant in the district's largest green space: Van Cortland Park. Koppell vehemently opposed the controversial project, which is vastly over budget and currently under construction, but lost the battle to relocate the facility to Westchester County.
"It shows the weakness that he has as legislator," Cassino said. "They put it in his district and he was powerless to stop it." Cassino also did not want the treatment plant in the park and sat on a monitoring committee at the time to try to minimize the project's impact on the community.
Cassino also criticizes Koppell for not doing enough to boost the district's transit access. Koppell says the district's transportation is "excellent," and he has been pushing for ferry service.
Recently, Koppell has been firing back, accusing Cassino of taking campaign funding from developers, including one that built a controversial development in the area called Villanova Heights.
Where Support Lies
For the most part, Koppell has landed the backing of all of the Bronx's most powerful groups, including the Bronx Democratic Party, the city's largest municipal workers union, DC 37, the United Federation of Teachers, the Police Benevolent Association and the New York Times.
Even though Cassino has garnered the endorsements of labor powerhouse SEIU 1199 and good government group Citizens Union, the sister organization to Gotham Gazette's publisher, Koppell isn't sweating the race too much -- at least not noticeably.
Having knocked on dozens of doors in Riverdale last week, Koppell decided to call it quits, despite the suggestion from a friend and volunteer to visit voters at a building where he used to live. If he had to knock doors there, Koppell said, he would really be in trouble.
"And I am not," he said.