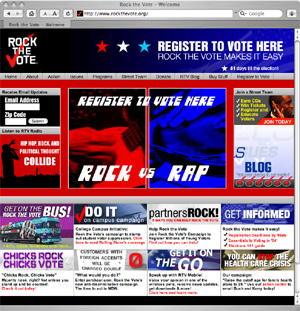 MTV's Rock the Vote campaign attempts to motivate young voters
The Youth Vote
Efforts to get out the youth vote this year range from the perennial Rock the Vote campaign, to MTV's Choose or Lose 2004, to hip-hop icon Sean Combs' new Vote or Die! effort, which aims, in Combs' words, "To make voting cool."

Not to be outdone by P. Diddy and Christina Aguilera, Mayor Michael Bloomberg and the New York City Council recently passed a law requiring public high schools supply each graduating senior with a voter registration form – in an effort to get New York youth to vote.

But how will they respond? Here are a variety of responses from young people hanging out at Union Square, a place of great political history.

"After the last [Presidential] election, many of my friends realized there's no real reason to vote," said Chris Ramos, a recent high school graduate. "It doesn't count."

"Not a lot of my friends vote," said Javacia Finney, 21. "They don't care about politics, like a lot of young people they're not informed."

"I don't understand not voting," said Zach Shapiro, 17. "Most kids actually do care about the issues. It's more laziness than anything."

"If I have the privilege of doing something powerful like that, I'll take advantage of it," said 17-year-old Victoria Santagato.

-Josh Nathan Kazis
Despite massive efforts by politicians, musicians, and celebrities to encourage young people to vote, it is clear that our youth are not being reached.
Only 180,000 of the 800,000 eligible New York City voters between 18 and 25 years old have registered to vote. Merely registering, however, is no guarantee that they will go to the polls. In 2002, only 32,000 registered young voters actually went to the polls.
Clearly, something else is needed to encourage their civic participation.
That is why I co-sponsored a new law requiring the Department of Education to provide graduating high school seniors with voter registration forms along with their diplomas. The legislation, known as the Young Adult Voter Registration Act, will reach young New Yorkers at a critical time in their lives, when we celebrate their accomplishments and send them out to do good in the world.
Like motherhood and apple pie, it's hard to criticize voter registration efforts. Yet, the Young Adult Voter Registration Act has been dismissed by some as pointless, "feel good" legislation that will ultimately be ineffective. It's none of these things.
This legislation can help create a special connection between education and democracy. An informed electorate is the key to democracy, and voting is an essential lesson of civics classes. Why not give students a smooth transition to practice what they've studied; a chance to put what they've learned into action?
Young people, often inclined toward apathy about the political process, should be made to feel that voting is a natural culmination of their studies and part of their transformation into adults. Teaching them that "every vote counts" has more impact if we accompany the lesson with both the chance to fill out the appropriate paperwork, and an expectation that they will do it.
For these reasons, the Department of Education is in a unique position to bring young adults a step closer to the voting booth. Although Motor/Voter laws, which allow people to register to vote when they get their driver's license, have increased voter registration in recent years, waiting in line at the Department of Motor Vehicles hardly creates a lasting impression of civic duty. Graduating from high school, on the other hand, is an event that is not soon forgotten.
To be handed a voter registration form at this crucial moment, along with a diploma, tells young adults that society values those two pieces of paper. It connects voter registration with adulthood, personal achievement and success; registration becomes a rite of passage, instead of a chore. It says that voting is a hard-earned reward and the ticket to a better future, much like a diploma. In combination with civics classes, this is the perfect opportunity to realize the values of democracy in our city.
Eva Moskowitz represents the Upper East Side of Manhattan and chairs the education committee in the New York City Council.
Resources and Efforts for Youth Voting:
Arsalyn
Black Youth Vote
Campus Compact
Circle Youth
Citizen Change
Declare Yourself
Freedom's Answer
Kids Voting USA
MTV's Choose or Lose
November 2nd
Rock the Vote
Teen Politics
Teen Vote USA
Youth Vote Coalition
Vote or Die