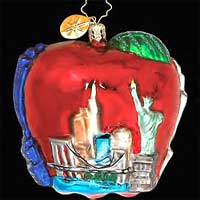 This is a story that begins in weirdness and ends illuminating something about politics in NYC, though I'm not sure what.
The 2005 Voters Directory from the New York City Campaign Finance Board is a useful guide that offers information supplied directly by the candidates who will be on the ballot in the general election.
The information for Barry Popik, the candidate of the Republican and Liberal parties for the office of Manhattan Borough President (one of five people running for that position), includes the question: 3. what makes you the best candidate for this office? His answer:
" I will never forget finally dedicating "Big Apple Corner," alone, in the rain, while my mother was dying. No one needs to question my dedication to New York. But you shouldn't vote for me for that, or because I found the first "beep" (borough president), or "hizzoner," or New York "Yankees" (they played in Manhattan as the "Highlanders"), or the Manhattan cocktail, or Manhattan clam chowder, or the origin of "the Great White Way." The difference is the qualities I've displayed to do all this."
Karol Sheinin was stumped. "I just have to ask 'what the?'" reacted the blogger of Alarming News, whose Republican party loyalty was severely tested: "Now, I don't have to agree with the candidate on everything but I do have to know what the hell they're talking about."
Barry Popik himself replied, commenting both in Alarming News and in The Politicker. He explained that he claims to have solved the mystery of why New York City is called the Big Apple — a "dusky stablehand" in New Orleans coined the phrase — and is responsible for former Mayor Rudy Giuliani having named the southwest corner of West 54th Street and Broadway the Big Apple Corner. (Presumably the rest of his answer in the voters directory concerned other coinages he unearthed). Then he went on to complain about the state of politics and the press in the city:
"We're outnumbered 5-1 in NYC, but it's worse in Manhattanwhere we're outnumbered 8-1. It's no secret that every elected official in Manhattan is a Democrat.No Republican has held the Manhattan BP post for 60 years, since La GuardiaUnless there's some free-spending millionaire out there to level the playing field, the press just isn't interested."
Actually, Fiorello LaGuardia was never Manhattan Borough President, certainly not 60 years ago; in 1945, he was coming to the end of his 12 years as mayor.
By Jonathan Mandell on November 2, 2005, 12:56 pm
In category:
Electoral Politics
,
Gotham City
|
5 Comments »
RSS Feed