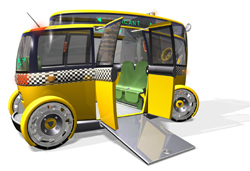 Here are some of the new ideas for NYC taxicabs — from the fanciful to the immediately implementable — that came out of workshops organized by the Design Trust for Public Space, presented in an exhibition opening last night at Parsons:
More easily visible "Vacancy" signs on top of cabs.
On-board air filters
Taxis that are fully wheelchair accessible, "with sliding doors, a low curbside ramp, interior floor locks for stability, and a rear safety light to indicate boarding and exiting."
Child seats, such as ones that fold down from the back seat
Driver hats, yellow in color, but of various styles, reflecting the origins of the cabdriver — for example, a taxi fez, a taxi turban, and a taxi snow hat.
The return of the old "Checker Cab" with an updated design. (Currently, the standard yellow taxi is the Ford Crown Victoria)
"Calling a cab" through a cell phone that sends out a signal telling cabdrivers of their would-be passenger's location.
Cabs with skylights
Cabs in which the partition is a console that offers the passenger such amenities as a microphone, cup holder, credit-card reader, even Wi-Fi, air-conditioning, a "GPS" (Global Positioning Satellite) screen — a map that traces your location.
"Green" taxis — smaller, less polluting (with a hybrid engine), with interiors made out of environmentally friendly materials.
Certain curbs marked as loading and unloading zones for cabs
Taxi stands "where passengers can get a cab and purchase MetroCards, and also where drivers can take a break, use the restroom, and recharge the batteries of future electric cabs."
"Cashless payment" methods, such as the use of the MetroCard
By Jonathan Mandell on November 3, 2005, 7:02 am
In category:
Arts
,
Transportation
|
3 Comments »
RSS Feed