The staff artists at Pixar Animation Studios — creators of Monster, Inc.; The
Incredibles; Toy Story and Toy Story 2, Finding Nemo, and A Bug's Life — made a startling revelation at the preview to the new Museum of Modern Art exhibition, "Pixar: 20 Years Animation." New York City was an inspiration.
"The city you see when Mr. Incredible is young is more or less modeled on New York," said Lou Romano, that film's production designer. "The brick texture and color palette feels New York to us."
Bug City in A Bug's Life "is sort of an evocation of Times Square," said Bill Cone
But it is Monstropolis in Monster, Inc. that is most like New York, according to Harvey Jessup, its production designer. Though they took trips to Pittsburgh, not New York, "we looked at a lot of photographs of New York in the 1930's, Bernice Abbott's photographs. The TWA terminal at JFK, and the old Penn Station provided inspiration for specific locales.
"At one point, we designed a whole subway system," Jessup explained. "But they just wanted the monsters to walk to work." By they, Jessup doesn't mean the Transport Workers Union and the Metropolitan Transportation Authority; he is talking about the director of Monster, Inc.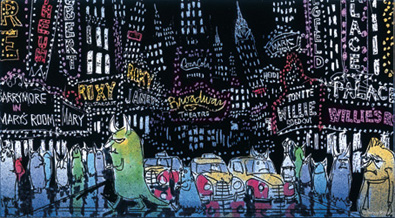 By Jonathan Mandell on December 13, 2005, 3:32 pm
In category:
Arts
,
Transportation
|
1 Comment »
RSS Feed