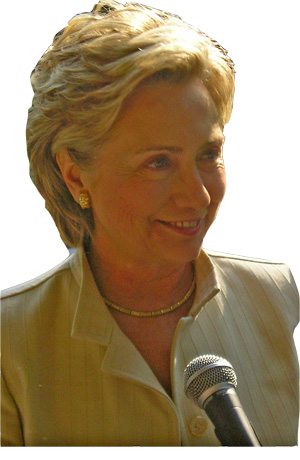 To no one's surprise, Senator Hillary Clinton was among last night's electoral winners. Political writers immediately began discussing how Clinton will leverage the results to give herself the best chance of becoming president in two years' time. She certainly seems to have momentum — and money — to spare after her landslide victory yesterday. And some are predicting that her unofficial presidential campaign will become official pretty soon.
"Clinton needs to set up a presidential exploratory committee before she can spend a penny of the $15 million sitting in her Senate campaign account on anything remotely presidential," writes Glenn Thrush in Newsday. "When Clinton files the papers, it's likely to generate about as much buzz as if she rented Madison Square Garden and literally threw some kind of a hat into some kind of a ring."
Clinton's current job, meanwhile, has yet to be defined. If the Democratic candidates for Senate in Montana and Virginia end up winning — and their party is already claiming victory — then Clinton will be in the majority in the Senate. During the campaign, Clinton claimed that Republican control of the presidency and both houses of Congress had kept her from installing her plans to improve New York's economy.
The Daily Politics has a post discussing how this might also affect the state's other senator, who was in charge of the Democrats campaign this fall:
"If they pull it off, Chuck [Schumer] will — depending on which Democrat you talk to — either be a national hero, or totally impossible to take. Or both."
By Joshua Brustein on November 8, 2006, 12:53 pm
In category:
Gotham City
|
6 Comments »
RSS Feed