Mathieu Eugene was officially sworn in as councilmember for the 40th district at today's stated meeting.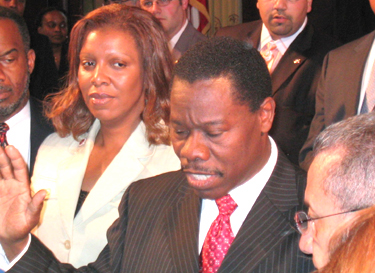 Though Eugene did not sign and provide all of the voluntary paperwork documenting his ability to serve in the city council, an investigation found him to be in compliance with the requirements to hold office, such as being over the age of 18, a resident of the district, a citizen, and not in violation of the public officers law.
Topping Mayor Bloomberg's new Spanish proficiency, Eugene gave a few remarks and thank yous in English, Spanish and Creole.
By Sydney Beveridge on May 9, 2007, 3:52 pm
In category:
Gotham City
|
Comments Off

on Eugene Sworn In
RSS Feed