Arts
Children
Civil Rights
Crime/Justice
Demographics
Education
Environment
Finance
Health
Housing
Immigrants
Land Use
Law
Parks
Social Services
Tech
Transportation
Voting
Waterfront

NYC Government
NYS Government
US Government
Public/Private
Civics
BIDs
Advocates
Think Tanks

Bronx
Brooklyn
Manhattan
Queens
Staten Island

Yahoo NYC News
NY Times
NY Post
Newsday
Daily News
NY1
NY Wired
City Limits
City Journal
Crain's NY
Observer
Village Voice
Albany Times Union
---

#exec cgi="/cgi-bin/random.cgi"
---

Each weekday AM: the GothGaz Eye-Opener zaps you Today's Lead, links to NYC dailies. Subscribe today! Free!
---



More and More Bangladeshis Are Owning Taxis Today
-- from Weekly Thikana, 8/17/01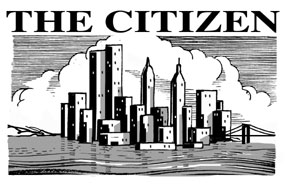 The number of Bangladeshi taxi medallion owners is increasing every day. According to information provided by the Taxi and Limousine Commission, there are about 7,500 Bangladeshis driving taxis in New York City. They have earned a good reputation in this profession. More and more people are buying the taxis now than ever before. As recently as 1990, there were only a handful of Bangladeshi taxi owners. Now the number of owners has increased to 5,000, or about two-thirds of all the [Bangladeshi] drivers today. [They own the taxis but they do not own the medallions]. They are just renting the medallion, which enables them to drive the taxis. Usually two or more persons buy the taxi in partnership. More often than not, these cars are bought in a lease for two years. And the cars cost around $35,000.
But there are not enough people who own a medallion yet. Estimates put the number of Bangladeshi taxi owners who actually own a medallion at about only 400. In today's market, the cost per medallion (Individual) is $190,000 to $195,000. Bengal Cabbie Society's ex-president Fakruddin Choudhury said to Thikana, the price of medallions was even higher just a year ago. For instance, an Individual Medallion used to cost $250,000 and the Corporate Medallion used to cost $270,000. The prices have gone down to $195,000 and $220,000 respectively. The depreciation is caused, Fakruddin said, by the Taxi and Limousine Commission's overly strict rules. For example, in the past, it was possible to rent the individual medallions out. But now it's forbidden by law. The medallion-owner must drive the taxi himself. He can only have one other partner. And for this, people are losing interest in buying medallions. Consequently, the price is falling. Babu, from Shapla Welfare Associations, told Thikana that a lot of people he knows owns medallions. Among the notables are Golem Sarwar (Madina), Hazi Fakar Uddin, Shah Alam (Yellow Society), Parimal Kanti Nath (Bijoy), Ataur Rahman Salim (Businessman), Arif Choudhury and Bengal Cabbie's general chairman Tariq Choudhury. [There are six organizations of Bangladeshi taxi drivers, including Yellow Society, Bengal Cabbie Society, Madina, etc.]
Mr. Tariq Choudhury bought a medallion in 1985, for only $84,000. Now, it costs as much as $200,000. Mr. Fakruddin Choudhury bought his in 1988, for $135,000. Mr. Momin, a member of the Yellow Society and living in the Bronx, said, "More people are buying medallions today, as the price has gone down. There are eight medallion-owners in my neighborhood alone."
Translated from Bengali by Noushad Kashem
###


| | |
| --- | --- |
| | This website is brought to you by Citizens Union Foundation and is made possible by grants from the Charles H. Revson Foundation, the Rockefeller Brothers Fund, the New York Times Foundation and viewers like you. |