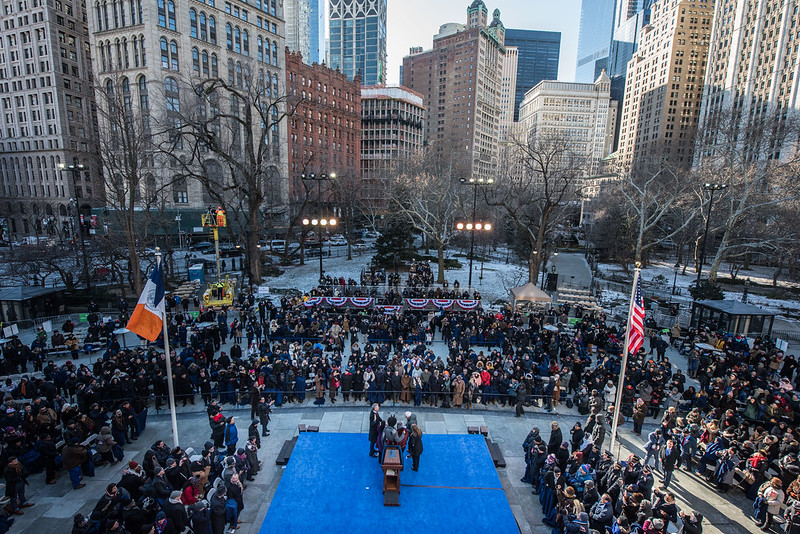 Inauguration Day at City Hall (photo: Michael Appleton/Mayoral Photography Office)
---
It's often said being Mayor of New York City is the second toughest job in America. The challenges of governing our nation's largest city are enormous, especially now in the wake of COVID-19, the racial justice movement, and increased crime and unemployment. And as the city seems to be tilting even more to the "progressive" left, I'm reminded of the sage advice of one of our greatest mayors, Fiorello LaGuardia, that "there's no Democratic or Republican way to pick up the trash." Competence matters, and we need it now more than ever.
Leaving politics aside, any fair assessment of the last seven-plus years would have to acknowledge the shortcomings of the de Blasio administration. The barometer for judging the success of an incumbent (two-term) administration has become: "Are we better off today than we were eight years ago?" Today, few New Yorkers would answer in the affirmative. But also in fairness, Mayor de Blasio has had some notable successes in achieving his agenda. For example, he did end the "stop and frisk era," and he pushed the state into adopting universal pre-kindergarten. But there have also been major stumbles, such as the ethics scandals that nearly toppled the mayor and administration missteps during the coronavirus crisis, among others.
So what should we be looking for in our next Mayor? An outsider with a fresh perspective (like entrepreneur Andrew Yang, banker Ray McGuire, or not-for-profit executive Dianne Morales)? A long-time public servant with lots of government experience (like Brooklyn Borough President Eric Adams, City Comptroller Scott Stringer, former Sanitation Commissioner Kathryn Garcia, or former Obama and Bloomberg administration official Shaun Donovan)? Or a de Blasio administration insider who left with reputation intact (like former counsel to the Mayor and CCRB Chair Maya Wiley or Garcia)? Or one of the high-profile Republican candidates long-involved in community organizing (like Fernando Mateo or Curtis Sliwa)?
No matter which of them emerges as our next Mayor, these are the issues that will ultimately define their success, so you'll want to hear from the candidates now about how they'll address them.
Public Safety
The paramount obligation of any administration is to maintain public safety and keep New Yorkers safe. Because of the enormous drops in major crime achieved during the Giuliani and Bloomberg administrations, that issue see med, in some sense, under control. Attention shifted further toward police-community relations and police policies that seemed to target people of color. But now, we are at a new crossroads, with violent crime rising again and still fractured relationships between police and communities. This is a particularly daunting task for our next Mayor -- to motivate police to keep us safe yet address the legitimate concerns of communities of color. The current Mayor appears to have alienated both police and communities. We have to do better, and we have to keep our City safe at the same time.
Economic Development
It's still very much "about the economy, stupid." So much of the city's financial success and tax base comes from Wall Street, yet we are a most diverse city where income equity and unemployment remain confounding issues as well, and even more so since covid. Many who could left the city during this crisis, choosing to isolate elsewhere. Now, we need to get them back for the good of all New Yorkers. The challenge for the next Mayor is to strike the right balance between encouraging economic development and job growth, while also lifting up those struggling in our city.
We need to get people back to the office, safely, and restore some sense of normalcy to our daily work lives. It takes a nuanced approach, an understanding that just raising taxes and spending more money doesn't necessarily solve problems; it can create new ones. I am among those to have suggested a major public works initiative like the Depression-era Works Progress Administration (WPA) that would directly create construction jobs and rebuild the city's crumbling infrastructure at the same time. That's a win-win. It's how a Mayor can smartly use the city's resources, leverage them into state and federal dollars, make prudent decisions, spend smart, and inspire New Yorkers to work together to achieve common goals good for all.
Public Education
After winning Albany's approval for mayoral control of the public school system 20 years ago, we haven't done enough to capitalize on that opportunity, particularly during the de Blasio years. Good riddance to Chancellor Carranza, who wasted his tenure hiring cronies and trying to change something that wasn't broken -- our elite high schools. Providing a quality education for our children of every community is something we must do better to achieve. It is the great equalizer from which so much future opportunity flows.
The next Mayor must put politics aside and appoint someone of proven competence in administering and improving large bureaucracies -- an Arne Duncan type -- whether or not an educator by background. And set your own course, instead of what the teachers union dictates to you. There's room for great charter schools and great traditional public schools in the same space. Embrace both. And commit to spending resources to improve bilingual education, so that children of every community have equal opportunity within our public school system. But one thing is certain: we have to do better than this for the sake of our children and the larger city.
Health Care
The pandemic has caused us to appreciate how important our healthcare system is and how we need to ensure access to it for all. Our city's public hospital system is by far the largest in the country. Yet quality of care and access to care remain concerns. The rollout of vaccines is a perfect example. Why is it that affluent neighborhoods like the Upper East Side have a much higher vaccination rate than many poorer communities? That's a problem of administration. But it's also a problem of fundamental fairness. Like the public education system, we need administrators of proven competence to run our public hospital system and health department. New Yorkers should expect and deserve no less, and choose a Mayor who will manage well, including by appointing the right people.
Quality of Life
I don't hear the mayoral candidates talking enough about "quality of life," yet at its core, quality of life is what ultimately defines a city. Quality of life, of course, includes living in a safe place, having economic opportunity, being able to give your kids a decent education, and having access to good healthcare. But it also means much more.
It means keeping streets clean, maintaining great parks for recreation, and fostering a sense of community that brings neighborhoods together and makes us optimistic about our future. But our quality of life now seems under siege. For example, we are grappling with how to help our vulnerable homeless fellow New Yorkers, who, during COVID, have increasingly been housed in inadequate SRO hotels without sufficient services, overwhelming certain neighborhoods. And there's a growing perception that our city is less safe today than it was eight years ago, that economic opportunities are harder to come by, and that our best days are behind us. So ask these candidates how important they think it is to improve quality of life in our city. That will tell you a lot about their priorities and understanding of what makes a city great.
Competence
At bottom, the Mayor's job is about competence. Delivering services and achieving goals. Done right, it's a 24-7 job. The best Mayors make decisions on the merits, not politics, and they realize they have to work with state and federal officials to get things done for the good of the city. So take a good, hard look at these candidates, and ask yourself -- and them -- what is it about their record that qualifies them to run a $90-billion enterprise, manage a 330,000-person workforce, and serve the needs of 8-plus-million New Yorkers. Because, at the end of the day, there is no Democratic or Republican way to pick up the trash.
***
Randy M. Mastro is a litigation partner at Gibson Dunn and a former Deputy Mayor of New York City who chairs the Boards of Citizens Union and Citizens Union Foundation.
***
Have an op-ed idea or submission for Gotham Gazette? Email This email address is being protected from spambots. You need JavaScript enabled to view it.
***
This guest column is part of Citizens Union Speakers, a regular series of op-eds written by members of the Citizens Union Foundation community in Gotham Gazette, CUF's flagship public education program. The opinions expressed in these Citizens Union Speakers columns are those of the authors alone, not Citizens Union Foundation, Gotham Gazette, or any other entity.
* * * * * * * * * * * * * * * * * * * *
Note: Gotham Gazette is an independent publication of Citizens Union Foundation, sister organization of Citizens Union.