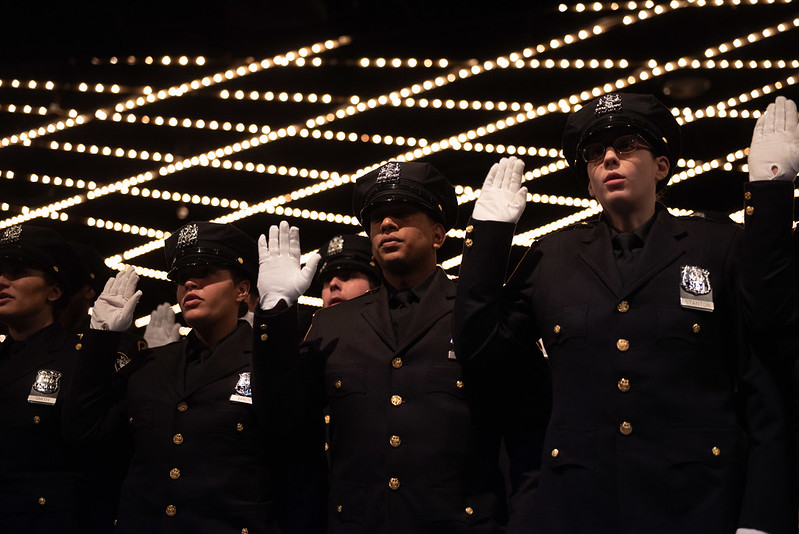 Police officers take the oath (photo: Michael Appleton/Mayor's Office)
---
This guest column is part of Citizens Union Speakers, a regular series of op-eds written by members of the Citizens Union Foundation community in Gotham Gazette, CUF's flagship public education program. The opinions expressed in these Citizens Union Speakers columns are those of the authors alone, not Citizens Union Foundation, Gotham Gazette, or any other entity.
* * * * * * * * * * * * * * * * * * * *
In light of the police killing of George Floyd, Governor Cuomo has announced that he would support "reform" of Section 50-a of the Civil Rights Law, which prevents disclosure of any documents relating to the disciplinary records of police officers. The Governor has not indicated what "reform" he prefers, but he subsequently said, referring to the Legislature, that whether "repeal, reform, whatever they send me I will sign." The Legislature should repeal the law in its entirety as an important step toward greater police accountability.
Section 50-a, which was enacted in 1976, provides that "[a]ll personnel records used to evaluate performance toward continued employment or promotion" of a police officer "shall be considered confidential and not subject to inspection or review without the express written consent of such police officer...except as may be mandated by lawful court order."
The statute goes on to provide that prior to issuing such court order, a judge must review all such requests and give interested parties the opportunity to be heard and then review the requested records under seal in order to determine whether they are relevant and material to the action before him or her. The provision for a court order applies only to a pending litigation in which a party seeks a subpoena for documents covered by Section 50-a, not to a request under the Freedom of Information Law (FOIL).
Indeed, New York's highest court has ruled that Section 50-a prohibits any disclosure of disciplinary records under FOIL (see New York Civil Liberties Union v. New York City Police Department, 32 N.Y.3d 556 (2018); and Daily Gazette v. Schenectady, 93 N.Y.2d 145, 154-55 (1999)). Section 50-a would also appear to prohibit voluntary disclosure of such records by police departments, at least where they identify particular officers.
The effect of Section 50-a is to significantly deprive the public of information necessary to ensure the accountability of police officers for misconduct and of the Police Department for ensuring such accountability through its systems of civilian complaints and disciplinary proceedings. Without information as to the outcome of such proceedings, it is impossible to know if those systems are functioning properly.
The extent to which the confidentiality of police disciplinary records may have kept the public in the dark about significant wrongdoing and the absence of an adequate response is presented dramatically in the results of an examination of 319 files from 2011 to 2015 published by BuzzFeed News in 2018, "Secret NYPD Files: Officers Can Lie And Brutally Beat People – And Still Keep Their Jobs." For a more dispassionate, statistical analysis and critique, see the Nineteenth Annual Report of the New York City Commission to Combat Police Corruption, published in December 2019 (pp. 37-116).
At the urging of Citizens Union, where I sat on the Board of Directors, the NYPD and the Civilian Complaint Review Board (CCRB) entered into a Memorandum of Understanding in 2012 in which the Police Department authorized the CCRB to undertake all administrative prosecutions of civilian complaints against police officers that have been substantiated by the CCRB and in which the CCRB has recommended that charges and specifications be preferred.
The MOU further provides that in any case substantiated by the CCRB in which the Police Commissioner intends to impose discipline that is of a lower level than that recommended by the CCRB or by an NYPD Trial Commissioner, the Police Commissioner shall send the CCRB a detailed, written explanation of the reasons for deviating from that recommendation, including each factor the Police Commissioner considered in making the decision. In light of the position of the Police Department that all disciplinary records are confidential under Section 50-a, we and all other watchdogs and interested parties are unable to monitor compliance with this provision.
It has been argued that Section 50-a is justified by the need to protect police officers against harassment or retaliation resulting from disclosure of disciplinary records. However, notwithstanding the law, until 2016 (40 years after its enactment), the New York City Police Department made public the records of disciplinary proceedings against police officers resulting in a substantiation of the complaint. There appears to be no evidence that that practice resulted in any harm to police officers.
It has also been argued in support of "reform" of Section 50-a, as opposed to repeal, that it is unfair to police officers for there to be public disclosure of records pertaining to unsubstantiated complaints or charges against them. However, police officers, like other public officials and employees, already enjoy significant (if not absolute) protection against such disclosure. FOIL exempts from its requirements records the disclosure of which would constitute an unwarranted invasion of personal privacy (see Public Officers Law §§ 87(2)(b) and 89(2)(b)).
The Committee on Open Government has issued two advisory opinions stating that the personal privacy exemption is applicable when allegations or charges of misconduct have not yet been determined or did not result in disciplinary action (see FOIL AO-10399 (Oct. 31, 1997) (police officers)) or when allegations of misconduct were not substantiated (see FOIL AO-12005 (Mar. 21, 2000) (prison inmates)).
Although the Advisory Opinions of the Committee on Open Government "are not binding authority, they may be considered on the strength of their reasoning and analysis" (see Matter of TJS of N.Y., Inc. v. New York State Dep't of Taxation & Fin., 89 A.D.3d 239, 242 n.1 (3d Dep't 2011)). The reasoning of the advisory opinions cited above appears correct at least with respect to documents that reveal the identity of the individuals against whom the unsubstantiated complaints were made.
That is not to say that FOIL would never require disclosure of documents relating to unsubstantiated reports of misconduct or that such disclosure would always be inappropriate. For one thing, statistical tabulations and other data that do not reveal the identity of the police officer are necessary for accountability and should be permitted. In addition, in a high-profile case in which the nature of the complaint and the name of the police officer are already a matter of public knowledge, and where there is controversy surrounding the adequacy of the investigation, the appropriate balance between the public interest in the matter and the privacy interest of the police officer should tip in favor of disclosure. It is precisely that kind of careful weighing of factors by a court that FOIL mandates, and Section 50-a precludes.
In sum, police officers should enjoy the same level of protection as provided to all government officials under the exemptions to FOIL. Indeed, New York is one of only two states that grant police officers special privacy protections beyond what other public employees have. Accordingly, the Legislature should repeal Section 50-a in its entirety.
***
Frederick P. Schaffer is a Director of Citizens Union Foundation.
***
Have an op-ed idea or submission for Gotham Gazette? Email This email address is being protected from spambots. You need JavaScript enabled to view it.
***
This guest column is part of Citizens Union Speakers, a regular series of op-eds written by members of the Citizens Union Foundation community in Gotham Gazette, CUF's flagship public education program. The opinions expressed in these Citizens Union Speakers columns are those of the authors alone, not Citizens Union Foundation, Gotham Gazette, or any other entity.
* * * * * * * * * * * * * * * * * * * *
Note: Gotham Gazette is an independent publication of Citizens Union Foundation, sister organization of Citizens Union.