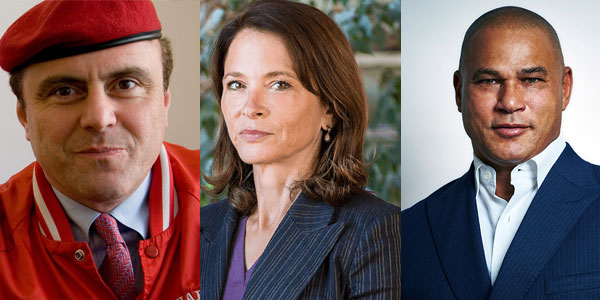 (l-r) GOP mayoral candidates: Curtis Sliwa, Sara Tirschwell, Fernando Mateo
---
UPDATE: not long after the publication of this article, Sara Tirschwell's bid to get on the Republican primary ballot failed, which she blamed on chall enges from Fernando Mateo's allies, announcing the end of her campaign and her support for Curtis Sliwa. The information on Tirschwell has been moved to the bottom of the piece and other edits have been made for accuracy based on the updated information. The GOP mayoral primary now appears to be a two-candidate race between Mateo and Sliwa. See more on them below.
***
The Republican primary in the 2021 race to become the next Mayor of New York City is not as crowded as the Democratic field, but it is also competitive, with two main candidates running for the nomination and chance to face the winner of the Democratic primary, among others, in the fall general election. Whomever wins the Republican primary -- which is happening in June like the rest of the city's primaries, with early voting June 12-20 and primary day June 22 -- will face an immense uphill battle to win given the city's overwhelming Democratic voter enrollment advantage. But, Fernando Mateo and Curtis Sliwa are in the running to take that long shot, knowing that the city has elected Republican mayors in the not-too-distant past and trying to seize on the failures of Democrat Bill de Blasio.
Here's a brief rundown of each of the main Republican candidates for mayor, with links to in-depth, 30-minute video interviews Gotham Gazette conducted with each of them:
Curtis Sliwa
Sliwa is the controversial founder of The Guardian Angels, a well-known group whose mission is to prevent crime in the city, and a media personality on WABC radio (and formerly on NY1 TV) with a history of misogynistic and racist commentary.
In his bid for the Republican nomination for Mayor, Sliwa has presented himself as a lifelong, no-nonsense New Yorker focused on public safety and economic revitalization, someone who "knows how to do more with less" as he stated in an interview with Gotham Gazette when discussing managing the city out of its budget challenges. Sliwa's biggest claim to fame and to city civic service is the Guardian Angels street and subway patrol group that he launched and continues to lead.
Key policy proposals of his include property tax reform and regulatory business reform.
If elected mayor, Sliwa says he would reinvigorate the NYPD by reinstituting an anti-crime unit, and implementing special units of mental health experts to respond simultaneously with cops.
Unlike other Republican candidates, Sliwa only recently registered as a Republican, in February 2020, and says he's been an independent for most of his life. He says did not vote for Donald Trump in the 2016 or 2020 presidential election, and he has been critical of the former president on a number of issues while supporting him on others. Sliwa is been backed by the Brooklyn and Staten Island Republican Parties and appears to be the favored candidate of former mayoral candidate and businessman John Catsimatidis, who has decided not to run for mayor this year after long-considering it and whose financial support could be helpful to Sliwa.
Watch Gotham Gazette's interview with Curtis Sliwa here.
Fernando Mateo
Mateo is a small business owner and spokesperson who has his own history of controversy related to a business he owned and donations to Democratic Mayor Bill de Blasio's campaign. He is President of the New York State Federation of Taxi Drivers and a spokesperson for the United Bodegas of America and has a history of civic involvement.
Originally from the Dominican Republic, Mateo has called himself "a blue-collar urban Republican that wants the best for the city of New York." His campaign message focuses on public safety and economic revitalization through business regulation reform. He rejects calls to 'defund the police' and argues an additional 20,000 officers should be hired on top of the roughly 35,000 officers the force is comprised of now.
Mateo is former co-owner of the scandal-ridden Washington Heights restaurant, La Marina. The restaurant filed for bankruptcy in 2019 after a year of health code violations, a drug bust, and the suspension of its liquor license, all of which he has blamed on neighbors and police out to get him.
Mateo says he is a lifelong Republican and he voted for Donald Trump in 2016 and in 2020. In an interview with Gotham Gazette, he stated he supported Trump "until the capitol riots" on January 6. In the past, Mateo has fundraised for George Pataki, Michael Bloomberg, and de Blasio. He has been endorsed by the Republican Party affiliates in Manhattan, The Bronx, and Queens.
Watch Gotham Gazette's interview with Fernando Mateo here.
***
Sara Tirschwell (no longer a candidate after failing to make the ballot)
Tirschwell is a former Wall Street executive and current Chief Financial Officer of mental health non-profit, Foundation House. The only female Republican candidate for mayor this year, Tirschwell is hoping to become the city's first woman mayor. She has positioned herself as a financial expert capable of guiding New York City out of its fiscal and economic crises induced by the pandemic.
"We need a problem solver with experience in crisis management and restructuring," she says on her campaign website. "Beholden to no one but the people of the City of New York -- I have that experience -- and I am an outsider and a change agent who has repeatedly overcome adversity."
Her campaign message has largely focused on public safety, revitalizing the economy, quality of life issues, and aggressive regulatory reform. Tirschwell has rolled out a plan to address the city's disparities in educational opportunity.
Tirschwell has lived in New York for 30-plus years; she's originally from South Texas and speaks openly about having had a particularly adverse upbringing and personal challenges into adulthood. She raised two daughters as a single mother and widow, which she boasts as her greatest accomplishment.
In 2017, Tirschwell sued her former employer, TCW, for firing her nine days after filing a sexual harassment complaint against her boss. It was notably considered the first "Me Too" case on Wall Street, well before the recent #MeToo movement.
Tirschwell led the Republican mayoral field in fundraising as of the mid-March campaign finance filing deadline, an advantage bolstered by a loan she made to the campaign.
Watch Gotham Gazette's interview with Sara Tirschwell here.
***
by Emma Seiwell
@GothamGazette
Note: this article has been updated to reflect Tirschwell's failure to make the ballot and endorsement of Sliwa.