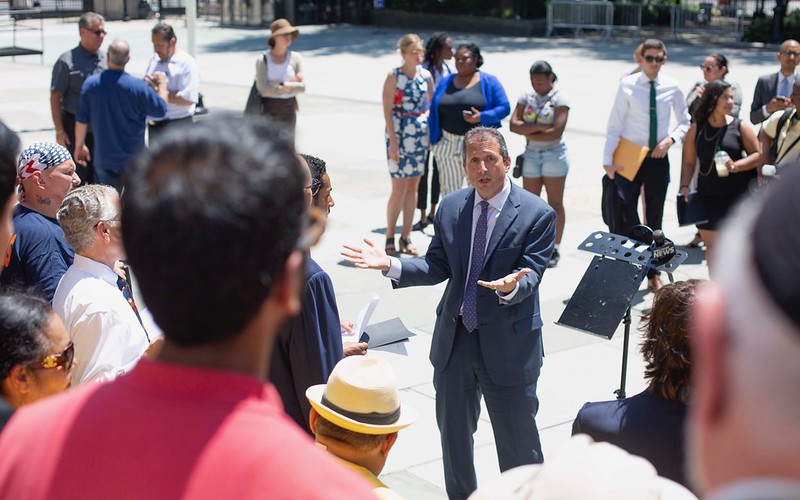 Council Member Brad Lander (photo: John McCarten/City Council)
---
The New York City Comptroller is an investment advisor and fiduciary for New York City's $266 billion public pension system that serves 700,000 current and former teachers, firefighters, health care workers, police officers, and other retired city employees.
Brad Lander, the Democratic nominee for Comptroller, is all but certain to win the general election this fall in the overwhelmingly Democratic city after prevailing in a competitive primary earlier this year. If successful, Lander would be inaugurated in January and soon be able to make recommendations to the Boards of Trustees of the city's five public pension funds on how their many billions should be invested, while also voting directly on four of the five pension boards, making him the key figure in almost all investment decisions.
The implications are significant given that city workers' pensions are on the line, and because the city guarantees those pensions, billions are spent each year to make up for what the pensions themselves don't produce in returns. Better returns from pension fund investments can save city government a significant amount of money that could be used for other priorities or put aside for a crisis.
Those investment decisions can also be made to further other goals than simply the funds' bottom lines, though the returns and overall financial health of the pension funds are the comptroller's main city charter-mandated responsibility.
As Lander, who ran the most progressive campaign in the comptroller primary with support from much of the city's leftist groups and individuals, looks to take over the office from term-limited Comptroller Scott Stringer, who has been a progressive "activist investor" in the role, New York City could see an even more aggressive test case of the infusion of socio-economic principles into the management of the massive pension fund investments.
But, it's not simply a left-wing experiment. In the past decade, the use of environmental, social, and governance (ESG) metrics to inform investment decisions has gained momentum in the financial world, with asset management giants like BlackRock and Morgan Stanley making pushes to integrate ESG measures into their investment practices. ESG metrics are non-conventional measures of investment risk that take into account a company's impact on broader society, balance sheet aside.
Asset managers use these metrics to construct ESG funds that tout a commitment to a social good like boardroom diversity or low carbon footprint. And while the metrics themselves are not tied to traditional financial analysis, in 2020, ESG funds outperformed their traditional peers.
At times working with Mayor Bill de Blasio, who has representatives on the same four boards as the comptroller, Stringer has taken steps during his nearly eight-year tenure to incorporate these considerations into the city's pension investment strategy with initiatives like the Boardroom Accountability Project, which calls on companies to consider women and people of color for all board and CEO positions, and partial divestment from the fossil fuel industry.
Lander has a Strategic Plan for Responsible Fiduciary Investing that goes further. To "direct and influence corporate and fund manager behavior," Lander writes on his campaign website, he plans to integrate ESG metrics into New York City's pension investment strategy through several strategies. Lander pledges to do so by assembling a team of financial and ESG experts, reviewing and re-evaluating investment decisions made in the past five years, and creating a standard framework to evaluate and measure ESG funds that Lander "would consider developing" for broader, possible private, use, according to Naomi Dann, Lander's spokesperson, in an email response to Gotham Gazette questions.
Paying attention to ESGs when investing is necessary to mitigating long-term risk, Lander's team told Gotham Gazette. "Achieving maximum risk-adjusted market returns for the retired workers who rely on the funds now, and those who will in the years to come, requires an integrated approach that is mindful of long term risks, including climate change and inequality," said Dann.
Paying attention to these social impact indicators, Lander explains in his plan, means that New York City could back up political commitments like upholding the Paris Climate Agreement, supporting racial and gender equity, promoting workers' rights and representation, and prioritizing local business, in its investment decisions.
"The Strategic Plan for Responsible Fiduciary Investing will strengthen environmental, social, and governance commitments," Lander says on his website, "including more specific language around tackling climate change, accounting for environmental justice, and addressing wealth and income inequality, consistent with fiduciary duty."
Lander's plan establishes a Chief Diversity Officer in the Comptroller Office's Bureau of Asset Management to assemble a diverse team of asset managers and advisers who will work with trustees to develop fund-specific fiduciary blueprints that incorporate ESG measures into investment practices.
His initial proposals include using shareholder activism to vote out corporate directors who fail to take action to comply with the Paris Climate Agreement minimum standards, push companies to release workers' rights information like wages, and require corporate political spending to be reported.
On behalf of Lander, Dann told Gotham Gazette that shareholder activism allows the comptroller to "achieve better ESG integration without putting the funds at risk by leveraging all of the tools available to us as an institutional investor, balancing divestment and investment efforts with fund manager diversity and strategic shareholder engagement to promote change from within the City's existing portfolio." For companies unwilling to respond to such requests, as well as those with ties to fossil fuels, private prisons, and gun manufacturing, Lander proposes pension fund divestment.
But to get any of this done, Lander has to first convince the other fund trustees, who also have a vote in investment decisions, to approve any of his plans for investor activism, a feat proven somewhat difficult by the recent fossil fuel divestment push, where two of the five boards declined to go along with Stringer's and de Blasio's divestment plan. Not only that but trustees can't base their investment decisions solely off political commitments and ESG considerations, as their fiduciary duty requires them by law to make investments that are in the financial interest of all fund beneficiaries.
The Center for International Environmental Law describes this duty as a "standard of prudence" that demands trustees use "reasonable care, skill, and caution" to make sure they put the fund money where it will make the most money without too much risk.
Studies finding a positive correlation between ESG consideration and stock performance are proving that socially responsible investing can be consistent with fiduciary duty, giving legal cover for fiduciaries like Stringer and Lander to use pension fund money to make socially-conscious investments. And for Lander, fiduciary duty "must include strong attention to those core systemic risks, including the climate crisis, rampant inequality, and racial injustice."
At the state level, Comptroller Thomas DiNapoli, who serves as the sole fiduciary to the state's public pension fund, recently started to move toward significant divestment from fossil fuel holdings, promising to transition the state's $266 billion pension fund investment portfolio to net-zero emissions by 2040.
Not only that, but failure to account for climate change might even result in liability lawsuits against trustees, the Center for International Environmental Law argues. The reality of climate change, according to CIEL, means that fiduciaries must take climate impact into consideration: "the potential financial cost of physical impacts due to climate change, the inability to generate revenue from fossil fuel reserves already held or in development, the costs of transitioning to a low-carbon economy, and legal liabilities related to climate change" in investment decisions.
Beyond climate risk (the 'E' in ESG), a McKinsey report found that diverse governance can also be an indicator of financial viability on top of being socially conscious. "When companies commit themselves to diverse leadership," the 2015 "Why diversity matters" report states, "they are more successful," because companies "are better able to win top talent and improve their customer orientation, employee satisfaction, and decision making, and all that leads to a virtuous cycle of increasing returns."
In 2018, de Blasio, Stringer, and others announced a commitment to divest $4 billion of the city's pension funds from the fossil fuel industry and reinvest the money into climate change solutions. This March, de Blasio upped the ante, promising to invest $6 billion of the funds into "climate change solutions such as wind, solar power, energy efficient technologies."
De Blasio said in a press release that the goal of New York's divestment is "to change the paradigm for public pension plans and set a new standard for how asset owners, such as pension funds, can use their substantial investments to both do well for our beneficiaries and do good for the planet."
"Divestment is a critical part of our strategy to fight climate change while insulating our pension funds," said de Blasio of the commitment, adding, "we must take action now to protect our portfolios as well as our planet for future generations."
Stringer said similarly, including about how "investing in climate change solutions is in the fiduciary interest of our beneficiaries and together we're leading the charge to build a cleaner and greener future for all."
So far, Stringer and de Blasio have worked with three of the city's five pension funds to make the fossil fuel company divestment commitment, while the fire and police pension funds are more weary about making financial decisions based on additional concerns. The next comptroller and mayor will decide whether or how to approach getting those two funds on board, among other potential goals and tactics.
Lander, who introduced a resolution at City Council in April 2020 calling for banks and asset managers that the city does business with to stop investing in the fossil fuel industry, told HuffPost, "If we're going to have any chance at actually bending the curve on CO2 emissions, we have to confront the capital that is driving it at its scale."
As Brooklyn borough president and therefore a trustee of the largest of the retirement funds, Eric Adams, likely New York's next mayor, has consistently voted in favor of the city's fossil fuel divestment initiatives. "As a trustee of the New York City Employees' Retirement System," Adams said after he voted to divest in 2018, "I am proud to help advance an increased investment in the climate change solutions of today and tomorrow. Sustainable investments are good for our environmental and fiscal health of our city. In fact, going green will earn us green."
If both are elected in November, Lander and Adams would work closely on pension initiatives, including, potentially, to implement Lander's responsible fiduciary investing plan. The two have historically seen eye-to-eye in this area, but it remains to be seen whether Adams, who is generally more moderate than Lander, will be on the same page about this overall fiduciary vision.
There's another, smaller but still significant place Lander, if victorious, will be able to potentially influence pension fund investment. The comptroller can utilize the current 2% of pension assets allocated to "economically targeted investments" (ETIs), which Lander suggests using to continue investment into affordable housing preservation and construction, allocating $10-$15 million to finance solar installations and retrofit buildings for increased efficiency, and providing start-up money for minority- and women-owned business enterprises (M/WBEs).