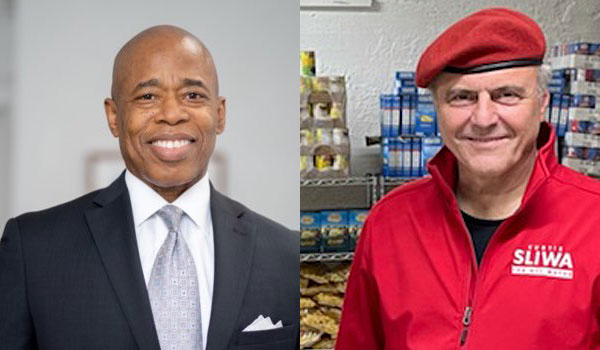 Eric Adams & Curtis Sliwa
---
With early voting set to begin on Saturday, Brooklyn Borough President Eric Adams, the Democratic mayoral nominee, squared off on Wednesday against his Republican rival, Guardian Angels founder Curtis Sliwa, in the first of two official debates of the general election.
The debate was hosted by the New York City Campaign Finance Board in partnership with WNBC-TV, Telemundo, Politico, Citizens Budget Commission, and the New York Urban League. Early voting will be October 23-31 and Election Day is Tuesday, November 2. Absentee balloting is ongoing.
Wednesday's debate, which was mandatory under the city's campaign finance law for qualifying candidates receiving public matching funds, was the first time in the campaign that the two major party nominees came face to face. There were marked distinctions between Adams and Sliwa on everything from vaccine mandates to public safety and policing, affordable housing policies, the scheduled closure of Rikers Island, mental health programs, and more.
Adams, in his second term as borough president after several as a state senator, is a former NYPD captain who won the Democratic nomination after a hotly-contested primary. He is seen as the likely general election winner since Democrats outnumber Republicans nearly seven-to-one in the city.
He has said he's running to become the first "blue collar mayor" of New York, with a campaign heavily focused on crime and public safety, but also education, other issues, and government function itself. In the primary Adams had the support of several major labor unions and even reportedly the blessing of incumbent Mayor Bill de Blasio, though the unpopular mayor did not officially announce his endorsement until after the primary. Adams, who has also recently received the backing of former Mayor Michael Bloomberg, has walked a fine line of promoting policies that favor working people and uplifting the city's most disadvantaged while also embracing wealthier New Yorkers, business leaders, and the influential real estate industry.
Sliwa, a controversial radio host and long-time New York City character, handily won the Republican primary against advocate and businessman Fernando Mateo. Sliwa is also running on a platform that emphasizes public safety and quality of life issues. But that's largely where the similarities between the candidates stop, as seen in Wednesday's debate.
As the underdog in the race, Sliwa attempted to attack Adams on several fronts but his jabs appeared to have limited impact as Adams remained focused on his message and repeatedly accused Sliwa of lying to the audience. Sliwa also appeared undisciplined at times, launching into asides and not sticking to one or two consistent criticisms of Adams.
The moderators too raised important questions about the honesty and integrity of the candidates, who both have a history of stretching the truth.
When asked about making up crime incidents, including a fake kidnapping, as the founder of the Guardian Angels that did subway and street patrols starting in the late 1970s, Sliwa admitted fault while insisting he has earned the trust of New Yorkers who see him on the street. "I made mistakes. I was immature at the age of 25," he said. "[I] did things I should not have done...I did apologize for it. I brought it to everybody's attention and I'll continue to apologize for it."
Adams, on the other hand, has continued to face more recent questions about his tax returns, which he has amended multiple times over the course of the campaign and which cast some doubt on whether his primary residence is in Brooklyn. Though he laid some of the blame on his accountant, who he said had been homeless and faced mental health issues, Adams also accepted his part. "I take full responsibility," he said. "We amended the taxes, and we are pleased to move forward and that mistake would not happen again."
Asked for a rough estimate of how many nights over the last six months he has slept at the brownstone he says is his primary residence, Adams did not provide a count, saying only that it is his primary residence and that he sometimes sleeps at Brooklyn Borough Hall. He made no mention of the New Jersey apartment he co-owns with his partner. And, when given the opportunity by the moderators, Adams declined to respond to Sliwa's prompts about Department of Buildings inspectors seeking to examine Adams' garden-level dwelling in his Brooklyn building.
The question of public safety naturally loomed large over the debate and though the two candidates share some common ground, there were degrees of difference in their stated approaches.
Sliwa pledged to hire 3,000 more police officers, paid for with property taxes on currently exempt institutions like Madison Square Garden and Columbia University (an idea he borrowed from Andrew Yang, who ran in the Democratic primary against Adams and Sliwa praised at the debate, saying Adams had driven Yang from the Democratic Party).
Sliwa has called for reinstituting more aggressive stop-and-frisk policing, a controversial tactic employed en masse by former Mayor Michael Bloomberg that ended up targeting mostly innocent young Black and Latino men. The use of the tactic declined heavily, and has continued to do so over the years, after a federal judge ruled in 2013 that the way it was used by the NYPD was unconstitutional.
But Sliwa pointed out, correctly, that Adams too has defended the use of stop-and-frisk when it is done constitutionally. "As my opponent Eric Adams has also said, he would selectively allow for the use of stop, question and frisk for reasonable suspicion, as I would," Sliwa said, noting that Adams has accepted Bloomberg's endorsement in this race.
Adams has called for the limited use of stop-and-frisk as well as reinstating a plainclothes anti-gun police unit that was disbanded last year because of a pattern of excessive force. At the debate, Adams repeated the line he has used throughout his campaign. "Public safety is the prerequisite to prosperity," he said, promising to "change the ecosystem for public safety." He touted his own attempts to fight the abuse of stop-and-frisk, citing his testimony before the judge in 2013, and his history of arguing for police reform from within the department. "I never called for aggressive police tactics, I called for appropriate police tactics," he said.
Earlier on Wednesday, Mayor de Blasio announced a vaccine mandate for all city workers. At the same time, he has resisted doing so for public school students.
Adams said at the debate that he supports the mayor's decision to require mandates for workers even if it would mean that some police officers and firefighters, who have lower rates of vaccination, could be kept out of work. "I believe the mayor's action today was correct," he said, though he insisted he would have handled the situation differently to get the parties, including labor unions, to agreement. Adams does, however, support requiring vaccines for public school students if approved and recommended by health experts. "We are going to follow the science," he said, while adding that he is "open to a remote option" for students.
Sliwa has opposed both mandates. "I disagree with Eric. I feel that we don't have enough police officers as it is," he said, adding that "we should never fire people for that reason." Sliwa did not directly say, however, why he opposed mandatory covid vaccinations for school students when there are already existing mandates for measles, mumps, and rubella that he appears to have no issue with.
As the city continues on the road to economic recovery from the pandemic, the candidates had few specific ideas to offer at the debate about how they would encourage growth and entice new businesses to the five boroughs.
Adams said he would suspend all fines on small businesses, invest in universal childcare and job training.
"We have to use common sense, and that has to do with public safety in the streets, in the subways," Sliwa said. "If it's not safe, workers are going to stay away." He also said the city needs to repurpose empty commercial space for affordable housing.
Hurricane Ida exposed New York City's vulnerability to extreme weather events as well as the plight of New Yorkers who live in illegal basement units, where 13 people died because of flooding. Both candidates were pressed on how they would respond to those problems.
"We're going to institute a clear response plan like we have with terrorism," Adams said of his apporach to weather emergencies. "We learned from terrorism. You don't wait till the day of or when a plane attacks."
Adams has also promised to bring illegal basement apartments up to code, which he said he would do through a coordinated effort between the Department of Buildings and the Fire Department. In the meantime, however, he said he would set up a notification system for emergencies. "It's about legalizing these apartments so that we don't displace people unjustly," he said.
Sliwa said his administration would prevent flooding by "clean[ing] the catch basins and the sewers on a regular basis, get those sea walls built up [in Staten Island and Downtown Manhattan] and make sure that areas are designated a flood zone." Unlike Adams, Sliwa has opposed legalizing basement units and blamed the real estate industry for creating illegal subdivisions in homes.
An immediate crisis that the next mayor will inherit is the deteriorating situation at the Rikers Island jail complex, where a dozen detainees have died this year. Adams supports the city's plan to close the complex by 2026 and replace it with four borough-based facilities, though he has repeatedly said he is open to reexamining aspects of the plan, like jail size and location. Sliwa is opposed to it.
As for the immediate crisis, Adams said the city should "stop the bottleneck" that prevents detainees from going to court to resolve their cases and should bring corrections guards back to work.
Sliwa said he would hire 2,000 more correctional officers and divert emotionally disturbed detainees to state health facilities. He also made an eyebrow-raising promise. "There is a warden's house on Rikers Island. January 2, that's where I'm staying, the warden's house," he said, "to supervise what has to be the health and safety of the correctional officers who have the toughest job in the city."
On the issue of mental health, which the de Blasio administration has struggled to deal with, especially in terms of the most severe cases, both candidates insisted on the need for more permanent housing with wraparound services. Sliwa said he would investigate the ThriveNYC program, which was overseen by First Lady Chirlane McCray and has shown limited results despite more than $1 billion in spending and a great deal of hype from the mayor and administration. Sliwa also said the state should change the law to allow more involuntary institutionalization of people with mental health problems. Adams opposed the change.
Adams also said he wants to convert vacant hotel properties into affordable housing, which Sliwa is against. Instead, Sliwa said the city should rezone unused manufacturing and commercial areas for affordable housing.
One area of agreement between the two candidates is their opposition to Mayor de Blasio's announcement that the city will phase out the gifted and talented program at some city schools. Currently, admission into the G&T program depends on a single test given to four-year-olds, which critics say exacerbates racial segregation in schools and provides a too-limited snapshot of what constitutes aptitude and promise. De Blasio said the test would be eliminated and the entire program would be replaced with an "accelerated learning" model available to all students.
"We need to expand gifted and talented, so it's in all schools," Sliwa said. "Even if only three or two children qualify in the Bronx or Brooklyn, there should be gifted and talented in those schools."
Adams agreed that the city should expand opportunities while also increasing attention to children with learning disabilities. "We need to look at that exam," he said. "I don't believe a four-year-old taking the exam should determine the rest of their school experience. That is unacceptable." Adams said he would expand accelerated learning opportunities and how the city reaches students with promise in different areas and offers them opportunity. He has indicated he would give some version of a gifted test to all students, with the option for parents to opt out.
On other questions, more differences emerged.
Sliwa said he would not support a requirement that all municipal workers return to the office in person. "How can they order all the city workers back when members of the City Council are not back? They're not in their chambers," he said. Adams said it should be done "in layers." "There's some clear jobs that we can do remotely...Once we reach a safe place and realize we're not having a spike in covid, then we can bring back an additional number," he said.
Adams demurred when asked if he would support a legal challenge against that mandate by DC37, the city's largest public union which has endorsed him. "They have the right to go to court, as any other union should do, and I will respect the decision that comes from the court," Adams said.
Adams supports instituting congestion pricing in Manhattan, though he called for waivers in certain cases of medical need. Sliwa said the policy "would crush the middle class residents" from other boroughs who drive into Manhattan and said it should be proposed to New Yorkers as a ballot referendum.
Adams called for increasing permits for street vendors and allowing them more space to sell their wares. Sliwa called for greater enforcement by the police instead.
Sliwa opposed the removal of a statue of Thomas Jefferson, who was a slave owner, from City Hall while Adams supported it.
Adams said he would let outdoor dining structures remain in place while Sliwa said the city should "downsize" them.
Adams promised to maintain New York's status as a sanctuary city for undocumented immigrants while Sliwa said the city should cooperate with Immigration and Customs Enforcement (ICE).
Sliwa pledged to ban horse carriages in Central Park and replace them with electric vehicles while Adams said he would work with the union of horse carriage drivers to "find a better way, if need be, to move around the Central Park area."
Both candidates said the school year should be longer. Neither named a candidate they would support in the governor's race next year. And neither committed to race and gender benchmarks for hiring in their administrations.
Adams and Sliwa will debate each other again on October 26.