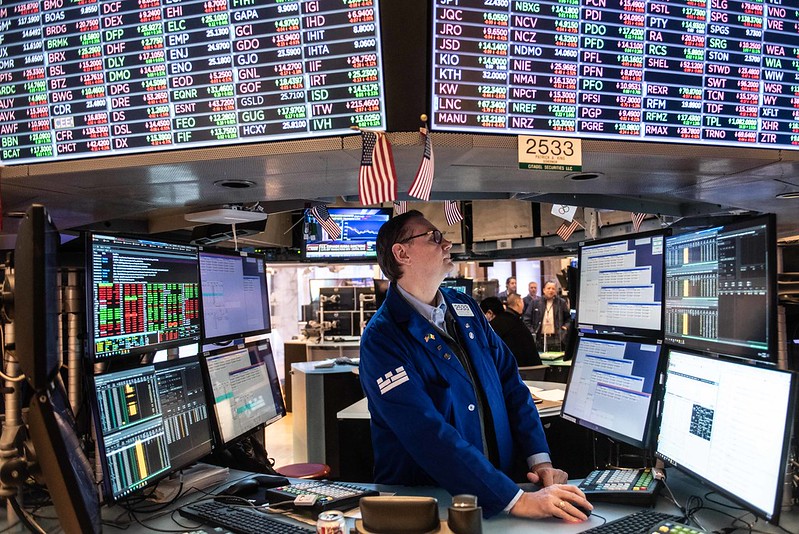 At the stock exchange (photo: Michael Appleton/Mayoral Photography Office)
---
The COVID-19 pandemic has wreaked havoc on New York City's core Central Business Districts – particularly Midtown Manhattan and Lower Manhattan – which are home to the businesses and industries that are the biggest drivers of the city's economy.
The lockdown and stay-at-home orders forced by the pandemic changed the nature of work in the city and beyond, and though the office sector – including the information, financial and real estate, and professional and business services industries that occupy so much of the space – fared better than some other sectors of the economy, it has nonetheless seen seemingly irreversible changes. Office employment in the city fell 5.7% in 2020, compared to an 11.1% drop in total employment, and while the sector has recovered some of those jobs, it lags behind the state and the rest of the country. Overall, the total office sector accounts for a third of all private jobs in the city and contributes two-thirds of its economic output.
But the real shift has been businesses adopting fully-remote and hybrid work models, with the rate of in-office workers still at 37.1% of pre-pandemic levels, according to State Comptroller Tom DiNapoli's office. With white-collar workers staying home, companies gave up their leases and shrank office space, leading to increasing office vacancy rates which remained at 21% in the second quarter of 2022, levels that the city hasn't seen in three decades, per the Comptroller's office. The market value of office buildings fell by $28.6 billion citywide in the fiscal year 2022 final assessment roll, the first drop since fiscal year 2000, leading to a significant decrease in property taxes for the city, an essential source of revenue used to pay for government services. And as Mayor Eric Adams, a Democrat just four months into his term, has repeatedly stressed, the greatly reduced rates of in-office work have impacted other parts of the city's economy, particularly the many service and hospitality jobs that relied on those missing commuters.
These trends have thrown up important questions about the future of the Central Business District, and experts sought to address them on Monday afternoon in a panel discussion hosted by the Regional Plan Association, a nonprofit urban think tank. The panelists included Yael Taqqu, managing partner of the New York office of McKinsey & Company; MTA Chair and CEO Janno Lieber; Deputy Mayor for Economic and Workforce Development Maria Torres-Springer; and Vishaan Chakrabarti, founder and creative director of Practice for Architecture and Urbanism. Scott Rechler, RPA chair and CEO of RXR Realty, moderated.
"[T]he healthiest CBDs are dynamic, they evolve, they have to innovate for relevance," said Taqqu. Pointing to recent research from Stanford University, Taqqu said flexible work conditions are certain to continue as employees ask for more flexibility and large employers are increasingly acceding those demands.
The effects of that flexibility are broad, from changes in commuting patterns, shifts in real estate values, and shifts in service sector jobs to where there is demand for them. "I think it's much more helpful to think about the implications of all of this as a redistribution rather than necessarily a net loss of economic activity or net loss of consumption of public services," said Taqqu.
She said there are three principles that the CBDs will have to follow for success: being adaptive in the use of real estate, improving the city's social fabric and inclusion, and partnering across public, private, and social sectors.
"I believe this is going to be a continual work in progress because I don't think any of us really know exactly how the futures of the CBD ecosystem, the future of work, how this all is going to play itself out over time," said Rechler.
Though Mayor Adams has repeatedly urged companies to bring their employees back to work for the last several months, even he has recently admitted that there is likely a lower ceiling at play than he would prefer. "We know post-covid we're going to be dealing with a different universe, may go to a four-day workweek for some," Adams told the New York Post editorial board in an interview.
"It is a real concern," he said. "We're going to have to get to the table with all of our business leaders, our economists — and really, we can't stumble into post-covid." Adams has held regular meetings with a business council he assembled as well as with specific industry and sector leaders, including an appearance at a private Goldman Sachs employee town hall. 
Some elected officials have embraced the trend towards flexible work. City Comptroller Brad Lander, for instance, has said that the city should take this opportunity to find new uses for vacant real estate. "Flexible scheduling is the future of office-based work, and New York needs to embrace it to thrive," he tweeted in March. "Let's see some creative uses for Midtown offices—think biotech labs, innovation incubators, a @CUNY campus, and more Midtown karaoke!"
A clear challenge presented by flexible work is the decrease in commuting, which has robbed the city's mass transit system of massive amounts of expected revenue. "New York's density means that mass transit is the only option wherever people are traveling," said Lieber, insisting that the future of CBDs will rely on investments in mass transit. "Our density is twice Chicago's and Boston's and eight or nine times Sunbelt cities like Phoenix or Houston, so we don't really have the option of moving to Ubers or to e-private cars or something else. So it has to be a mass transit solution of some kind."
But he also acknowledged, "The shift in the patterns of travel does give us a chance to rethink service a little bit." While he said the MTA is already focused on adding more train and subway capacity through major infrastructure projects like East Side Access, and could focus on greater service for reverse peak commuters and in areas where workers have shifted, the most important adaptation will be a stronger bus system.
"Buses are the way to do adjustments to mass transit service quickly, but it means that we have to figure out how to run bus service faster than walking," said Lieber. He also said that projects such as Governor Kathy Hochul's proposed Interborough Express will be crucial, since jobs are increasingly growing in the boroughs outside Manhattan.
For elected officials, Lieber had a key piece of advice. "I think the single biggest adjustment is the one that our elected leaders are going to have to make, which is to recognize that transit, as proven during covid, is an essential service that needs to be funded in the same spirit as as police, fire, and sanitation," he said.
The fate of the city's five CBDs – which includes Downtown Brooklyn, Downtown Flushing, and Long Island City, besides Manhattan – isn't all doom and gloom and Torres-Springer was optimistic that the city's economy is turning the corner. "Nevertheless, there are some real trends that we have to pay attention to. We can't stick our heads in the sand," she said.
Torres-Springer warned against "the urge to overcorrect" in reexamining real estate uses in CBDs. "It's one thing, of course, to loosen up how we think about the uses in Midtown and other four districts. But I think it's probably premature to think that we have full clarity about what the future holds," she said.
Comptroller DiNapoli issued a similar warning in a report on the city's office sector in October. "Given deep uncertainty over the fate of the office sector, policy makers should be careful not to assume too much about the potential state of the office market at this point in time when informing long-term policy regarding the industry," the report reads. "The City should also continue to take steps to enhance safety, enliven public spaces and reduce friction in commutation to help workers feel comfortable in returning to the Central Business District."
Besides encouraging the long-term economic vitality of business districts – as the city did with the large-scale rezoning of East Midtown – Torres-Springer said the city has to support the adaptive reuse of obsolete buildings, cutting red tape that comes with those adaptations and, chiefly, focus on equity. "We also have to be squarely focused on equity and very deliberate about how business districts evolve because we all know that left to their own devices, there's a very big risk that they will be reimagined, remade in ways that just entrench existing disparities and inequities," she said, speaking of the need to build commensurate affordable housing and promoting employment for minority- and women-owned Businesses (MWBEs) and low-wage service workers.
Chakrabarti said "CBD" needs to evolve, "whether you want to call it collaborative business district or creative business district, or connective business district," as workers have spread out across the city and aren't only concentrated in Manhattan. However, he did say that the city should provide tax incentives to encourage the conversion and reuse of older buildings in Midtown into residential developments. "I think we need to focus on the kind of buildings that were having trouble even before the pandemic, the stuff from the '60s and the '70s, low ceiling heights, you know, lots of columns."
At the same time, Chakrabarti said the city has an opportunity to think about changing how it uses its streets and creates open space to improve quality of life. "A third of New York City is road bed and I think we need to think much more creatively about how we use that road bed rather than giving it over to private vehicles," he said.
"I just think there's so many opportunities to create new public space all around the city, in all five boroughs, just because we've just left all this space to cars and parking and things that just are not part of the future of the city," he later added.
As Rechler noted, the recovery of the city's business districts stands to be hurt by the immense lack of affordable housing, with job growth outpacing the creation of housing in the city. Torres-Springer said that housing security has only been exacerbated by the pandemic and the city and state need a more regional approach to the problem, focused on downtown areas. "It's not rocket science. We don't have to reinvent the wheel," she said. "We know that that means strengthening fair housing laws. It means enabling more [housing] production. Overall, it certainly of course also means building more affordable housing. It means a commitment to public housing in ways that just have not happened previously. And on the economic development side, it means expanding access to well-paying jobs."
Taqqu pointed to the conversation moving away from central districts to 15-minute neighborhoods, an issue that at least one major Democratic candidate, Shaun Donovan, talked about in last year's mayoral race. "If we do move toward that model and be thinking centrality and thinking about 15-minute hubs, we have to make sure that this doesn't entrench inequality and concentration of wealth even further," Taqqu said.
Asked about the mayor's laser focus on public safety, which he views as the prerequisite to the city's recovery, Torres-Springer said the solutions aren't limited to the CBD. "The mayor has been very clear that we have to resist the temptation to make false choices. And so justice and public safety, we can get both," she said. "And I think the same is true when we think about the major public policy challenges…It is not a choice between our central business district and the outer boroughs, or a choice between office workers, white collar workers and service workers. If there's a way, if we do this right, to be able to uplift all of these communities."
"The opportunity in front of us is to solve a lot of problems, multiple problems at the same time including bringing together all that we can, investing in the civic infrastructure, healthcare, community space, entertainment, education," Torres-Springer added.