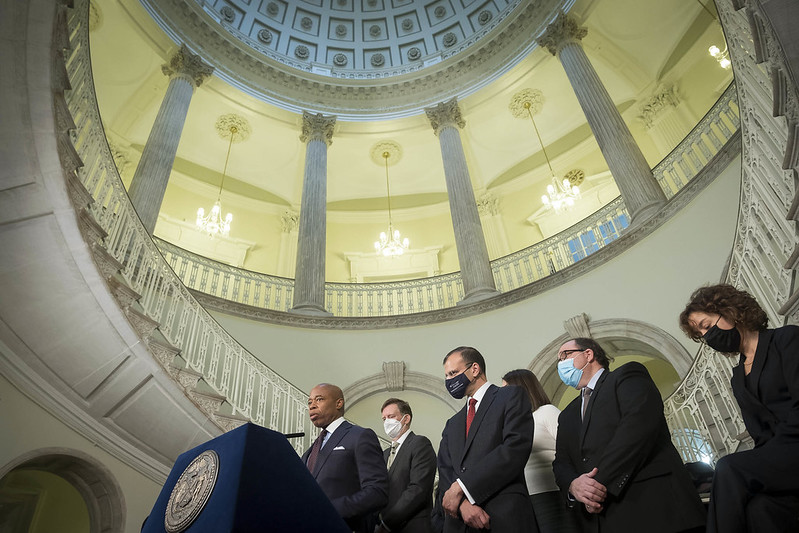 Mayor Adams at City Hall (photo: Ed Reed/Mayoral Photography Office.)
---
New York City's municipal workforce dropped by more than 19,000 full-time employees over the last two years, according to a report released this week by State Comptroller Tom DiNapoli's office, and there are currently more than 21,000 vacancies as city agencies struggle to retain workers and maintain city services.
Questions have repeatedly been raised about whether Mayor Eric Adams' administration is able to accomplish its policy goals given low staffing across agencies and the disruptive departures of personnel amid stringent workplace policies and often uncompetitive salaries. A lack of work-from-home flexibility allowed by former Mayor Bill de Blasio and now Adams, and many workers choosing a pink slip over the covid vaccine that the two mayors required of the municipal workforce both also appear to have taken a toll.
And while Adams has sought to tighten the city's fiscal belt and right-size spending plans, even removing some vacancies from budget projections leaves a very large number of openings that city government still wants to but appears to have no plans to fill.
Before the covid pandemic, the city's workforce peaked at 300,400 full-time employees, up 33,023 employees since the 2012 fiscal year. That number has since dropped 6.4% to 281,333 through August 2022.

That recent decline is larger than the 4.7% loss of workers between fiscal years 2008 and 2012 following the Great Recession. (The comptroller's report does not include the 23,590 full-time equivalent workers that were also part of the workforce in June 2020.)
The workforce loss of the last two years hasn't been equally distributed across city government. Out of the city's 37 largest agencies, each of which employ more than 250 workers, 11 agencies saw a decline that was twice the citywide average of 6.4%, and even higher in some cases. For instance, the Department of Correction saw a decline of 23.6% (though much of it was planned, the rate was higher than expected, the comptroller noted). Similarly, the Department of Investigation saw its workforce drop by 22.2% and the Taxi and Limousine Commission saw a decline of 20.5%.
As the report noted, in absolute numbers, the decline was largest in the city's uniformed agencies – the NYPD, Fire Department, Department of Correction, and Department of Sanitation – which together accounted for a loss of 6,857 employees, or 7.6%. The Department of Education was next, losing 4,815 workers, or 3.6%, followed by a drop of 3,011 workers, or 13.5%, at social services agencies including the Department of Social Services, Administration for Children's Services, Department of Homeless Services, Department for the Aging, and Department of Youth and Community Development.
"The pandemic caused a significant decline to the city's workforce, and it is particularly troubling that turnover continues to outpace hiring," DiNapoli said in a statement. "Without the hardworking individuals who keep this city running, critical and essential services for our children and most vulnerable residents could be impacted. Budget gaps loom, and while the city needs to find efficiencies, it also must prioritize a clear understanding of staffing challenges at its agencies and be transparent about their potential impact on services."
The drop in the workforce was also felt disproportionately across occupational groups, the report noted. In 19 major occupations (which involve at least 250 employees) there were declines of at least 13% and higher, many of which included white-collar administrative roles such as lawyers, clerks, auditors, and more. The highest declines were among executive assistants (27.2%), correction officers (25.9%), and groundskeepers and gardeners (24.5%).
The city had expected the municipal workforce to grow and had planned for as many as 302,396 positions across city government through August 2022. But there are 21,063 vacancies, or 7%, owing mostly to a temporary hiring freeze instituted by Mayor de Blasio in the 2021 fiscal year and a sharp increase in attrition. Vacancies remain high despite the fact that the city hired 40,261 new workers in the last fiscal year ending June 30, since attrition far outpaced the hiring rate.
The vacancy rate was highest at the Department of Social Services, with 2,386 positions left unfilled, about 18.3% of budgeted headcount. That was followed by the relatively small Department of Consumer and Worker Protection, which had 85 vacancies, or 17.5% of budgeted headcount, and then the Department of Environmental Conservation, which had 1,020 positions vacant, 16.1% of budgeted headcount.
In absolute numbers, the city's largest agency, the Department of Education, had the most vacancies: 10,495 positions, or about 7.5% of the department. The Department of Correction had 1,186 positions empty, about 12.4%, the NYPD had 1,267 vacant positions (2.6%) and the Fire Department had 382 vacancies (2.2%).
The comptroller's report also delved deeper into agency operations and found that 23 agency divisions had vacancy rates of at least twice the citywide average of 7%. Some examples include the Department of Social Services' division of child support services, which had a whopping 45.5% vacancy rate; early childhood programs at the DOE, which had a vacancy rate of 35%; and the administration division at the Department of Homeless Services, which had a vacancy rate of 25.4%.
At a September hearing, the City Council examined some of the reasons behind the city's continuing attrition and vacancy crisis, raising concerns that vital city services were being affected. Staffing issues were already hurting the city's work in myriad ways including the building of new affordable housing, getting housing for homeless New Yorkers, and, a prominent example among them, dealing with the ongoing crisis at the Rikers Island jail complex.
Among the causes cited for the ongoing vacancy gulf are some of the steps taken by Mayor Adams and his administration. He has insisted on bringing all city workers back to the office full-time even as the pandemic continues and private employers continue to offer more flexibility with hybrid work models. Officials at several agencies have been offering the minimum salaries from job postings, as Gothamist reported in September.
While Adams has harped on ending remote work in both the private and public sectors, City Comptroller Brad Lander and Public Advocate Jumaane Williams have continued to allow employees to work on hybrid schedules, warning of the deleterious effects on worker retention. In an op-ed in the New York Daily News in August, Williams said the lack of a remote or hybrid option was among the reasons that the city was experiencing such a high vacancy rate of municipal workers, which in turn was affecting services.
"Those job openings aren't abstract," he wrote. "When there aren't enough people on staff at the Department of Housing Preservation and Development, homes can fall into disrepair and tenants are left without recourse. When there's a shortage of civil rights attorneys, New Yorkers are vulnerable to discrimination. Without enough mental health workers, people in crisis could reach out and find no one at the other end of the line."
Meanwhile, at the City Council, central staff members are resisting efforts by Council Speaker Adrienne Adams to bring them back to the office five days a week.
Comptroller DiNapoli did note that vacancy reductions could be a significant source of savings for the city, which could bode well for Mayor Adams, who has repeatedly talked about cutting the city budget and shrinking the city workforce. But DiNapoli echoed warnings from many elected officials and advocates against making budgeted headcount reductions that could affect services.
"Understanding the impact of the uneven decline in staffing on the City's service performance since June 2020 should inform the City's decisions over which vacancies may be able to be taken for savings and which should be filled to improve or expand municipal services," he said in the report.
On Tuesday, Adams released the November modification to the city budget for the ongoing 2023 fiscal year and several years to come. It re-estimated total annual spending upwards to $104 billion for this fiscal year, which runs through June 30, 2023, but also included a Program to Eliminate the Gap that found $2.5 billion in savings, including $900 million in the current fiscal year and $1.6 billion in fiscal year 2024. That PEG included $48 million in savings from lower than expected personnel costs because of vacancies, and nearly $46 million in savings from removing 703 vacancies in fiscal year 2023 alone, without making any layoffs or cutting necessary services.
At the same time, the November financial plan projected that by June 2023, the city's full-time workforce will increase to 306,594 positions, which would mean the hiring of 25,261 more workers than are currently employed by the city. That number is marginally higher, about 292 positions, than what the June adopted budget had projected, but after bringing the headcount back up, the city also plans to then cut the full-time workforce by more than 5,400 over the next several years.
"Fiscal discipline has been, and continues to be, a hallmark of my administration," Mayor Adams said in a statement on Tuesday, acknowledging that the city faces economic headwinds and an uncertain fiscal future because of growing pension obligations, expiring labor contracts, and increasing health care costs. "Thanks to a successful Program to Eliminate the Gap, we have achieved significant savings without service reductions or layoffs. We are also investing in new needs that will address our housing crisis, make our streets cleaner, combat climate change, and much more," he said.
The Citizens Budget Commission, a nonprofit fiscal watchdog, has several recommendations for the city to alleviate its workforce crisis. "The City has plenty of available positions, and in fact many more than it needs. The current staffing issues faced by some agencies and units are the result of management, procedural, and labor market challenges," said Ana Champeny, CBC's vice president for research, in testimony at the September Council hearing.
Champeny said the city should move vacant positions to where they are needed, providing more flexibility in reallocating headcount, improve systems to expedite recruitment and hiring, improve retention, improve reporting on vacancies and modernize civil service and public sector employment with skills training, bonuses, and negotiating flexibility and other work rules changes.
CBC President Andrew Rein said in a phone interview that the city could easily eliminate thousands of vacancies without cutting essential services. "You can eliminate probably half of the vacancies and still hire critical positions…You would still have 10,000 vacancies you can still fill," he said.
"The challenge here is you need to identify what's critical, put the vacancies in the right places," he added, "because attrition is a blunt tool."