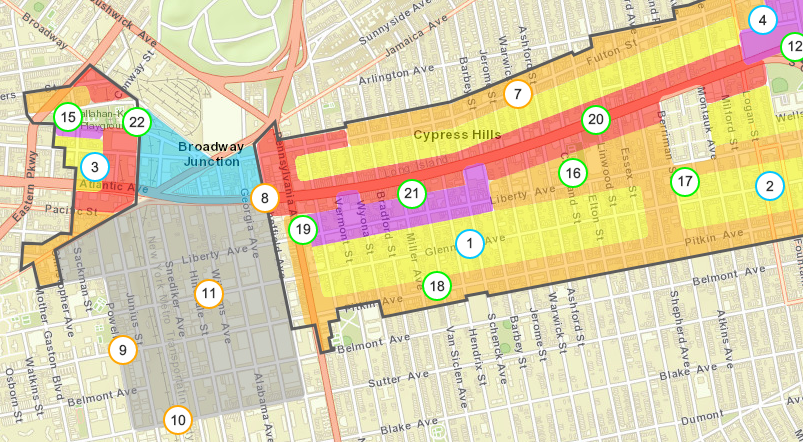 City Planning map of East New York rezoning area
---
Later this year, the Department of City Planning is slated to release a "draft planning framework" as part of a process to rezone Gowanus, an initiative spearheaded by Brooklyn City Council Member Brad Lander aimed at increasing affordable housing and making a variety of other neighborhood improvements. Rezoning Gowanus, a middle-to-upper income, majority-white neighborhood, would be a departure from the city's prevailing approach to reimagining a number of neighborhoods across the city.
At the beginning of his mayoralty, Bill de Blasio set an objective to build or preserve 200,000 units of affordable housing in the city, a goal that has since been expanded to 300,000 by 2026. To that end, de Blasio listed about ten neighborhood to rezone, the central purpose of which is to permit added housing density. The community-wide plans that have moved forward or are on the verge of passage through the City Council thus far have include lower-income communities: East New York, East Harlem, and the Jerome Avenue corridor in the Bronx. Downtown Far Rockaway was also rezoned, and plans are moving ahead for Inwood and on the North Shore of Staten Island.
The rezonings include changes to an area's land use rules, typically allowing for taller residential buildings that must include a certain set percentage of affordable housing units, and promises of amenities like new schools, improved street designs, and other community benefits.
But from the start, questions have arisen around which neighborhoods are chosen for such major changes, and whether those changes accelerate forces of displacement for current residents. A City Limits analysis of East New York, East Harlem, and the Jerome Avenue corridor found that 85 percent of the residents included in the rezoning areas are black or Latino and over 50 percent of the households take in less than $35,000 annually. Far Rockaway and Inwood are in line with demographic profile of the three main, larger city-led rezonings.
Asked by Gotham Gazette about the pattern of his administration's rezonings falling in lower-income neighborhoods, de Blasio said in February that the sample size of the rezonings is small, so no sweeping conclusions could be drawn from the pattern. He also reiterated his view that low-income communities are the ones that are most suitable for increased development.
"The opportunities to create more affordable housing have been first and foremost in some communities that have been been underbuilt for a variety of reasons," he said. "We look for where is the opportunity to make the biggest impact."
"East New York is the classic example," the mayor continued. "There was a lot to work with. In some cases, there's public land or private sites that hadn't been built out."'
De Blasio went on to insist that his rezoning plans have been focused on increasing affordable housing stock wherever the opportunity presents itself.
"So my point would be, one, on the rezonings, we're still first and foremost going to be focused on affordable housing. That's the reason we're doing the rezonings, overwhelmingly. And two, that's going to be where land and where building sites are," de Blasio explained. "But at the same time, anything we can get our hands on -- Gowanus is in the pipeline as an example."
While de Blasio has pushed through different elements of the zoning packages, including the mandatory affordable housing attached to any upzoning, in something of a surprise, de Blasio's practices have tracked with that of his predecessor, Michael Bloomberg, in terms of the neighborhoods tabbed for such increases in density. A 2010 Furman Center for Real Estate and Urban Policy study of the rezonings under then-Mayor Bloomberg, for example, found that rezonings in areas with whiter than average populations were more likely to retain restrictive zoning ordinances. In turn, the city allowed comparatively more density in rezonings in black and Hispanic neighborhoods.
Nevertheless, the de Blasio-led rezonings, which do include many more safeguards for communities than Bloomberg's, have been embraced by many local elected officials, especially those who've been able to negotiate for more local investments from the city. The de Blasio rezonings, however, have also been met with resistance from various affordable housing advocates and some elected officials.
"Overall the neighborhoods that are being rezoned are mostly low-income communities of color," Emily Goldstein, senior campaign organizer at the Association for Neighborhood Housing and Development, told Commercial Observer in February. "They've all had many years of disinvestment, and now they're facing this idea that, in order to get reinvestment they've needed all along, it has to come with a rezoning. I think there's huge concern of how these shifts in the market will affect displacement. There's a question of what's going to get built and for whom."
In an interview with Gotham Gazette, Katie Goldstein, executive director of affordable housing advocacy group Tenants and Neighbors, argued the city's rezonings have created housing that is nominally affordable, but in reality too expensive for the residents in certain neighborhoods. And the location selections, she said, exacerbate displacement pressures and gentrification. "What we're seeing now is really just city-sponsored gentrification in these neighborhoods that have already been experiencing displacement pressures," Goldstein told Gotham Gazette.
In an interview with Gotham Gazette last month, Comptroller Scott Stringer voiced similar concerns regarding the mayor's approach to affordable housing. "Sometimes, there's disconnect between the housing that we're building and the people that can access that affordable housing," he said. The overarching question that many have asked about de Blasio's larger affordable housing plan, including the housing to be built in rezoned neighborhoods, has been "Affordable for whom?"
For his part, de Blasio argues the rezonings will not spur out-of-character development, nor significant displacement. Instead, the mayor says, creating affordable housing in low-income areas helps to reduce displacement pressures, especially when paired with provisions that require 30 percent of the units to be built under the Mandatory Inclusionary Housing (MIH) guidelines that de Blasio and the City Council passed last term.
New York City must build its way out of the housing crisis, de Blasio believes; sitting on existing housing stock will only lead to higher rents and more displacement. He also regularly reminds critics that the rezonings are not only paired with MIH, but also significant investments in eviction prevention efforts.
In addition, de Blasio offers, the added housing density in rezoned neighborhoods is coupled with improvements to infrastructure, schools, parks, public transportation, job training, and more, allocating resources for the community at hand and its thousands of new residents. Furthermore, low-income neighborhoods, in de Blasio's telling, have been underdeveloped compared to more affluent areas, as they have not been rezoned for decades.
Lander, who replaced de Blasio in the City Council almost a decade ago, is helming the Gowanus rezoning, in its early stages, with community input. The process began in fall 2016 with a series of community visioning and planning meetings. As Lander has repeatedly noted, Gowanus would be a different type of rezoning than the ones de Blasio has put forth.
According to the aforementioned City Limits analysis, Gowanus -- a neighborhood bordering Park Slope that shares a name with the canal that runs through it -- is over half white with a annual median income of over $65,000.
Lander believes the city should not only rezone Gowanus but should make it a priority to upzone other more affluent neighborhoods throughout the city. According to Lander, loosening zoning restrictions and building affordable housing in traditionally tightly-zoned, affluent neighborhoods can help desegregate New York.
"I think it is our responsibility to affirmatively focus on upper-income neighborhoods and white neighborhoods [for upzonings]," he said. "We've started to have a conversation about Fair Housing and about what we do to combat residential segregation, and build a more integrated city."
"One central way of doing that," he explained, "is by rezoning wealthier neighborhoods."
Moses Gates, director of community planning and design at Regional Planning Association, told Gotham Gazette that it is not as if Gowanus is the sole low-density, tightly-zoned, middle-to-upper-income community throughout the city that could use more affordable housing.
Gates said that, contrary to de Blasio's claims, lower-income neighborhoods are not necessarily better-suited for upzonings. "If the response is 'we're doing it in low-income neighborhoods because this is where we have historically had housing development,' I'd ask the city, 'What does that mean?'" Gates said. "It's not like there's no people in East New York. It's not like East New York has less density and better transit access than Forest Hills."
Along with Forest Hills, urban planning experts have pointed toward middle-to-upper-income, low-density neighborhoods such as Long Island City, Bayside, Midwood, and Chelsea as opportune locations to upzone. The de Blasio administration has also raised the prospect of rezoning Washington Heights, Bushwick, Chinatown, Southern Boulevard, Flushing, and, as mentioned, the Bay Street Corridor on Staten Island's North Shore.
More broadly, Gates contended the de Blasio administration has not been clear on what it is trying to accomplish with its rezonings and it has not chosen optimal locations for them. "I think the city needs to look at transit-accessible places," said Gates. "I think the city needs to look at places that do not currently have affordable housing opportunities."
One of the obstacles to rezoning proposals can be opposition from local City Council members, many of whom are loath to invite outcry from constituents and community boards that are often opposed to adding density close to home. Though he has made clear his philosophy is one of 'getting to 'yes,'' new City Council Speaker Corey Johnson has also indicated he will continue the tradition of heeding the local Council representative's wishes on land use matters, including neighborhood rezonings, and involving relevant community boards and other stakeholders. The City Council as a whole has the final vote to approve neighborhood rezonings, or single projects that require a land use approval process.
"Council Member Koo was not happy with the Flushing rezoning, and it didn't go anywhere," Johnson said at a press conference last month when asked by Gotham Gazette about the mayor's neighborhood rezoning selections. "Every district has individual needs."
He added, "Anytime you talk about rezoning, it needs to be a process that respects the local Council member, the local community board, [and[ the Borough President."
The Jerome Avenue corridor rezoning moved through committee at the City Council on Tuesday, and will soon be voted through the full Council. The final deal reached between the de Blasio administration and local City Council Members Vanessa Gibson and Fernando Cabrera is projected to bring 4,600 new homes to the 95-block rezoned area, according to the mayor's office, and includes two new schools, about $56 million in parks investments, and other community benefits. According to the mayor's office, all housing built in the area will be affordable and subsidized in the near-term, will measures in place to ensure permanent affordability for about 1,150 of the housing units.
"The Jerome Avenue Neighborhood Plan invests in communities that have never before gotten a fair shake," said Melissa Grace, a spokesperson for the mayor, in a statement.
Council Member Donovan Richards, who represents Far Rockaway, a community home to a rezoning led by the Economic Development Corporation (EDC) and more focused on commercial than residential growth, positioned himself as a cautious supporter of de Blasio's neighborhood selections. "We've seen opportunities and communities like the Rockaways, because there is a lot of land that's never been tapped into," he said during a phone interview. "When you look at East New York, also -- neighborhoods with immense amounts of land where the city has never invested."
But Richards -- who last term chaired the zoning subcommittee and participated in key negotiations to amend zoning codes and on individual projects -- said efforts to increase affordable housing stock should not exclusively "fall on the back of communities like Far Rockaway or Jerome [Avenue] or Inwood."
"I don't think the focus should be just in low-income communities," Richards continued. "We should be looking for opportunities everywhere."
Additionally, Richards argued New York is "still a very segregated city," a problem the city's housing policies need to address. "We need to work toward righting that wrong if we're going to give low-income residents an opportunity at succeeding in New York City," he said.
Asked why he believes the de Blasio administration has not adopted this strategy, Council Member Lander said he wasn't sure. "I don't want to speculate; I don't know the answer to it," he said. "And I think it's a fair question."