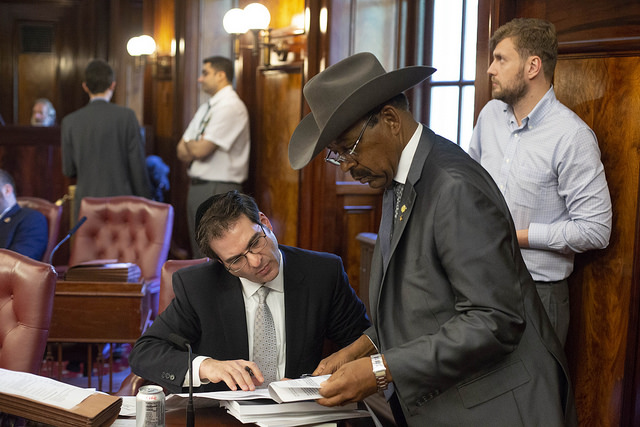 CM Diaz Sr., standing (photo: John McCarten/City Council)
---
The New York City Council's Committee on Standards and Ethics held a hearing on Monday concerning Bronx Council Member Ruben Diaz, Sr. and his alleged use of government email to send out political messages to colleagues and staffers across the Council, three knowledgeable sources told Gotham Gazette.
The Standard and Ethics committee, chaired by Staten Island Council Member Steven Matteo, would not reveal the subject of Monday's hearing and only noted on its agenda that the hearing was about Section 10.80 of the Council rules, which covers "disorderly behavior" including "willful violation or evasion of any provision of law relating to such Member's discharge of his or her official duties; commission of fraud upon the City; conversion of public property to such Member's own use; knowingly permitting or allowing by gross culpable conduct, any other person to convert public property; or violation of the Speaker's policy or policies against discrimination and harassment."
The committee met Monday at City Hall and immediately went into closed session, emerging to divulge that it would indeed further investigate an allegation of impropriety, but without providing details as to the member, the subject matter at hand, or how it had come to the committee's attention.
Members of the Council are bound by the city's Conflicts of Interest law, contained in Chapter 68 of the City Charter, which prohibits city officials from using government time and resources for campaign-related purposes. According to one Council source who asked to remain anonymous to speak freely, Diaz Sr. has frequently sent out emails from his government account with his thoughts on issues he has worked on and those emails often crossed the line into political activity. A second Council source confirmed that the hearing was about Diaz Sr. and his emails, while a third said Diaz Sr. was the subject of the committee hearing, having to do with use of government resources for political purposes.
The emails mirror Diaz Sr.'s "What You Should Know" dispatches that he sent out when he was a state Senator, before being elected to the Council in 2017, and that he continues to publish occasionally in The Bronx Chronicle. The Council member did not respond to a voicemail seeking comment.
Just last week, on July 10, the first Council source said, Diaz Sr. sent out an email blast of a column that essentially read as an endorsement of Governor Cuomo and criticized his primary challenger, actor and activist Cynthia Nixon. The email was among those published as an op-ed in The Bronx Chronicle and was headlined, "The Christians Should Be Upset With Cuomo, Not The Gay Community."
In it, Diaz Sr. praised the governor's efforts, along with former state Senator Tom Duane, to pass marriage equality in the state Senate. Cuomo "went out of his way" to bring Republican Senators on board, Diaz Sr. wrote. "Now, a member of the LGBTQ community and other leaders of the community are going all the way to kick Governor Cuomo out of the Governorship. After what he did, this is what he is getting in return? It is mind-boggling," he added.
Diaz Sr., who is a pastor, mentioned his own role in opposing the marriage equality bill. "I could understand gays getting angry at me, spending their money trying to get me out and launching all kinds of political diatribes against me. Because as a legislator, pastor and minister, I was the one opposing gay marriage. But attacking Governor Cuomo and going after him? I don't understand that," he wrote.
A spokesperson for City Council Speaker Corey Johnson declined comment for this article. The most recent Council action on standards and ethics found a substantiated claim of sexual harassment against Bronx Council Member Andy King, whom the committee found had made repeated unwanted advances toward a Council aide. King was ordered to undergo additional training.
Ben Max contributed reporting.