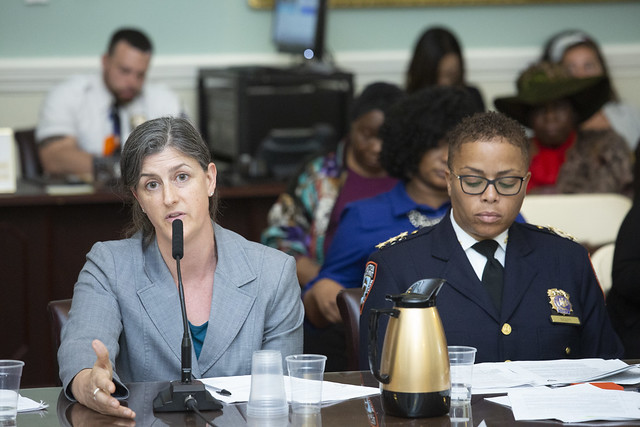 Elizabeth Ford of Health + Hospitals, left, & Becky Scott of DOC (photo: John McCarten/City Council)
---
City Council members on Monday held an oversight hearing to examine how New York prevents formerly incarcerated mentally ill persons from returning to jail. The hearing made clear that the de Blasio administration, Health + Hospitals public hospital system, and City Council members all want to reduce the number of mentally ill persons who rely on the jail system for their mental health care and keep those with serious mental illness out of jail altogether.
But, it was evident at the hearing that there is much more emphasis on services for the imprisoned mentally ill than on keeping those with serious mental illness out of jail, whether for the first time or in all-too-common recidivism.
The psychiatric services offered in city jails -- like nurse and doctor staff, therapeutic groups, and medicine -- are robust but someone with a serious mental illness often loses the best care upon leaving jail. This then contributes to high recidivism rates.
The hearing centered several key data points: roughly 43% of those held in city jails are suffering from mental illness (14% have serious mental illness); the recidivism rate in New York City is 20%, but for those with mental illness it's 47%.
Held by the Council's Committee on Justice System, Committee on Criminal Justice, and Committee on Mental Health, Disabilities and Addiction, the hearing looked at the different ways the city Department of Correction and Correctional Health Services, a part of New York's public health care system, New York City Health + Hospitals, provide care for the mentally ill in prison and once they leave. Two pieces of legislation dealing with notifying defense attorneys of their detained clients' mental health and returning unused commissary money to recently released inmates were also discussed with various stakeholders who testified.
As the overall jail population has declined significantly, the proportion of New Yorkers with mental illness in city jails has risen in recent years: the overall average daily population of city jails decreased from around 11,500 in 2014 to around 8,900 in 2018, and the percentage of people with mental illness increased from 38% to 43%.
The percentage of those with a serious mental illness, defined by Correctional Health Services as anyone with schizophrenia, bipolar disorder, major depressive disorder, or post-traumatic stress disorder, has increased from 10.2% to 14.3% in that same time frame.
Council Member Keith Powers, a Manhattan Democrat and chair of the Committee on Criminal Justice, asserted that the City Council and the different city agencies in attendance all agree that jail is not the place to help seriously mentally ill people. However, jail is often where people with serious mental illness wind up, and jails often offer medical services – city jails have many psychiatric services located in one place (in fact, Rikers Island is the third-biggest provider of psychiatric care in the United States behind jails in Los Angeles and Chicago).
Currently, city jails put inmates diagnosed with mental illness in "mental observation houses" (MOs), where there are advanced levels of service and psychiatric nurses available, or the more intensive option, PACE (Program to Accelerate Clinical Effectiveness) units where there's 24/7 embedded staff and more therapeutic groups, according to Dr. Elizabeth Ford, who testified for Correctional Health Services.
However, through questioning from Powers, Ford admitted right now there are people who qualify for PACE but due to spacing issues are only in MOs. THE CITY reported in April that the de Blasio administration is well behind on its planned 12 PACE units by 2020 (currently there are six).
Council member questions made clear that there are many mental health services available in prison, but the key organizing question of the hearing was: what happens when an inmate/patient is released? Ford said CHS gives inmates seven days of their medicine so they don't drop off too preciptiously after leaving jail, a 30-day prescription which can be fulfilled at a pharmacy of their convenience, and many referrals to outpatient treatment programs.
Outpatient treatment is the primary way people with mental illness are treated in New York, most of which are run by New York City Health + Hospitals. Outpatient care requires patients to appear at appointments, as opposed to inpatient care or state institutionalization – mental health care nationwide over the past 60 years has transitioned away from state-run facilities once known as "insane asylums" or "psychiatric hospitals" and towards outpatient care.
When asked how CHS can make sure recently-released inmates follow through on getting care, Ford mentioned they are hiring more social workers and focusing on making sure existing services, like existing mobile care teams, work well rather than accepting "new mandates."
In terms of keeping mentally ill people out of prison in the first place, Ford brought up the new plan from the administration of Mayor Bill de Blasio of helping mentally ill people go to the Health + Hospitals system, instead of prison.
Furthermore, two diversion centers -- in East Harlem and South Bronx -- will offer police officers a place to bring emotionally disturbed people who exhibit signs of mental illness instead of arresting them. They're not open yet, but are supposed to open later this year.
Ford hopes the community-based aspect of the diversion centers will be especially useful as the centers will be located to existing outpatient care.
Supportive housing is another way to prevent recidivism, according to Ford. Supportive housing offers mental health services to people struggling to find housing. The de Blasio administration plans to build 15,000 supportive housing units over 15 years.
If the roughly 1,200 city jail detainees diagnosed with serious mental illness were to be released tomorrow, the relatively minor supportive housing options and short-term diversion centers combined with New York's disinclination towards inpatient care throw doubt on how the seriously mentally ill would be treated without jail-based services.
The city has created what they call Community Re-Entry Assistance Network (CRAN) teams, which are six-month transitional teams to help those with serious mental illness re-enter the community after release.
On the two pieces of proposed legislation being considered at the hearing, the lead sponsor of the defense attorney notification bill is Manhattan Council Member Margaret Chin, while Queens Council Member Donavan Richards is the lead sponsor of the commissary bill.
Chin's bill, Intro. 1590, would require the Department of Health and Mental Hygiene to notify the defense attorney of a person who is in the custody of the Department of Correction and who has been diagnosed with a serious mental illness.
The bill, co-sponsored by City Council Speaker Corey Johnson and six other Council members, is not supported by Correctional Health Services in its current language. Although Dr. Ford chose to keep some reservations of Correctional Health Services private, she did mention that the agency has a newly-created court liaison program intended to act as a go-between for defense attorneys and medical officers.
The current process for notifying the defense attorney of a seriously mentally ill person who is accused of a crime is the patient must give consent to Correctional Health Services and CHS gives information relevant to the mental illness diagnosis to the defense attorney.
The bill "attempts to break the cycle of imprisonment," said Chin, as ideally more cases could take mental illness into account.
The most intense exchanges of the hearing occurred in regard to the other piece of legislation discussed Monday. Intro. 0903, Council Member Richards' bill, would require the Department of Correction to notify all recently-released former inmates if there is money in their individual jail commissary account as well as return that money within 60 days of release.
A commissary account, which can be deposited into by an inmate's family, is essentially a bank account that the inmate can use to purchase snacks or personal products while in jail. Currently, the Department of Correction is holding $3.7 million from as far back as 2012 in unclaimed commissary money for the over 140,000 individuals who have not claimed it.
Richards, indignant, heavily implied DOC wasn't making any effort to return the money, while DOC testifiers stated multiple times they don't use the unclaimed money for their own purposes.
According to those who testified for the Department of Correction, the only outreach done by the DOC has been to put posters -- only in English -- in the jails. DOC representatives said the often unpredictable nature of inmates' release schedules as well as the general difficulty in remaining in contact with released inmates makes returning the money difficult. DOC does not support the bill, citing difficult logistics.
In a fitting summary of the hearing, Council Member Diana Ayala of Harlem and the Bronx said if the Department of Correction cannot find people leaving prison to give them their money back, how can they ensure the mentally ill leaving prison get the mental services they need?