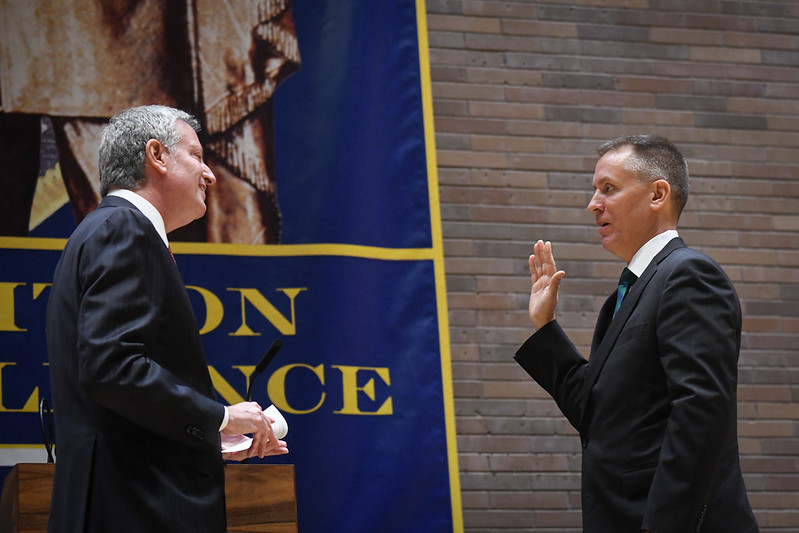 Mayor de Blasio & PC Shea (photo: Michael Appleton/Mayor's Office)
---
Just a week on the job, new NYPD Commissioner Dermot Shea appeared at a solemn press conference in Brooklyn on Thursday, where he addressed the Jersey City murders of two people with ties to Williamsburg as well as the Manhattan murder of an 18-year-old Barnard student. The killings are emblematic of a rise in hate crimes, particularly anti-Semitic ones, and an increase this year in murders in New York City, though those numbers remain near record lows.
He was in Williamsburg with Mayor Bill de Blasio, Shea said, "To express our commitment to you and to all New Yorkers to continue to root out hate and to not rest until acts such as this cowardly violence are brought to justice."
As the newly elevated commissioner of the NYPD, Shea has his work cut out for him in those two areas and many others, including the politics of the high-profile job. Shea took over one of the toughest jobs in the country – overseeing the police force of 36,000 uniformed officers and nearly 20,000 civilian employees in the nation's largest city, with more than 8 million residents that's also home to tens of millions of tourists each year and a top terrorism target – amid pivotal shifts, including laws governing the criminal justice system, and rifts.
He takes on the responsibility of repairing trust between the department and many members of the public wary and critical of it while rolling out new programs, overhauling certain divisions and protocols, and ensuring that public safety does not suffer throughout. And he must prepare himself to make the tough decisions that come with increased oversight of police conduct. He must deliver on many promises made by his two recent predecessors and by the official who appointed all three of them, Mayor Bill de Blasio, who will soon be facing his legacy.
Barring any scandal, Shea likely has just over two years as the city's top cop given that de Blasio's second and final term expires on December 31, 2021.
Shea, a 28-year veteran of the department who most recently served as chief of detectives, officially assumed the leadership role on December 1 in a private swearing in (an official ceremony was held the next day), taking over from James O'Neill, who had held the department's top spot for just over three years. He's the third commissioner to be appointed by de Blasio, under whose tenure major crimes have largely continued to drop each year while arrests and incarceration have also purposefully fallen, the department has adopted new policing strategies but criticism has raged from the right and the left.
"As we said we could in 2014, we have shown that we can drive crime down significantly with a far less intrusive enforcement profile," Shea said when he was sworn in by the mayor last week at police headquarters in Manhattan. "In fact we have done what many believed was impossible. We've pushed crime down while also reducing criminal summons, stops, arrests, and incarceration. And throughout our police department, we are building trust and strengthening relationships in every New York City community and there's more to do. Neighborhood policing and precision policing are seamlessly blended together and serve, I believe, as a model of American policing and proof that, yes, you can have it all."
But as the department continues to maintain crime at or near historic lows, that has allowed focused attention on specific aspects of policing – accountability for wrongdoing by officers; increases in rates of certain crimes, like reported rapes; pockets of the city that continue to be plagued by gunfire; and several criminal justice reforms passed by the state Legislature set to take effect in the new year. Even parking placard abuse by officers. There's the constant threat of terrorism, and a City Council considering requiring more transparency around what technology the department uses. Shea must also grapple with an epidemic of suicides among police officers as ten officers have taken their own lives this year. The city has sought to ameliorate the crisis with a new mental health initiative launched in in partnership with New York-Presbyterian Hospital in October to provide greater services to officers.
While he has immense resources, including a more than $5 billion annual budget, Shea has his plate full, a fact he has readily acknowledged, committing to improved community relations while also sounding an alarm about sweeping changes to pre-trial detention and evidence-sharing about to take effect.
"There are significant challenges on the horizon, however," he said in his speech, much of which was directed at the many members of the NYPD sitting before him. "We've seen some signs of them. People that live in our communities too have already talked about them – looming changes that again will test you and test your ability to keep New Yorkers safe. But I believe we are a very strong organization. I have confidence in you because time after time you have proven your dedication to the people of this great city. And I know we will adapt and work with all of our partners to see changes necessary to keep everyone safe, including our police officers."
The comments were indicative of Shea's new perch, where he is expected to weigh in on policy and even politics, often during press conferences with the mayor where in the past he played a supporting role.
City Council Member Joe Borelli, a Staten Island Republican, pointed out perhaps the biggest change that comes with taking the helm of the police department. "One of the most difficult parts of any police commissioner's job is navigating the political realm of New York City," he said. "Last week, Chief Shea was a person with a defined role and defined duties and defined expectations, and tomorrow, he's going to be someone who is required to take part in this dance, and it's gonna be a challenge for anyone."
Neighborhood Policing
The mayor and his three police commissioners: Bill Bratton, then O'Neill, and now Shea, have all emphasized the NYPD's new neighborhood policing paradigm, which places the same cops on familiar beats across the city and gives them time and orders to build trust between officers and the communities they serve. But despite their claims of its advantages, they have not provided evidence of its efficacy and a long-promised community survey has yet to be published.
Shea will have to prove that the new approach, which was used to justify an expensive expansion of the police force and advocates have at times criticized for turning each community issue into a policing one, is working as intended and that it is sufficiently addressing the credibility and trust gap that has long existed between the police and some communities, particularly communities of color.
After his appointment was announced, Shea quickly went on a listening tour to meet with elected officials, advocates, faith leaders, and others, including making an appearance at the National Action Network's House of Justice to meet with Al Sharpton and clergy members.
"Unfortunately, the way our laws, and especially our criminal laws are built is that they do criminalize poverty and over-police the most vulnerable communities," said Marie Ndiaye, supervising attorney of the Decarceration Project at the Legal Aid Society. But she noted that the commissioner and police officers have the discretion to apply them in the most just way possible. "Officers have discretion to not arrest, to not cite, to have someone just stop a behavior they're doing and move about their way," she said.
Even as the department has shifted its tactics, it has focused on more targeted policing, particularly of gang activity. As a result, thousands of individuals have been placed on a gang database, at times with little justification and even without having committed a crime. Advocates have called for erasing the database – which could include as many as 37,000 people, according to a Brooklyn College report – insisting it is discriminatory and based on racial profiling.
"The most difficult thing to do is to let folks know that it's a never-ending discussion," said Public Advocate Jumaane WIlliams, a Democrat, in a recent interview outside City Hall about his expectations for Shea. "So we should always be having discussions of how to make policing better and have safer streets. And those are not competing interests. We can do them at the same time."
A New Disciplinary System
Last year, then-Commissioner James O'Neill responded to a series of exposes around a lack of accountability at the department by insisting that disciplinary standards had improved and that the department was not riddled with bad actors, but also creating an independent panel to overhaul the NYPD's internal disciplinary procedures. The panel issued 13 recommendations in February that O'Neill accepted.
Some required little effort and were implemented within two months – supporting amendments to Section 50-a of the state civil rights law, which shields officers' disciplinary records from public disclosure, preventing the expansion of the scope of 50-a, increased public reporting, publishing of trial room calendars, and enhanced reporting on when disciplinary action does not match a recommendation of the CCRB, the Department Advocate's Office, or the Deputy Commissioner for Trials.
As commissioner, Shea will have to oversee the continuing implementation of the rest of the recommendations, many of which are underway as well, such as studying a disciplinary matrix for police officers that would clearly outline the possible disciplinary action for different types of misconduct and identifying an outside entity to audit the new disciplinary system.
Transparency and accountability are the main areas where critics say the mayor, who came to office pledging a transformation of the police department, has failed them. Even those like Public Advocate Williams who have supported the neighborhood policing model feel disappointed. "If you're not dealing with accountability, if you're not dealing with the disciplinary issues, if you're not dealing with the transparency issues, it's just not going to go anywhere. And those seem to be the two buckets that we've had the hardest time moving," he said.
"I'm not sure that it should be that challenging. I can understand it's difficult, but it's the right thing to do," he added. "Being transparent about...when police have been disciplined is the right thing to do. When there's...police involved and people are hurt, transparency about what occurred on edited footage to the family, those things are the right thing to do and that's that's where the city should be leading the nation. But we're actually behind the nation, and we seem to be behind in a lot of things, and then call ourselves progressive."
A Stronger Civilian Complaint Review Board (CCRB)
Also related to officer discipline, the CCRB, which investigates complaints of misconduct and other specific abuses of authority by police officers, received new powers under a revision to the City Charter approved by voters in November. Besides a larger, more independent board and bigger budget, the CCRB's executive director now has subpoena power, and the board can investigate instances where officers lie under oath to its investigators. Another measure that was approved requires the NYPD commissioner to explain in writing when he or she chooses to reject or modify a disciplinary recommendation made by the CCRB or an internal NYPD official.
Operating under these new rules, Shea will be required to be more transparent about disciplinary actions than his predecessors (NYPD commissioners, who have final say, very often reduce the recommended punishment for substantiated misconduct), though it does not entirely inhibit his discretion in how he disciplines his officers. As commissioner, he also chooses three of the 13 members of the board, who are then appointed by the mayor.
Ndiaye recommended "full cooperation with the CCRB and accepting their recommendations where those recommendations make sense, and actually allowing them to do their job." She added, "Internally, the NYPD should be doing its own robust investigations and really be holding people accountable."
Evolving Body-Worn Camera Policies
Another area where the commissioner maintains discretion is in the public release of body-worn camera footage of "critical incidents" where individuals are either seriously injured or killed by police officers. The NYPD's long-sought policy, only recently published, notes that the commissioner will decide within 30 days whether to release the footage.
Advocates have criticized the policy since it leaves disclosure in the commissioner's hands with no mandates for how the footage is released – the police department can edit and release partial footage as it deems necessary. Shea will also have to work on the ongoing implementation of the body camera program itself, it has only recently reached all 20,000-plus patrol officers, along with other specialized units.
Recent Upticks in Crime
Even though the overall major felony crime rate has continued to decline overall, certain categories of criminal behavior have grown or appeared to grow, requiring a more targeted approach by the NYPD and presenting challenges for Shea as he takes the reins.
Among those are hate crimes, domestic violence homicides, sexual assaults, and some more recent upticks in shootings in certain parts of the city. Through December 1, murders are up 8% this year compared to the same period last year; 2018 saw a record-low number of murders.
Hate crimes have spiked in recent years, largely incidents of anti-Semitic attacks and vandalism. Following the fatal shooting in Jersey City targeting a kosher market, Mayor de Blasio on Wednesday announced that the NYPD had been working to create a new unit to specifically target hate crimes called the Racial and Ethnically Motivated Extremism unit. At the announcement, Shea noted that there has been a 22% increase in anti-Semitic hate crimes this year and that the new unit would aim to prevent rather than just react to such incidents.
Despite murders at or near all-time lows over the last several years, intimate-partner homicides have persisted and even increased, maintaining an increasingly higher percentage of the overall murders in the city. Two murders in November particularly highlighted the protracted nature of the problem, one that the NYPD has few tools to directly address. Rape reports have also risen significantly in recent years, though there are questions around whether that has been the result of social (and to a lesser extent police-departmental) factors encouraging reporting, rather than the actual number of incidents, which are notoriously under-reported even still.
The increase in reports means additional opportunity for the NYPD to arrest perpetrators, though, and presents another challenge for Shea, who as chief of detectives faced criticism around how the Special Victims Division was staffed and operated.
City Council Member Helen Rosenthal, a Manhattan Democrat and chair of the Council's committee on gender equity, is still waiting to see progress on reforms to the Special Victims Division. A Department of Investigation report last year found that the SVD suffered from severe understaffing which adversely affected sexual assault investigations.
"There is quite a bit of work to be done with that unit coming out of the DOI investigation and report from February 2018 and we haven't achieved the things that they called for in that report that the Police Department committed to," Rosenthal said in a phone interview. "We're asking for there to be an intentional effort for trauma-informed investigations, and that happens through good training, good supervision, more staff. So they still have a ways to go."
Cuomo's MTA Policing Plan and Subway Crimes
Serious crimes in the city's subway system, which is used by nearly 6 million riders each day, have also declined in recent years, though there has been an increase in robberies and specific categories of misdemeanor crimes, including sexual misconduct. Governor Andrew Cuomo repeatedly inflated the problem, however, when he pushed the MTA to hire 500 new police officers who would also work to crack down on fare evasion and address the growing number of homeless people on the subway system. (Cuomo's description of crime in the subways drew multiple rebukes from then-NYPD Commissioner O'Neill, among others.)
Those new MTA police hires were announced after an earlier diversion of 500 officers to the fare evasion beat by the NYPD and the MTA. The increased police presence has been met with a swift backlash from some elected officials and advocates, who say that it disproportionately harms New Yorkers of color and criminalizes poverty. They also note that the new hires will cost hundreds of millions of dollars over the next several years, resources that could be put to fare-reduction initiatives or to invest in the communities where residents cannot afford to pay fares, or even toward better bus and subway service, which can encourage more people who can afford the fare but skip it to pay.
Several recent incidents caught on video have added fuel to those critiques.
"The problems of police misconduct are deeply embedded in the mission of policing," wrote Alex Vitale, professor of sociology at Brooklyn College, for The Nation, outlining how he believes the NYPD needs to change after O'Neill. "While the lowest-level interactions have been reduced, police continue to wage a war on drugs, gangs, disorder, and terror, and those wars are going to be waged in a confrontational way. And anyone who resists those wars (even passively), like Eric Garner, will be subjected to escalation, not de-escalation, regardless of how much training is conducted."
He added, "O'Neill leaves office having achieved no real improvements in police transparency, accountability, or behavior. Instead, he leaves his successor, NYPD insider Dermott Shea, with a host of unresolved issues and a hostile workforce committed to resisting change."
Implementing Criminal Justice Reforms
Under the category of resisting change may be Shea's repeatedly expressed concerns about sweeping criminal justice reforms passed by the State Legislature and Governor Cuomo earlier this year and set to take effect in January. They include the elimination of cash bail for misdemeanors and a vast number of non-violent felonies and new open discovery laws that allow a defendant to receive the evidence against them on a faster timeline.
Reformers and advocates hailed the new laws, particularly the bail reforms aimed at equalizing a system where people who have yet to be found guilty of a crime can spend months, even years in jail simply because they cannot afford to pay for their freedom. According to the Vera Institute of Justice, that law would apply in 90% of arrests.
"I think Shea's going to be in charge of overseeing a real culture change within the NYPD," Ndiaye said. "The majority of this is not only following the letter of the law, which is of course, important, but following the spirit of the laws, which is to limit people's interaction with the criminal justice system and to mitigate the harms that come with that as much as possible."
Public Advocate Williams said, "We have to support these type of reforms while investing in the things that we know make communities safer and my hope is that the commissioner will join us."
The reforms have, however, prompted a backlash from law enforcement officials and legislators who have predicted that they will lead to an increase in crime, though there is no evidence to back that claim. Some believe the laws will make officers hesitant to do their jobs, knowing that an individual they arrest may soon be out of detention.
"I think the most difficult challenge he's gonna face is the recalibration of the police department in response to bail reform," Borelli said. "How do you keep patrol officers motivated to do their job when a person they've arrested will be let out before they get home for dinner? It is going to be the most demoralizing change the police department faces in its two-century history."
Shea himself has expressed some reservations. "We are for reform. We just have some very slight concerns about some parts of this reform that's coming," he said at a December 5 news conference on the latest crime statistics, citing some worry about public safety. But, he said the department has been training officers to work under the new system. "We've been preparing and planning for this for many months now...We feel well prepared as an agency in terms of being ready for this. And if there are any bumps in the road we will learn from it and quickly."
Ben Max contributed to this article.
Note - this article has been updated with references to the NYPD gang database.
Note - this article has been updated.