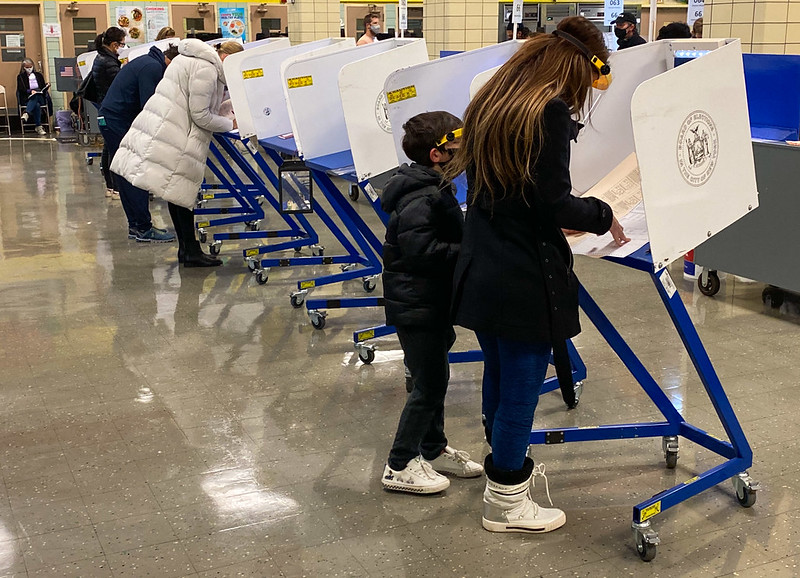 Voters in 2020 (photo: Michael Appleton/Mayoral Photography Office)
---
Despite concerns about how the coronavirus pandemic may affect voter turnout, more than 2.97 million New York City voters cast a ballot in the 2020 general election, an increase of about 7.5% or 210,000 more votes than were cast in the city in the last presidential election, in 2016.
By election night, more than 2.25 million New York City residents had voted in person, 1.1 million of whom cast a ballot in the nine days of early voting before Election Day. As expected, absentee voting swelled, with more than 720,000 absentee ballots returned to the New York CIty Board of Elections by the November 10 deadline. Counting those ballots just began and is expected to take weeks.
With 5.56 million registered voters in the city as of November 1, the turnout rate was roughly 53.4%. The rate was slightly lower than the 56.3% in 2016; there were fewer registered voters in the city that year – 2.76 million out of 4.9 million registered voters cast a ballot. There are roughly 13.56 million registered voters statewide in New York.
President-elect Joe Biden easily won New York State and, as expected, is winning New York City by an even larger margin. The city is home to 3.74 million registered Democrats, roughly 568,000 Republicans, and more than 1 million party-unaffiliated voters, as well as many thousands of voters registered with smaller political parties. But President Donald Trump received more votes in the city this year than four years ago – even without absentee ballots, he had garnered 586,900 votes compared to a total of 494,549 in 2016.
An analysis by Steven Romalewski, director of the mapping service at the Center for Urban Research, CUNY Graduate Center, shows that from 2016 to 2020 turnout in the city increased the most on Staten Island, large portions of Queens, and parts of Brooklyn. In Manhattan, turnout only increased slightly while in large parts of the Bronx, fewer voters cast ballots this year than four years ago. It's unclear what role the coronavirus pandemic had in boosting or suppressing voter turnout.
"I think it reflects the intensity of the race and the heightened attention to this particular election. So, as far as civic engagement in New York City, that's a good thing," Romalewski said in a phone interview.
Recognizing the challenges posed by the pandemic, state lawmakers and Governor Andrew Cuomo took several steps to make voting easier in the election. These came on top of the fact that early voting had been passed at the state level last year and was being implemented in a presidential election for the first time.
The governor signed several bills into law on August 20 that immediately allowed all voters to request an absentee ballot by citing the risk of contracting COVID-19 as an excuse; allowing voters to postmark their ballots as late as Election Day; and mandating that absentee ballots received the day after the election without a postmark are counted.
New York State still does not allow no-excuse absentee ballots, which requires an amendment of the state constitution. The state Legislature has already voted to pass that amendment once and must do so again before presenting it to voters for their approval as a ballot question, which is also true for same-day voter registration which would allow new voters to register and vote on the same day.
"Anything that helps increase turnout, makes it easier for people to vote is good," Romalewski said. "It doesn't seem to make sense to have artificial restrictions on when you can submit an absentee ballot, whether you can vote by mail or not. And I think the early voting definitely helped in terms of making it easier for people to vote in a less crowded indoor environment."
Among the neighborhoods that saw the highest increase in votes – between 5,001 to 10,995 more votes – were the Upper East Side and the Upper West Side in Manhattan; Greenpoint, South Williamsburg, Cobble Hill, Carroll Gardens, Gowanus, Windsor Terrace, Kensington, Borough Park, Midwood, Sheepshead Bay and Brighton Beach in Brooklyn; and large swathes of western, central and northeastern Queens including Sunnyside, Ridgewood, Long Island City, Queensbridge, Ravenswood, Astoria, Woodside, Maspeth, Ditmars Steinway, Forest Hills, Rego Park, Jamaica Hills, Jamaica Estates, Forest Hills, Middle Village, Kew Gardens, Fresh Meadows, Bay Terrace, Auburndale, Clearview, Douglaston and Little Neck.
Notably, according to Romalewski's analysis, two Assembly districts – District 80 in the Bronx and District 56 in Brooklyn – saw a marked decrease in turnout, of between 5,001 and 6,888 fewer votes. District 56 had one of the few competitive Assembly races in the city, at least in the Democratic primary, since longtime Democratic Assemblymember Tremaine Wright did not run for reelection while unsuccessfully seeking a State Senate seat. Democrat Stefani Zinerman won Wright's seat, running uncontested in the general election. In District 80, first-term Democratic Assemblymember Nathalia Fernandez handily won reelection, defeating nominal general election opposition in the heavily Democratic district.
There were parts of the city that saw a smaller drop in turnout, up to 2,500 fewer votes. That includes Brooklyn's Assembly District 60, which covers New Lots, East New York and Starrett City and is represented by Assemblymember Charles Barron, who was reelected unopposed; and Manhattan's Assembly District 71, which is represented by Assemblymember Al Taylor and includes Hudson Heights, Sugar Hill and Hamilton Heights. Taylor was also reelected and did not have an opponent in the general election.
Large swathes of the Bronx saw a similar decrease in voting including Fordham Heights, Fordham Manor, West Bronx, Mt. Hope, Crotona, Belmont, Claremont Village, Morrisania, Concourse Village, Charlotte Gardens, Highbridge, Mt. Eden, Soundview, Clason Point, Longwood, and Hunts Point.
While the presidential election has shown additional encouraging signs of participation in a city that has long been known for voter apathy, but has seen marked increases in 2018 and now 2020, the turnout percentages are still relatively low, and a real test is coming in the municipal elections next year. The future of the city will be on the ballot via June primaries and the fall general election as the city holds elections for mayor, comptroller, public advocate, five borough presidents, and all 51 members of the City Council. Most of those offices, including mayor, will see a new person elected given most of city government is leaving their current offices due to term limits.
The last situation like this, in the presidential election of 2012 and the city elections of 2013, when most of city government including the mayor was turning over, general election turnout in the city went from 53% in 2012 to 23.9% in 2013. But, given the city's overwhelming Democratic enrollment imbalance, what often matters most is voter involvement in the party primaries -- in 2013, that stood at 22% of registered Democrats, about 40% of whom advanced Bill de Blasio to the general election and mayoralty. In 2016 and 2017, with the Hillary Clinton-Donald Trump presidential election followed by de Blasio cruising to reelection, the dropoff was even more severe.
"If there is a fall off again in turnout...it's really unfortunate," Romalewski said, "because in some ways, the person we elect as mayor and the people we elect as City Council representatives have a more direct impact on our everyday lives than people at the federal level. So you would hope that there would be even higher turnout for municipal elections, but that hasn't been the case."