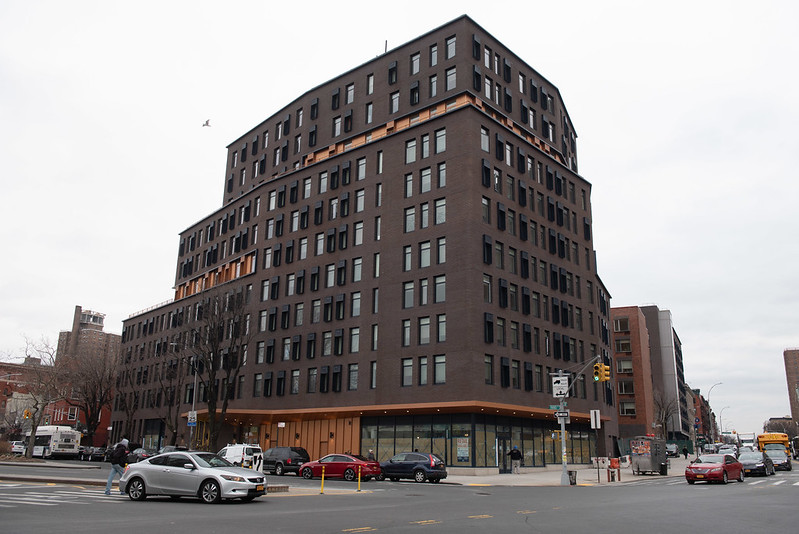 Housing (photo: Michael Appleton/Mayoral Photography Office)
---
If you live in a New York City apartment building, chances are you don't use a traditional metal key to open the front door.
In recent years, countless residential buildings have converted to so-called "smart access" systems that rely on key fobs, pin codes, and smartphone apps for entry. These technologies can offer safety and convenience to residents.
They also pose a potential threat.
The reason is simple: every time a tenant taps their keyfob or enters their access code, it generates a piece of data that logs their entry.
What will your landlord do with this data? Will they use it to pry into your personal life? Will they sell it to marketers? Could it be used as an eviction tool? Will it be kept forever?
At present there are no laws that control how this data is used, in New York City or elsewhere in the nation. Your landlord is free to use this sensitive information however they please.
Time logs of when you or family enter the building could indicate patterns of work, travel, socializing, even walking the dog. This is no one's business but your own.
Tenants need to know — with certainty — that the data generated by smart entry systems will never compromise their privacy and safety, nor make them vulnerable to abusive landlords bent on eviction.
That's why we are fighting to pass legislation known as the Tenant Data Privacy Act (officially Intro. 1760) in the New York City Council. The bill is up for a vote in front of the full Council on Thursday, April 29.
The bill would prohibit landlords from ever using a tenant's building entry data for purposes of eviction or harassment. It would also specifically ensure that smart access systems are never used to collect information on the relationship status of tenants and their guests.
The legislation ensures that a landlord can't share entrance data with third parties without express permission from residents. The bill has extra protection for minors, to ensure that even the most basic information is not collected on them without explicit permission from a guardian.
And it obligates landlords to provide tenants, upon request, written policies about the type of data being collected, how long it's kept, and the process for tenants to add additional household members or guests to the smart access system. And, critically, it requires that tenant data be permanently deleted after 90 days.
The bill also includes similar protections against misuse of utility data by landlords in buildings that track usage of heat, electricity, and Wi-Fi.
What about smart entry systems used not for the front door but the entrance to your apartment? Our law would mandate that tenants have a right to a traditional metal key for their personal unit if that's what they prefer.
This law would have teeth: landlords would be liable for a penalty of up to $6,000 for each violation.
Yes there are benefits to smart entry systems. Traditional mechanical keys can be lost, stolen, or easily copied, creating safety concerns for neighbors. Tenants with an access system that uses a smartphone app are able to maintain a record of who enters their home and when and, in some cases, even have the ability to easily grant and revoke guest access.
This technology can also serve as a tool to detect if a super or other member of the building staff is entering your apartment without your consent. It can help domestic violence victims keep abusive partners out of their homes.
The Tenant Data Protection Act strikes a balance, allowing tenants the benefits of smart entry systems while protecting against the potential for abuse. The legislation has quickly gained momentum in the City Council, with 27 sponsors, and support from a growing coalition of tenants rights advocates and other leaders.
No one should ever worry that the simple act of opening their door could compromise their safety or privacy. We can and must take action now to keep tenants in New York City safe and vote to pass the Tenant Data Protection Act.
***
City Council Member Mark Levine represents District 7 and is Chair of the Council's Health Committee. He is currently running for Manhattan Borough President. On Twitter @MarkLevineNYC.
***
Have an op-ed idea or submission for Gotham Gazette? Email This email address is being protected from spambots. You need JavaScript enabled to view it.