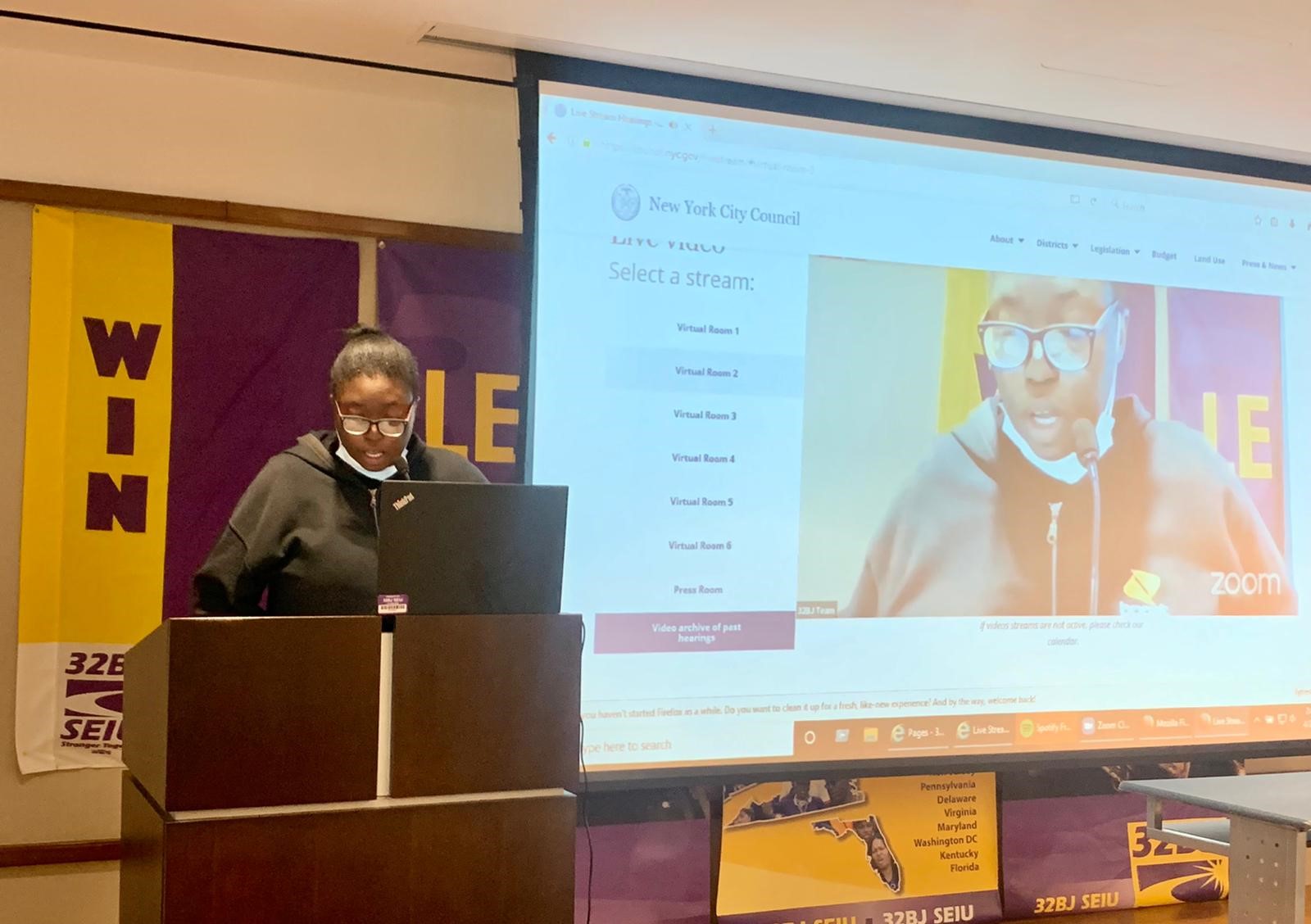 Quintona Armwood, the author
---
About eight years ago, I lost my apartment when I was pregnant with my son, Kailyn. After experiencing for myself what it's like to be homeless, to not have a permanent place to live, I got a job as a security officer at a homeless shelter. I could relate to the shelter clients, so I set out to help them get back on their feet.
I loved my job then and I still do now. However, because of the poor work conditions at the shelters, I am only a few steps away from being homeless myself again.
The $16.50/hour that I receive is still not enough for me to afford my own apartment. Today, I live with my mom and work two full-time jobs: one as a security officer at Crystal's Place shelter in the Bronx and another as a medical assistant at a private clinic. Because I work about 16 hours on an average day, I leave my son in my mother's care. On the days when I'm lucky, I get to come home when he's still awake and tuck him into bed.
I have to make hard choices every day. Whether it is between being able to support my son through school or putting food on the table, being able to pay my electricity bill or taking my son to a professional to address issues related to his ADHD.
Every day, I ask myself if I am failing my son as a mother. I ask myself if I am failing my mother, a military veteran who has sacrificed so much for me and for our country. In reality, the system is failing people like me.
As private shelter security officers, we work in dangerous and stressful environments with little pay, no meaningful benefits, and little training on how to actually perform our duties. Even though we are expected to protect New York City's most vulnerable, we cannot even sustain and protect ourselves. We perform essential duties for our city, yet still have to often rely on government services such as Medicaid for our own health and safety.
We have the opportunity to change that once and for all. The Safety In Our Shelters Act, or SOS Act, (Intros. 1995/2006) in the New York City Council would raise the standards for workers like me and ensure that privately run shelters are providing decent wages, benefits, and training opportunities to security workers.
With the SOS Act, I would have the training I need to de-escalate conflicts that may arise in the shelters so I can better protect shelter clients. Instead of relying on Medicaid, I could have health insurance through my job like all essential workers should. I could make enough money to address my son's special needs, or perhaps even be home to cook him dinner, spend time with him, and kiss him goodnight.
As the daughter of a military veteran and a single mother, I know what it means to make sacrifices for what you love. I also know what it means to fight for what's right. The New York City Council has repeatedly stood up for workers like me and given us a shot at a fair life in this city. We ask them to pass the SOS Act without delay.
***
Quintona Armwood is a security officer and a mother.
***
Have an op-ed idea or submission for Gotham Gazette? Email This email address is being protected from spambots. You need JavaScript enabled to view it.