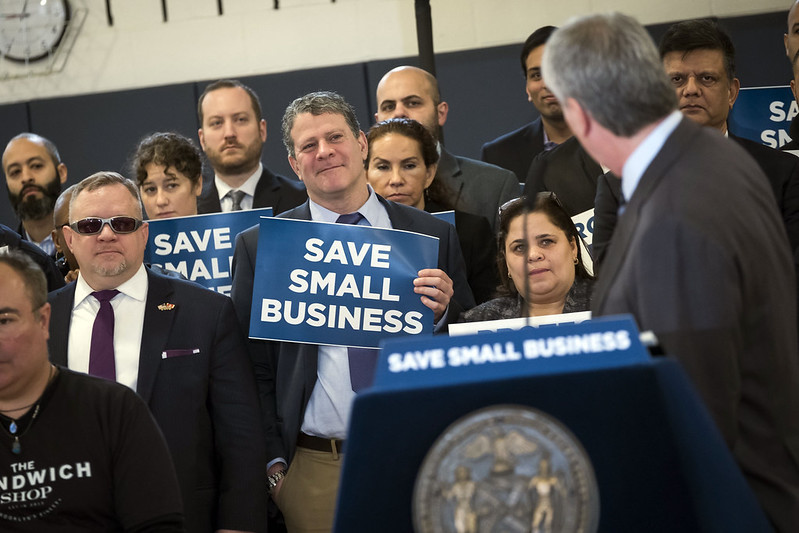 "Save Small Business" (photo: Ed Reed/Mayoral Photography Office)
---
The next few years in New York City will no doubt be challenging.
In a few months, a new mayoral administration and the next City Council will inherit the worst financial situation in 20 years. The path ahead will be difficult as we try to lure tourism and business back to New York, in hopes of closing budget gaps that will threaten vital social services above all else. We must learn from the lessons of the past, however, to guarantee this isn't a recovery built off the backs of those already struggling to get by.
When New York City faced a similar budget crunch 20 years ago after 9/11 caused a mini-depression, Mayor Bloomberg turned to fines, especially around parking violations, to help meet the shortfall. These measures were as controversial then as they are now, feeding into a national trend in which monetary penalties to deter illegal behavior became a revenue stream. Research has shown, however, that fines and fees, no matter the type, disproportionately impact communities of color and immigrant populations. The thrust of our city's recovery should not stem from regressive policies that push everyday New Yorkers deeper into crisis rather than out of it.
This also applies to small businesses, the heartbeat of our communities. The city must not look to them as an easy target to build back up its coffers. Even in the midst of a global pandemic, the city has continued to target small business owners with hefty fines for minor infractions. While finding new streams of revenue will be an important factor in dealing with the budget shortfall, onerous fines and overzealous enforcement of minor violations cannot continue to be the solution. Economic data presented last month shows that 78% of New York State businesses with fewer than 500 employees are still struggling from the impacts of covid, according to a March report from State Comptroller Tom DiNapoli.
Those numbers become even more real when you walk down Austin Street, Queens Boulevard, or 108th Street in Queens and ask business owners, many of whom are immigrants trying to live the American dream, what the last year has been like.
There are simple steps we can take to lift all boats. We must take a completely new approach that prioritizes supportive case-workers over penalty-issuing inspectors. That's not to say a business owner who price-gouges face-masks or a restaurant owner who keeps a dirty kitchen shouldn't be punished. But those who try to adapt to the constant change in rules shouldn't be a revenue line in the city's budget.
Next, the Department of Small Business Services must ramp up its outer borough outreach. The only time many here in Queens interact with the agency — or the city as a whole — is when an inspector makes an unannounced visit. The laudable efforts by SBS during covid shouldn't go away once we declare victory on this virus. The next mayoral administration and City Council must work together to create a post-covid small business task force that allows New Yorkers to responsibly follow their dreams and provide for their families.
Third, we need to completely stop relying on fines as a first-strike warning for small businesses in their first year. Instead of fining an entrepreneur into collapse, we need to work with them to rectify the issue in a constructive way as opposed to meeting a violation quota.
These steps mark only the beginning of what needs to be a fundamental restructuring of the relationship between our small businesses and those tasked with enforcing our city's rules and regulations. There's a lot of work that will need to be done, but I know it's possible to ensure that we can build Queens and New York City back stronger than ever before, with a budget that is balanced and an environment where small businesses can thrive. As we continue to recover from the pandemic, we must take advantage of the opportunity to create a fairer city that looks out for all its residents. In the City Council, I'll make sure that becomes a reality.
***
David Aronov is a Democratic candidate for the New York City Council in Queens' 29th District. On Twitter @DavidforQueens.
***
Have an op-ed idea or submission for Gotham Gazette? Email This email address is being protected from spambots. You need JavaScript enabled to view it.