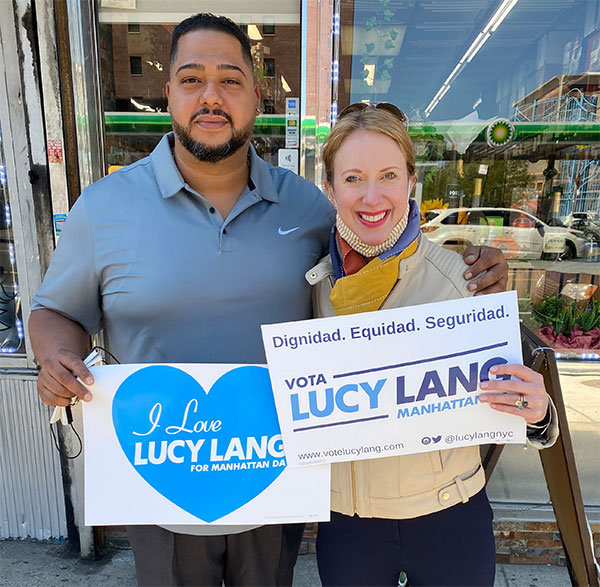 Lucy Lang, right (photo: Lucy Lang campaign)
---
Leading a district attorney's office is a unique privilege. Each day, we are called on to be ministers of justice, keep our communities safe, and ensure that a system, warped over time by decades of tough-on-crime policy, is reformed to serve the people it purports to protect. However, these challenges can be hard to tackle, and often require solutions that are collaborative within the office, span multiple agencies, and require support from the community.
We are district attorneys from around the country. We have worked with Lucy Lang. We understand her experience and record. And we know she is the right person for the job of Manhattan District Attorney.
As prosecutors who have served our communities and transformed offices stuck in the past, we know what it takes to fulfill the role of district attorney. Our offices are part of a deeply entrenched criminal justice system that, day in and day out, works with other communities, agencies, bureaucracies, and career public servants who view the DA as a tourist in the offices. Moreover, each jurisdiction is hyperlocal, with idiosyncrasies and different court procedures. Serving as an elected prosecutor requires much more than generic management experience and familiarity with the legal system; it requires a transformative vision, deep experience in a particular jurisdiction, and a knack for leading others while building strong coalitions.
Lucy has done all this and more. She has spent over a decade in Manhattan's courts handling the most complex and violent cases, and she was one of the few prosecutors promoted to the on-call system for responding to homicide scenes. She understands the ins and outs of the local legal system, and she has used this knowledge to accomplish meaningful reforms -- long before the progressive prosecutor movement was popular.
As a former assistant district attorney, Lucy helped build the first Alternatives to Incarceration Unit in Manhattan at a time when few precedents existed and pushed to ensure the office treated kids like kids. She also pioneered a first-of-its-kind college-in-prison course that brought prosecutors into New York state prisons to study criminal justice reform alongside incarcerated students. These are only a few examples of the numerous reforms Lucy has directly implemented that demonstrate her strength in building coalitions and cultivating wide buy-in for her vision. Indeed, at a time when many district attorneys were still taking baby steps toward reform, Lucy was able to successfully launch these initiatives in one of the largest offices in the nation. Without leadership and experience, vision and expertise do not have much value. Fortunately, Lucy has all of the above.
After leaving the Manhattan District Attorney's office, Lucy took these skills to the Institute for Innovation in Prosecution (IIP), where we had the opportunity to work with her. While at the IIP, Lucy was a source of leadership and policy expertise for the entire field. For example, following the murder of George Floyd, prosecutors throughout the country called on the IIP for guidance on how to lead their offices at a time when many of their staff members were struggling with their complicity in an often brutal legal system. Lucy counseled these district attorneys on how to effectively address their teams, facilitate restorative circles, respond to the needs of their communities, and ultimately use this painful moment in history as an opportunity for reform. Lucy also trained offices on racial justice-centered procedural justice, pioneered a first-of-its-kind trauma-informed prosecution training, led the foremost initiative on racial justice in prosecution, currently in use in offices around the country, and shepherded a collective effort to articulate a cogent and powerful vision for what prosecution centered around community can be.
Lucy has been a leader in this field. She has worked with elected district attorneys to understand how they run their offices, and has received the most comprehensive training any candidate could ask for. But what truly sets Lucy apart is her compassion, and her deep understanding that prosecutors are elected to help people who touch the system, not punish them. The role of Manhattan District Attorney is too important to elect someone without the vision or capacity to effectuate the change the system needs. Manhattan needs Lucy Lang.
***
Sherry Boston is District Attorney of Dekalb County, Georgia. Kim Gardner is Circuit Attorney of St. Louis, Missouri. Scott Colom is District Attorney for the 16th Circuit Court District, Mississippi.
***
Have an op-ed idea or submission for Gotham Gazette? Email This email address is being protected from spambots. You need JavaScript enabled to view it.