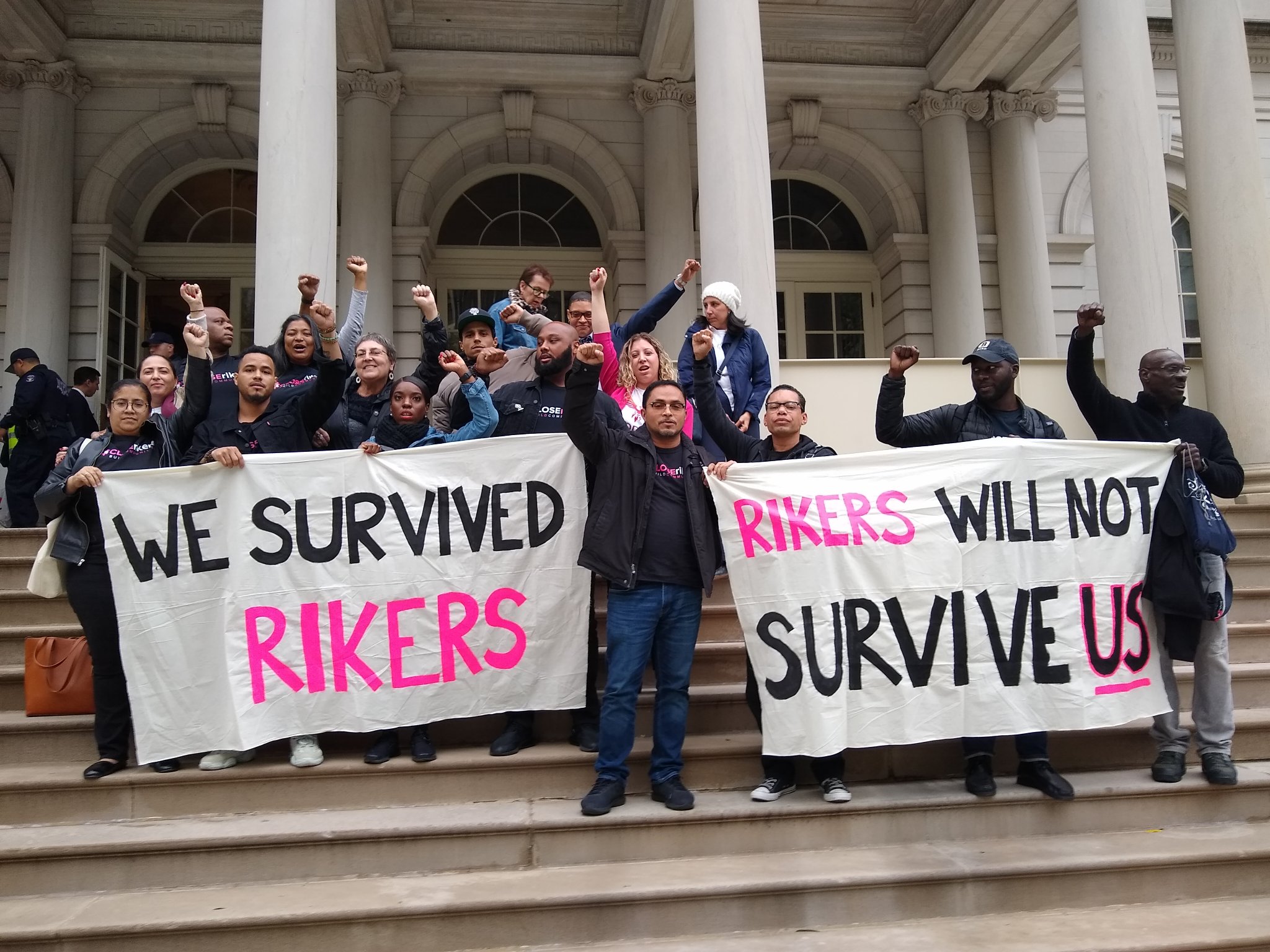 A rally for closing Rikers (photo: @CLOSErikers)
---
The Vernon C Bain Correctional Facility, known as The Barge, or The Boat, has been getting some attention recently. Ava Duvernay and Laura Poitras recently discovered it, and mayoral candidate Eric Adams said he wants to sink it. But Bronx residents have been calling for the closure of this modern day slave ship for years. We do so because it is an affront to human rights, and our values. While we welcome the support, this recent attention is concerning.
The closure of The Boat requires more than tweets and talk. It requires a plan and thankfully, we have one that was hard-won by impacted Bronx residents and their allies. We need to move forward with that plan - the Close Rikers plan - including the replacement jail in the Bronx.
Consider this - if The Boat closed today, the people there would be moved to the notorious Rikers Island jail complex. Moving them right now would be especially cruel as we head into the summer, since The Boat has air conditioning (that works at least occasionally), and the available units on Rikers have none.
What many New Yorkers don't know, or have chosen to ignore, is that all of the Department of Correction facilities in New YorK City are unfit for humans. Let's review the options. There is a penal colony on toxic land (Rikers); a prison ship (The Boat); closed jails in Queens and Brooklyn that each have insufficient square feet per incarcerated person to meet state standards (and also, lack air conditioning); or the cramped and decrepit "Tombs" in lower Manhattan.
Throughout this campaign season, nearly every mayoral candidate has said Rikers should close, but detailed plans to do it have been much more scarce even as they question the current plan. What candidates aren't promising is an end to all policing, prosecution, and incarceration in the Bronx, or New York City. This is why every Bronx voter should know that when we oppose the replacement jail in the Bronx, we are approving the human rights violations on Rikers and The Boat.
So while incarceration continues in some form in our city, the question is where, and under what conditions?
We know that we can continue to reduce incarceration, but we must do so while addressing dangerous and dehumanizing conditions for people who are detained. That's why we support the Close Rikers plan. This plan replaces 17,500 jail beds in 14 inhumane facilities, with 3,300 beds in four facilities in the boroughs. This plan closes all the jails on Rikers and The Boat by 2027.
Reducing New York City's jail population to less than 3,300 people, the lowest it's been in 100 years, will require that we make investments to strengthen the Bronx, and other communities unfairly burdened by criminalization. We have both spent most of our lives fighting for those investments, including NYCHA repairs, violence-prevention programs, career-track job training, community counseling and mentorship, transit improvements, environmental remediation, and more.
As members of the Bronx Neighborhood Advisory Committee, we worked with the City Council to secure commitments to specific investments in connection with the Close Rikers plan. Those investments are a necessary starting point to help us catch up to the rest of the city. These investments focus on community development, providing care and the prevention of crime, instead of policing and punishment. We understand that this plan doesn't end incarceration completely. But when we take a community first approach we can incarcerate fewer people, in conditions that recognize their humanity is not terminated when they are sent to jail.
The Bronx can do just that, by securing the investments we deserve and moving forward with the replacement jail. Every day that our family and neighbors spend on Rikers or The Boat compounds their trauma, and we cannot leave them there until we restructure our entire society.
That's why we'll be fighting to make sure the next Mayor moves forward with the plan to close Rikers and The Boat on the fastest possible timeline. We invite everyone who is serious about human rights to join us.
***
Ramona Ferreyra is a Bronx community leader and owner of Ojala Threads. Reverend Wendy Calderón-Payne is the Executive Director of BronxConnect. On Twitter @ramonathemona & @BronxConnect.
***
Have an op-ed idea or submission for Gotham Gazette? Email This email address is being protected from spambots. You need JavaScript enabled to view it.