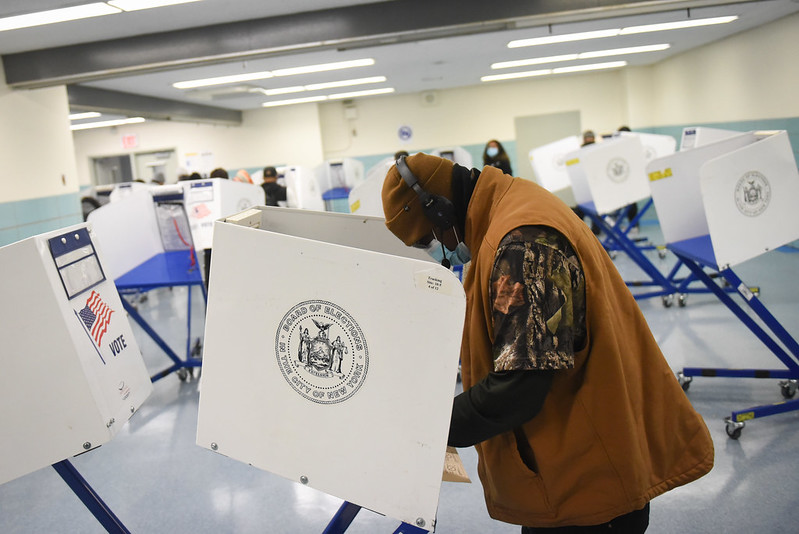 Voting (photo: Michael Appleton/Mayoral Photography Office)
---
After a once-in-a-century pandemic, concerns about rising gun crime, debates about usage of our streets, and perennial conflict over integration of our schools and neighborhoods, the 2021 mayoral primary cycle's final day centered less on why we were voting than on the mechanics of how we'd be casting our ballots.
Watching Kathryn Garcia and Andrew Yang team up to campaign jointly over the home stretch, current vote leader Eric Adams baselessly compared the ranked-choice motivated alliance to a poll tax and said the instant-runoff system approved by New York voters three-to-one was effectively abetting voter suppression. Adams also continued to hedge about whether he'd even abide by the results of a ranked-choice tabulation. While in many instances he has been unequivocal about abiding by the outcome, he has at other times betrayed reluctance, including commenting that "no one is gonna steal the election from me," bringing to mind Trump's Big Lie about his own loss and the resulting capital insurrection.
Fear-mongering about ranked-choice voting depressing turnout or confusing voters—from Adams and allies including City Council Members Laurie Cumbo and Daneek Miller, among others—didn't bear out. Turnout was high, reporters profiled numerous voters expressing confidence about how to rank their preferences, and candidates are properly directing their supporters to wait until every vote is counted before declaring victory or acknowledging defeat.
The high voter turnout and ranking enthusiasm are great news, but it's not too late for us to blow it.
Judging by the Board of Elections' announced plans for ballot-counting and tabulation, they're about to add confusion by running interim tabulations of ranked-choice results on incomplete sets of ballots every week until all ballots are processed. This means candidate rankings will shift unpredictably until certification.
In doing so, the Board of Elections runs the risk of telegraphing an inaccurate outcome that could indeed undermine confidence in the real one—especially if the changes impact Eric Adams' final tally, and he uses those shifts to attack the system he and his allies so often question. It's not just Adams who might find fodder in inaccurate tabulations: any of the twelve losing campaigns may do so in whiplashed tabulation results.
This unforced error is avoidable if New York changes course and decides to act more like Maine—the state whose ballot access efforts I led in 2020. Maine has been a national leader on successful usage of ranked-choice voting, and it waits until all votes are received and ready before performing its ranked-choice "instant runoffs."
It would be a pity to muck the election up now: so far, RCV has been a huge success.
With over 120,000 Democratic absentee ballots yet to count, turnout appears to have surged to its highest levels since 1989. The New York Post ran a comprehensive feature about how intuitive and inclusionary voters found the process of ranking their preferred candidates. Reviews of Campaign Finance Board reports show a surprising paucity of attack ads. And, almost assuredly, this system will be the one under which New York elects a new mayor who is female, Black, or both—and a City Council with more than the aspirational 21 women members targeted by the "21 in '21" campaign.
Judging by the voters profiled across the city, New Yorkers' experience with RCV has made them feel more bought into the outcomes of their races and more interested in learning the details of candidates' platforms; these are the very benefits that have led Maine to nation-leading turnout and recommitment to the system on a second statewide ballot referendum.
Now it's time for voters to wait for the results.
Some commentators are mistakenly blaming Board of Elections mismanagement or RCV for the fact that final results remain a couple of weeks away, and the media could be doing a better job explaining that the cause of any further delay isn't running tabulations but processing absentee ballots.
That process is slow for good reason: voter-friendly rules allow receipt of ballots by a week after Election Day and include a window during which voters may "cure" certain ballot defects. The Legislature has already ensured this process will be faster in future elections by passing a law that will allow earlier processing of absentees received before election day.
If New Yorkers now just have to sit tight to let absentee ballots be processed, and then for RCV tabulations to be run, what could there possibly be to worry about?
Well, the problem is that the Board of Elections doesn't plan to do these steps serially, but to run tabulations on subsets of ballots while still processing others. This plan will do nothing but confuse voters about how the allocation of those votes will work out.
According to the current plan, beginning on Tuesday, June 29, the BOE will start modeling RCV tabulations—eliminating the lowest first-rank vote-getter from contention, then allocating their ballots to the second-place choices on those ballots, and continuing those "instant runoffs" until there are just two candidates left and showing a winner—on whatever subset of ballots they happen to have ready each week.
That won't be all the ballots, and it will be skewed heavily to early and primary day ballots to the exclusion of absentees. Absentees might be systematically different from the rest of the ballots (for example, if they're more likely to be cast by older voters or by Manhattanites, or both).
FairVote, a nonpartisan organization that promotes use of RCV, notes that these "unofficial" tabulations have been done elsewhere—such as San Francisco—and says they're similar to unofficial vote counts from election night.
However, the logic of how election night vote totals will change as more ballots get counted is extremely straightforward. Eric Adams has 31.7% of the roughly 800,000 early and primary day first-place votes, Maya Wiley has 22.2%, and Karthryn Garcia has 19.5%. As well over 120,000 absentees get counted, those numbers will shift. Still, we know that each candidate's current first-place vote numbers can only go up as more ballots get counted.
In spite of this clarity, even releasing early and primary day vote totals while absentees are coming in presents challenges to voters' understanding of the results. For example, the simple "blue shift" of changes to the top-line numbers from election night in 2020—when mailed ballots favored Joe Biden over Donald Trump, showing a flip in states like Pennsylvania as they were counted—was enough to underpin the Big Lie.
RCV instant runoffs extend those normal shifts with an unimaginable butterfly effect, because the final order in which candidates finish determines the order in which their votes get reallocated. Running RCV tabulations before all ballots are in can thus have distressing consequences.
Imagine if the reallocation of lower-placing candidates' ballots shifts who ends up in the final two with Eric Adams. Kathryn Garcia's voters, largely in Manhattan and influenced by the New York Times editorial board, may overwhelmingly prefer Wiley to Adams—giving Wiley a shot to win if she's the last candidate standing with the Brooklyn borough president. Conversely, many Wiley voters may have ranked Adams, the other top-tier Black candidate, after her, meaning that Garcia wouldn't benefit as much from that reallocation. As more absentees get processed and included in forthcoming RCV tabulations, we might flip from one of those scenarios to the other.
These scenarios are conjectures. Still, what's certain is that what we see in "unofficial" tabulations may not give us an accurate preview of the final result. Unlike primary night results reflecting the first-place top-lines, having processed 90% of the ballots doesn't mean RCV tabulations will be 90% representative of the final result. Indeed, they might be diametrically opposed to it.
What will happen if the multiple premature RCV tabulations show major variability in the final result, given that they will reflect results of runoffs that only include a subset of the electorate?
RCV is a fantastic system that leads to more representative, more inclusive outcomes. There is no reason to undermine New York voters' experience of it through the release of pointless interim tabulations. Instead, we should run RCV tabulations all at once after all ballots are received and cured, as Maine does.
Democracy advocates know that a slow and steady count is the best bulwark against claims of election fraud. When we're so close to the finish line, the BOE should be wise enough to hold out to deliver its own. New Yorkers will be patient if the BOE communicates that comprehensive results are worth waiting for.
***
Ryder Kessler, a former executive board member of Manhattan's Community Board 2, served as the Maine Democratic Party's 2020 Voter Protection Director for Joe Biden and down-ballot Democrats. On Twitter @ryderkessler.
***
Have an op-ed idea or submission for Gotham Gazette? Email This email address is being protected from spambots. You need JavaScript enabled to view it.