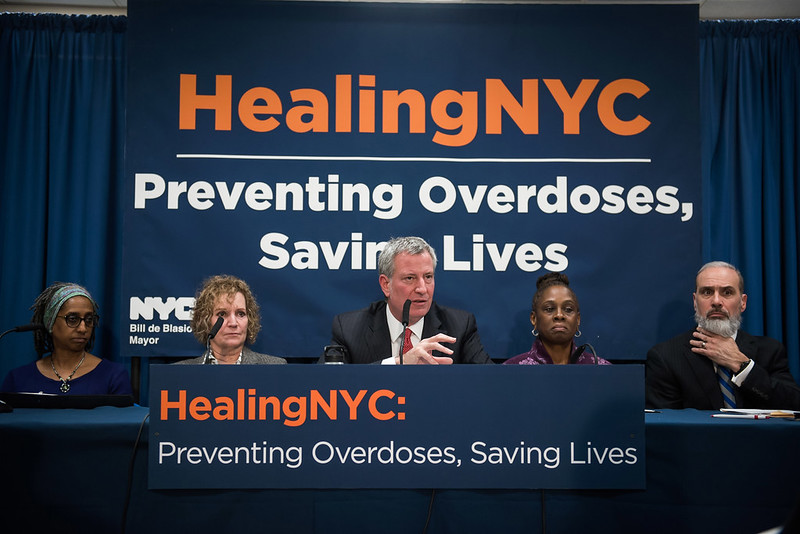 The Mayor at an overdose prevention event (photo: Ed Reed/Mayor's Office)
---
I know what it's like to be on the front lines of an infectious disease. I launched my career in harm reduction in the 1980s, at the height of the HIV epidemic. Just like with HIV, the fallout from COVID-19 is not limited to the lives we've lost to the infection itself—there are ripple effects that will be felt long after our city fully re-opens.
This time, it's the twin tragedy of the dramatic rise in overdose deaths amid the pandemic due to the anxiety and isolation of life during lockdown. Despite years of efforts across our nation to address the opioid crisis, the pandemic illustrates how tenuous progress can be: overdose deaths increased by nearly 30% nationwide and by 21% in New York City in 2020, with many fatalities attributed to the synthetic opioid fentanyl.
To address this dire trend, we'll need investments and partnerships between the government and nonprofit organizations on the ground to provide mental health and substance use disorder services. In the months and years ahead, people will need compassion and accessible care.
I currently work as a harm reduction counselor at Alliance for Positive Change, a nonprofit that supports New Yorkers with HIV/AIDS and other chronic health conditions, like substance use disorder. New Yorkers come to Alliance LES Harm Reduction Center for syringe exchange, medication-assisted treatment, and substance use disorder counseling.
When the pandemic struck our city, organizations like ours had to adapt quickly by shifting some of our programs to a virtual setting. For example, we've held our Narcan trainings weekly over Zoom, teaching hundreds of program participants, providers, and community members how to administer the drug to reverse opioid overdoses.
We have continued to offer our other services by appointment, but in this work, nothing is more important than our in-person community and open-door atmosphere—which is why we are so grateful that we can begin to return to regular operations. The lack of connection has been difficult for the people who rely on us, like "John," a young man who had been attending support groups regularly, but who now expresses concern about setbacks on his recovery journey. It offers him some reassurance that no matter what, we will be there for him.
As hope begins to glimmer on the horizon and life starts to feel more "normal," we cannot lose sight of the fact that the mental health impacts of the pandemic will linger. I'm glad to see that New York City is recognizing the great need for mental health support that lies ahead, and I hope the next mayoral administration will continue these efforts in 2022 and beyond.
In the short-term, investments in harm reduction interventions like Narcan and drug testing strips will help to reduce the risk of overdose deaths. In the long-term, the city should partner with deep-rooted, trusted community-based organizations who are doing important mental health work. Expanding mental health and harm reduction services to those who do not have access to as many resources will be critical to addressing this devastating trend. At Alliance, we connect with and serve some of the most vulnerable New Yorkers, and services like ours are needed more than ever.
***
Floyd Mitchell is a harm reduction counselor at Alliance for Positive Change's LES Harm Reduction Center.
***
Have an op-ed idea or submission for Gotham Gazette? Email This email address is being protected from spambots. You need JavaScript enabled to view it.