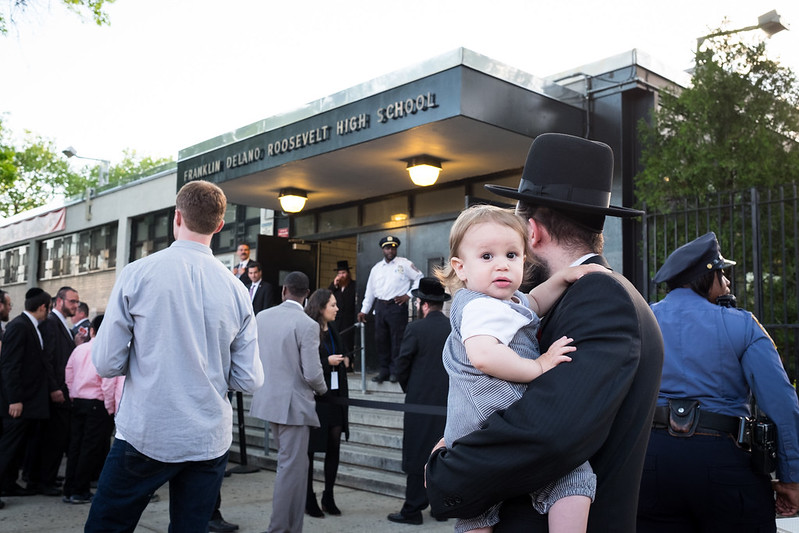 (photo: Edwin J. Torres/Mayoral Photo Office)
---
Six years ago, I filed a complaint with the New York City Department of Education (DOE) alongside 51 others because there are dozens of ultra-Orthodox Hasidic Yeshivas in our city that do not provide their students with an adequate secular education, as required by law.
As a result of the complaint, the city announced an investigation on July 28, 2015. Yet now more than six years later, despite findings from the investigation that backed up our complaint, no concrete actions have been taken. The lack of action by the city means that approximately 40,000 students today continue to experience educational neglect.
I signed on to the complaint because of my own experience in a Hasidic Yeshiva. I attended a Yeshiva in Brooklyn from the mid-1980s to the late-1990s, and the secular education I received was abysmal. The "English" part of my day started around 4 p.m., the end of a long day that began at 7:30 a.m. It lasted for about 90 minutes, four days a week. That small amount of time is not enough to prepare students for their futures, but the quality of instruction in that hour and a half was also laughable.
I remember learning fractions, but I never learned algebra or anything more advanced. There was very basic English grammar, but I never wrote an essay or book report. We had no science and very limited history, and there was no physical education (gym). Once we took a test and all of the answers were written on the board in Yiddish—an example that embodies how we and the faculty thought about our secular studies. It was a joke.
My mother spoke English at home, so I spoke English better than even some of my secular teachers, despite the fact that it was one of the only qualifications for the job. These 90 minutes were a free-for-all. The control, focus, and discipline of the other parts of the day were gone. The grades barely mattered, and there were weeks when we would get no secular instruction at all.
Too often efforts to improve secular education in these schools are framed as an attack on the Hasidic lifestyle and community. This couldn't be farther from the truth. There is no reason why Hasidic students can't attend Hasidic yeshiva and get both a robust secular education and Judaic education. I know it is possible because my own children attend a school that offers both. It is through their education that I have seen exactly what was lacking from my own.
Deprivation of a basic secular education leads to hardship in adulthood with limited higher education and job opportunities. The fact that I speak English well was a life-saver for me in many ways. Many of my peers who attended similar schools, right here in New York City, do not have that luxury.
The DOE investigation into our complaint didn't conclude until December 2019, when then-DOE Chancellor Richard Carranza issued a letter to the New York State Education Department (NYSED) outlining the troubling findings. Now, six years after the initial complaint, nothing has been done.
Why has the de Blasio administration not remediated any of these schools? Why haven't they released a final report of the investigation? There is clear evidence of educational neglect, and officials choose to ignore the impact that this poor education will have on 40,000 current students and many more to come - unless they act.
Mayor de Blasio and the Department of Education continue to sit on the report while punting the issue to the state, which has led to further inaction. Before Mayor de Blasio leaves office, his administration must finish what it started and release the full findings of the investigation. It's time for action, so ultra-Orthodox children can receive the education they deserve.
***
Yonah Kohn is a former Yeshiva student. He lives in Brooklyn.
***
Have an op-ed idea or submission for Gotham Gazette? Email This email address is being protected from spambots. You need JavaScript enabled to view it.